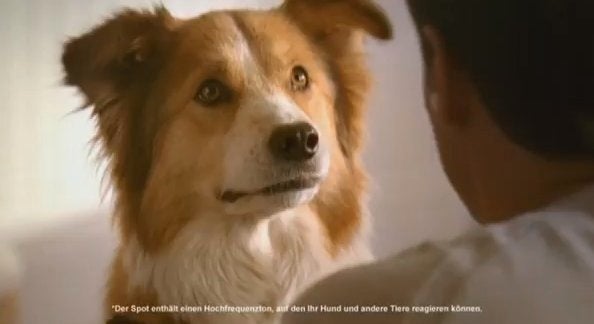 A dog food manufacturer has taken advertising to another level: a canine one.
The commercial thus contains a squeak, similar to a dog toy; a whistle, barely heard by humans; and a high-pitched ping. (Scroll down to watch the ad.)
"Dogs who often play with a squeaky duck as they are running around with their owner will certainly react most strongly to [the squeak] sound," a doctor stated in the press release.
The company acknowledges that not all dogs will react to the sounds, Gerardo Perez, a veterinarian and animal nutrition expert with Nestle Purina in St. Louis told the St. Joseph News-Press.
In addition, the company's target consumer can't make the trip to the store and buy the product, but neither can children, the Christian Science Monitor points out.
But could dogs' reactions to the ad be enough to drive their owners to make the purchase?
The 23-second ad is set to air in Austria. It's uncertain whether the commercial will launch elsewhere.
WATCH:
Popular in the Community