The U.S. Food and Drug Administration issued an advisory on Friday warning pet owners about the possible presence of pentobarbital — a barbiturate commonly used to euthanize animals — in some canned dog food products.
The announcement comes after a Washington, D.C., news station investigated the company. WJLA-TV sent samples of wet dog food from more than two dozen brands to an independent lab to be tested for pentobarbital.
The investigation found that "one brand repeatedly came back positive for pentobarbital" — Gravy Train.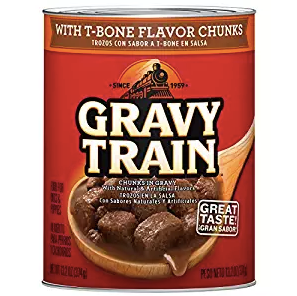 "In total, we tested 15 cans of Gravy Train," WJLA said in its report. "Nine cans — 60-percent of the sample — were positive for pentobarbital. And while the levels detected were not lethal, under federal law they are also not permitted at any concentration."
The FDA wrote that its own "preliminary evaluation" of Gravy Train samples suggests that the drug is not present at high enough levels to pose a health risk, but food containing any amount of pentobarbital is considered adulterated.
"The presence of this substance at any level is not acceptable to us and not up to our quality standards," Gravy Train said in a statement. "We sincerely apologize for the concern this has caused."
A spokeswoman for the J.M. Smucker Company told HuffPost that the company's withdrawal of certain products does not constitute a "recall." By FDA definition, a market withdrawal is when a company removes a product over a "minor violation that would not be subject to legal action by the FDA." In contrast, a recall involves a product being removed from the market over a reason that would spark legal action by the FDA.
The spokeswoman added that only Gravy Train samples have tested positive for pentobarbital. The other products have been pulled "out of an abundance of caution," she said.
Pentobarbital is commonly used for euthanasia, as well as for other medical purposes for both animals and humans. It's also used to execute inmates sentenced to death. Possible harmful effects of pentobarbital in pet food include drowsiness, dizziness, nausea and — at high levels — coma and death. Last year, a pug in Washington state died after consuming pentobarbital-contaminated dog food made by pet food company Evanger's.
The issue raises the question, how is any pentobarbital getting into pet food in the first place?
Evanger's linked its product's contamination to a beef supplier and subsequently terminated the relationship. Gravy Train also said it traced its problem to a single source — though the statement did not elaborate on what that source was.
"We have narrowed the focus of our investigation to a single supplier and a single, minor ingredient, used at one manufacturing facility," the Gravy Train statement said. "We will take the appropriate steps to ensure this does not occur again."
The brand also explicitly said that its products do not include meat from euthanized animals, including pets.
The company likely felt compelled to address that point, because pentobarbital in pet food often fuels speculation over whether cat and dog food may contain the bodies of euthanized cats and dogs. That's because some pet food companies source ingredients from rendering plants, which grind up animal carcasses from an array of sources that can include farms, slaughterhouses, veterinary clinics and animal shelters. According to fact-checking site Snopes, the presence of dead cats and dogs in pet food has not been definitively proven.
Clarification: Language has been added to clarify that J.M. Smucker's withdrawal of products does not rise to the level of a "recall." The FDA's own statement calls it a withdrawal.