This pup was saved from an impending death, and can finally enjoy the life he deserved all along.
Earlier this month, Deanna Theis, 43, the assistant director of Southern Animal Foundation (SAF) in New Orleans spotted a dog named Alex on an animal control center's Facebook page. The dog, who was severely emaciated as a result of neglect and starvation, had been discovered wandering the streets of New Orleans. Theis knew that if no rescue groups came to save him, Alex would be euthanized by animal control. So the 43-year-old and others in her organization got to work -- they took the pup in, and performed an X-ray which revealed the animal's stomach was full of rocks and twigs, Fox 8 reported.
"He was extremely close to death," Theis told Fox 8.
SAF has since been treating the canine, and he's expected to make a full recovery.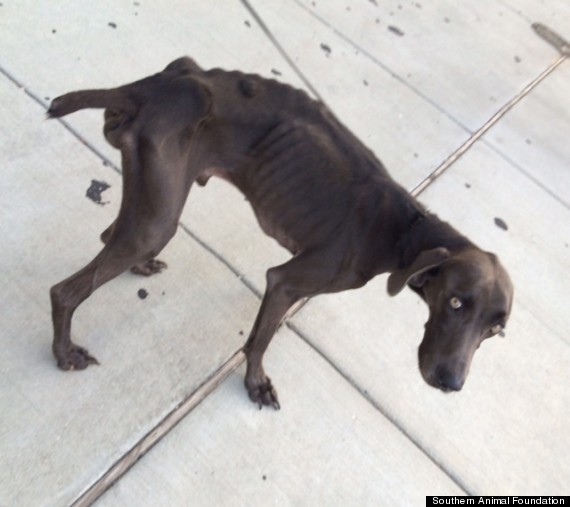 Alex, on the day he was rescued.
"Seeing the picture was one thing, seeing him in person was very emotional. When I picked him up I couldn't help but tear up, and feel very sad for him," Theis told HuffPost in an email. "I hugged him and kissed him on the head and told him he will be OK now."
When Theis met Alex, she says the pup was initially uncomfortable with leaving his kennel but soon warmed up to the attention.
"He was hesitant coming out of his transport crate, but when out, immediately licked my hand and began wagging his tail," Theis said.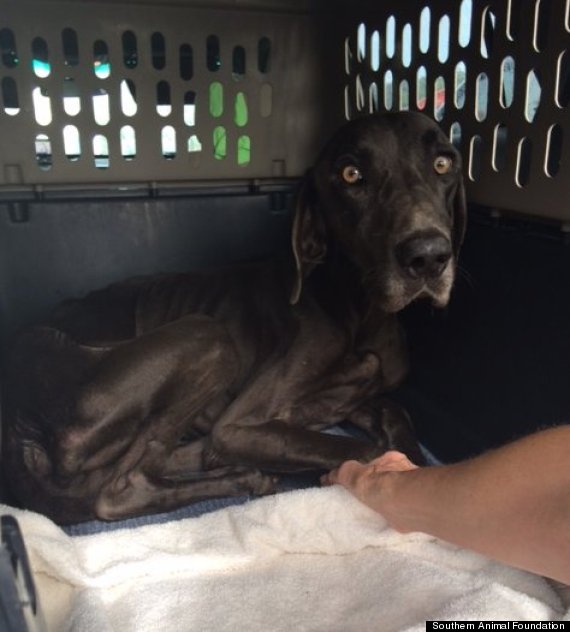 Alex, hesitant to come out of his crate the moment he was picked up.
Alex is now enjoying a much happier life, and has come a long way since he was picked up, but the dog's recovery hasn't been without its challenges. The organization experienced a bump in the road when Alex's stomach couldn't handle the nutrition he was receiving, and ended up bloating and flipping as a result. The pup underwent emergency surgery to get him back on track. He has since been put on a strict feeding schedule, as SAF takes his rehabilitation slowly.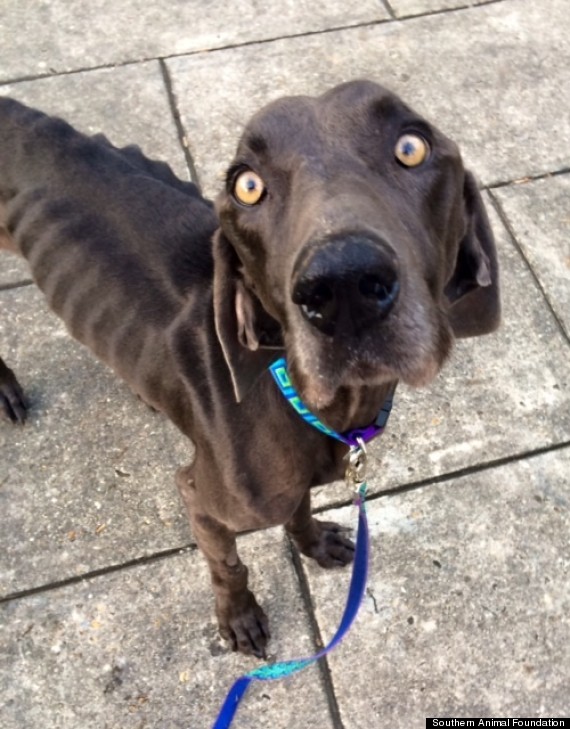 Alex, looking very curious, during his recovery period.
Theis says that Alex's good progress could not have been achieved without the support of the many people who were moved by his story.
"The responses to Alex have been overwhelming. Alex's story has been shared more than I ever imagined it would be, and people are sending in donations to help with his medical care," Theis told HuffPost. "He certainly has a following now, and just the positive words of support and encouragement are heartwarming."
Though Theis has been involved in animal rescue for about 10 years, she says her time with Alex has taught her an important lesson.
"This particular experience has taught me to not give up hope. Even the worst possible cases of neglect and abuse can be saved, especially if the community comes together to help out," she said.
As Alex continues his journey to becoming the healthy dog he should be, SAF is accepting applications for someone to adopt the lovable hound -- one who's a "talker" and a bit of a goofball, Theis said.
Related
Popular in the Community