It took a while for this dog to find the love that she needed, but when she did, it happened to come from the perfect owner.
Annie, a 13-year-old boxer, had spent an unbelievable 1,044 days at a shelter in Texas. She was overlooked by many prospective owners because her medical issues required special care, Lauren Flickinger, who adopted her, told The Huffington Post in an email. The extra attention required to take care of Annie did not deter Flickinger, who spotted the lovable pup on a Facebook page early last month.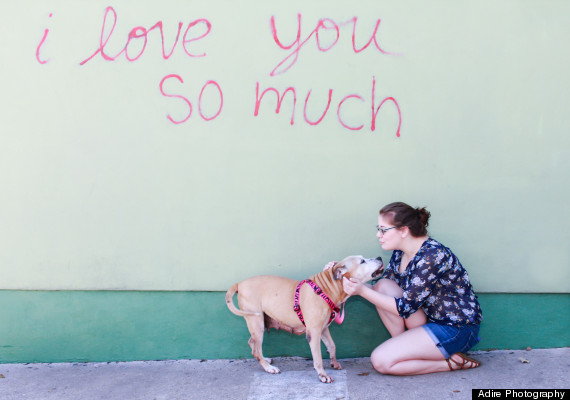 Annie had a tough life as breeding dog, and spent her time chained up outside before her then-owner dropped her off at the Austin Pets Alive (APA) animal shelter in Texas.
"I just loved her instantly -- she has such a sweet face and her loving personality shines through in her photos and that's sort of when I thought 'I have to give this dog a home!'" Flickinger said.
That's when she wrote to the animal shelter about her interest in Annie, and ended up taking a trip to the shelter to bring her home the next day. Meeting Annie for the first time, Flickinger says, was a magical moment.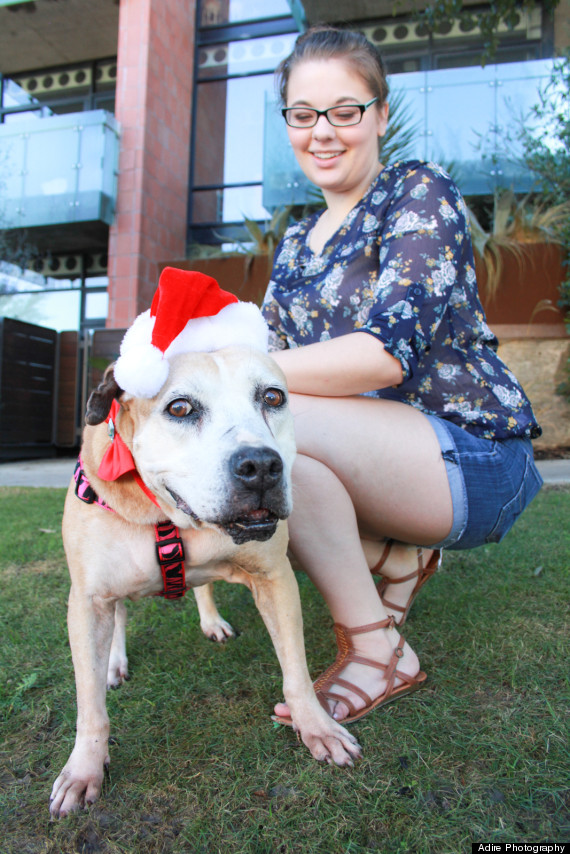 "Everyone had something to say about how sweet and loving she was and that she's great with kids," the 22-year-old wrote to HuffPost of her first encounter with the dog. "The first thing I noticed is that she has these warm brown eyes and a cute snowy white face and a tail that wouldn't stop wagging."
The pup has settled in nicely with Flickinger, who says she's grateful to be able to have such a great new companion. She's even documented their unique relationship thanks to photographer Gloria Segrest. But while Flickinger says it's been a joy to have Annie around the house, caring for a dog with medical issues isn't without it's challenges.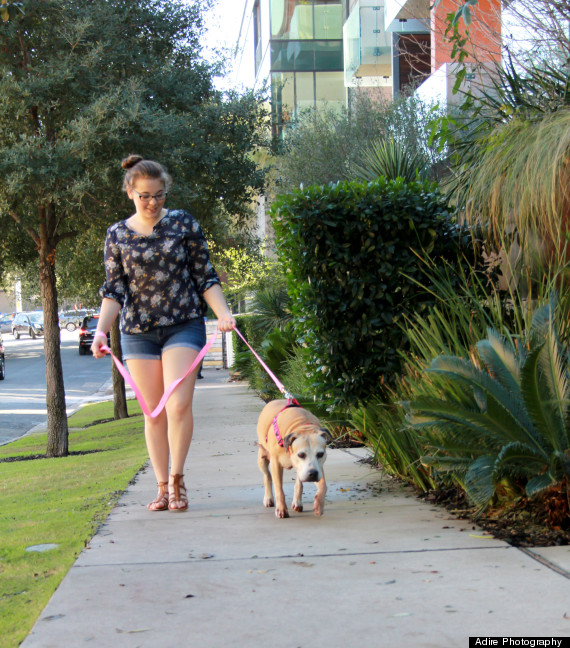 "She has severe separation anxiety so it's something that requires a lot of time and patience to work with her. She's terrified of being left alone for any amount of time but APA has been great with helping me crate train her," Flickinger says. "Annie also dislikes other dogs and cats. She needs to be the only pet in a home and can get a little protective over her people -- she wants all the love and attention for herself!"
Even though caring for Annie takes a little extra TLC, Flickinger says it's all worth it -- especially for a dog with a silly personality.
"Annie's a quirkly little diva with a funny bark," the 22-year-old wrote. "She also thinks she's roughly the size of a chihuahua. I'll be sitting on the floor with paperwork and my computer spread out everywhere and she insists on climbing over everything to try and sit in my lap."
As Flickinger continues to care for Annie, she says the two have already formed a close bond -- one that involves a whole lot of cuddling and Netflix.
To see more photos from Gloria Segrest and Adire Photography, visit her website here.
REAL LIFE. REAL NEWS. REAL VOICES.
Help us tell more of the stories that matter from voices that too often remain unheard.
BEFORE YOU GO