The first time Melissa Lipani and her husband, Adam Holmes, went hiking with their foster dog, Luna, they figured she might actually use her own four legs.
It's how their other two dogs get around, so why not the 8-year-old Frenchie, whom they'd temporarily taken in through a local rescue group, too?
But it didn't work out like that.
"I ended up carrying her most of the way, which wasn't a great situation for me," Lipana said. "She loved it."
The second time, Lipani and Holmes came up with a different plan.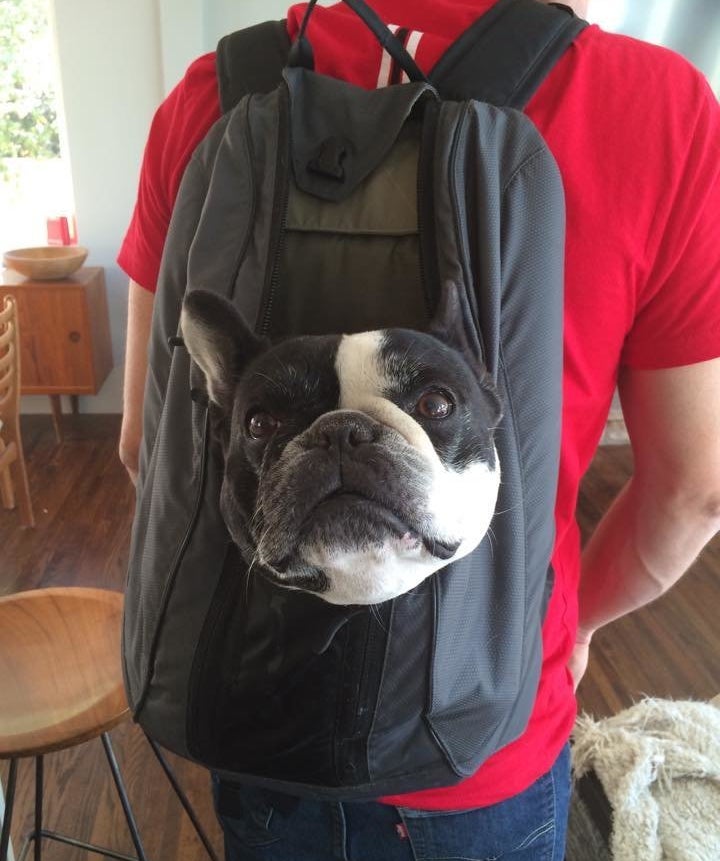 Lipani was familiar with some specialty backpacks made to carry around small animals.
She and Holmes are avid rock climbers and hikers -- their house in Salt Lake City abuts hiking trails -- and "and before I went to spend a lot of money, I wondered if any of the 8,000 packs in my garage could work," Lipani said.
As it turns out: yes. An old one, made by a Canadian company called Blurr, had an outside pocket just big enough for the 23-pound pup. (Note that Lipani and her husband are ultra-competent both with gear and animals; us ordinary folks should probably opt for the specialty backpacks. Here's one that gets good reviews.)
They tried out their new contraption at home to make sure Luna was amenable. Which she was. Extremely.
"I fully expected her to wiggle and try and jump out, but once we plopped her in it, she just relaxed like she knew it was going to be fun," Lipani said.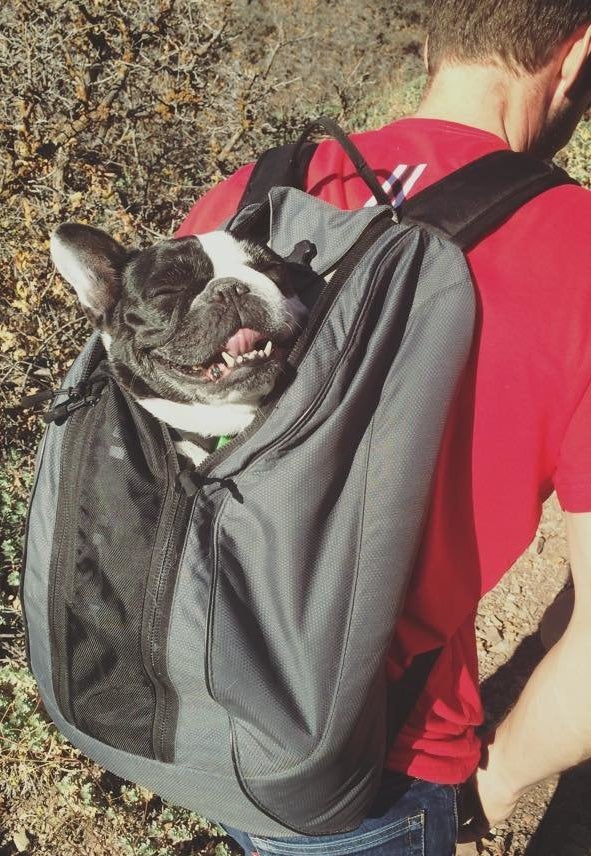 Since moving in with Lipani and Holmes just a few short weeks ago, the dog's been spoiled with all kinds of enjoyable activities.
There was a spa day, a mac and cheese tasting party and a wee pumpkin costume that Luna got all dolled up in.
Lipani says it's great fun for Luna -- plus, of course, for her and Holmes.
It also helps prove that all kinds of pets can be wonderful companions -- which is an important point for Lipani, personally as well as professionally; she works for the animal advocacy group Best Friends Animal Society.
"Sure, there are lifestyle considerations," Lipani said. "But never let breed, age or ability get in the way of finding a wonderful new family member, hopefully at your local rescue or shelter!"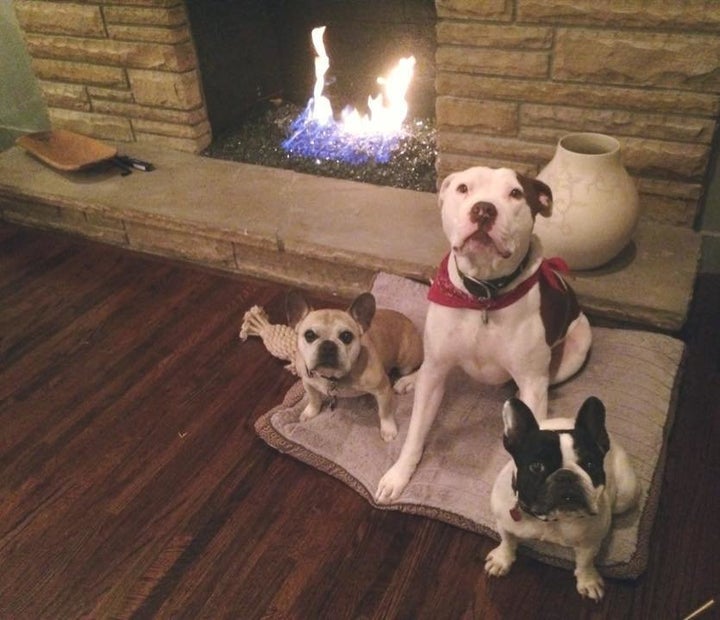 The hiking adventures continue, as well, of course.
This past weekend, Luna got carted around outside for an hour of hitting the trails. It was an unqualified success for all concerned.
Lipani and Holmes had a great day outside with their furry companions (plus a bit of an extra workout, by trading off carrying Luna around).
And Luna got to enjoy being with her foster siblings and her people, in a beautiful place. Without having to exert too much effort herself.
"She just smiled and enjoyed it, never once fidgeting," says Lipani. "She seemed to take in all of the sights, smells and views like she'd always gone on hikes this way."
Know a shelter or rescue group doing great work? Have another animal story to share? Get in touch at arin.greenwood@huffingtonpost.com!