A 4 year old Beagle mix named Buddy followed his owner in an ambulance for 15-20 miles. Buddy's owner was suffering dizziness in the ambulance, passerby were able to wave down the ambulance Buddy was following to let them know the beagle was there.
A individual stayed behind to close up the ranch where Buddy and his owner reside, and noticed Buddy was missing. He was off after the ambulance.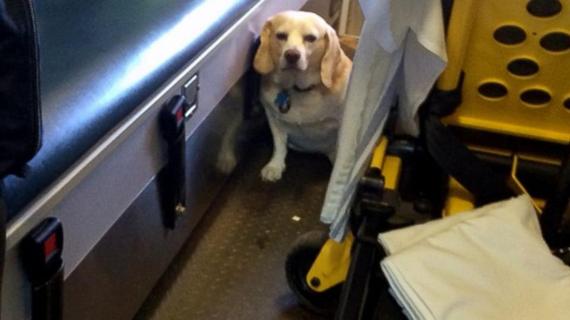 The ambulance then stopped and pulled over to allow Buddy to ride in the ambulance the rest of the way with his owner. Buddy was rescued only 4 months ago by his owners daughter. Buddy rides on vehicles all day long at the ranch so the ride was just another day for him.
Luckily, Buddy and his owner were able to leave the hospital that day, with his owner suffering no complications. Buddy's owner was quoted "Going to an animal shelter and helping a dog or thanking first responders because we think those are the most important things right now."
Rescue pets are quite amazing, look at the immense bond these two formed in only 4 months time together.
REAL LIFE. REAL NEWS. REAL VOICES.
Help us tell more of the stories that matter from voices that too often remain unheard.