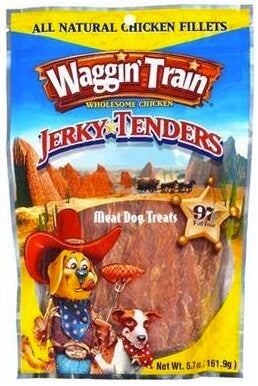 When Terry Safranek's nine-year-old fox terrier became violently ill after consuming Nestle Purina PetCare Co. jerky and died in mid-January, she launched a campaign against the company. The product was responsible for her pet's death, she alleged.
Safranek's petition on Change.org urges Nestle Purina to "take chicken jerky treats made in China off the shelves until they can be proven safe." To date, Safranek has collected 4,444 signatures, just short of her 5,000 goal.
MSNBC reports that, according to internal Food and Drug Administration documents, at least three popular brands of jerky treats may be associated with kidney failure and other deadly ailments. As of late last year, there were 22 cases listed as "Priority 1" -- meaning that they involved animals aged 11 years or younger with documented illness. Thirteen of those involved Waggin' Train or Canyon Creek Ranch jerky treats or tenders, which are both Nestle Purina products.
Despite the evidence -- and three FDA warnings about jerky products since 2007 -- no recall is in effect. Nestle Purina and Del Monte, which also produces products claimed to be associated with illnesses in dogs, maintain their treats are safe.
"No specific products have been recalled because a definitive cause has not been determined," said FDA officials in a statement.
However, two lawmakers, Sen. Sherrod Brown (D-Ohio) and Rep. Dennis Kucinich (D-Ohio), confirmed Wednesday that FDA inspectors have been dispatched to investigate Chinese plants that make chicken jerky pet treats.
These treats are made in China at facilities that are modeled after U.S. Department of Agriculture standards for quality and safety. In China, dark meat chicken is more popular with consumers than white meat chicken, and so the supply of quality, white meat chicken used in our products is more readily available for dog treats. The factories are under stringent safety and sanitary guidelines and monitored by a dedicated team of quality control inspectors, who are in the plants where the products are being produced. The benefit to our consumers is a premium dog treat at an affordable price.
The news comes as concerns about other products made in China have surfaced in recent years. In 2007, 1.5 million toy trains and associated products -- four percent of all sold in the U.S. over the last two years -- were recalled when it was discovered they were coated with lead paint in a Chinese factory. Lead paint is known to damage brain cells, especially in children. Additional toys were recalled for various other infractions, including a toy eyeball that was filled with kerosene.
Related