But despite her years of experience, Hart says nothing could've prepared her for how overwhelmed she'd feel when she first met Layla, a homeless poodle who had been struck by a car in Los Angeles.
In an email to The Huffington Post on Thursday, Hart, the founder of animal rescue organization Rescue from the Hart, described the moment she first laid eyes on Layla. Hart says she had received a call notifying her of the poodle's situation and she, together with Hope for Paws founder Eldad Hagar, had immediately rushed to the scene.
"My heart sank as we pulled up and saw Layla sitting there alone on the side of the road," Hart said. "Hundreds of people had walked by her before we arrived and they did nothing to help her. They chose to not stop and see Layla's despair and abandonment, and to not take action."
The pup was "timid, hurt and worryingly skinny," she added.
Hart approached Layla and very quickly, the dog, showing tremendous trust, allowed her rescuer to embrace her.
What happened next drove Hart to tears.
"The thing is, when I rescue a dog … they are scared, they are hurt, and they have no idea what the world is going to throw at them next. Then I come along and say, 'Hey, you need to trust I am going to do right by you.' That is a tough experience for a dog," Hart said. "They often quickly realize we are there to help, but I have never had a dog not only oblige [right away] — but to turn around with a kiss and say, 'Thank you!' It made me think of how much she needed hope in her life, and I felt so blessed that I was able to be the one to give that to her."
Hart said the moment "completely overwhelmed" her.
"The way Layla embraced being rescued, the way she opened her heart to a second chance, that is what gives me hope," she said. "If a dog like Layla can be that forgiving of people, we can all do that. We can all move on and forgive and love and open up our hearts to possibilities."
(Watch Layla's moving rescue in the video above.)
Sadly, Layla's battle is hardly over.
Following her rescue, the pup was hospitalized after doctors discovered that she'd suffered serious damage to her intestines and now, according to Hart, it's been determined that one of her kidneys needs to be surgically removed in the coming weeks. Layla still has a long road of treatment and recovery ahead.
But thanks to the love and support of the people around her -- including her foster parents Bray and Paul -- Hart says she believes Layla has a fighting chance.
"She has turned into a playful, mischievous, delightful little pup," said Hart. "It is amazing what a little love can do for a wounded soul."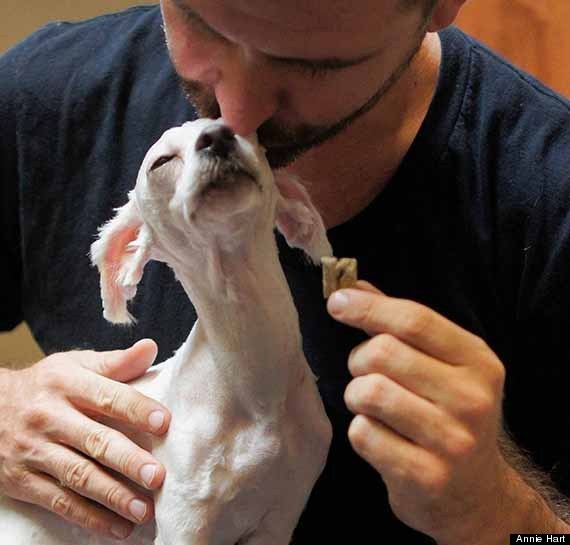 To find out more about Rescue from the Hart and how you can help little Layla, visit the organization's website and Facebook page.
Related
Before You Go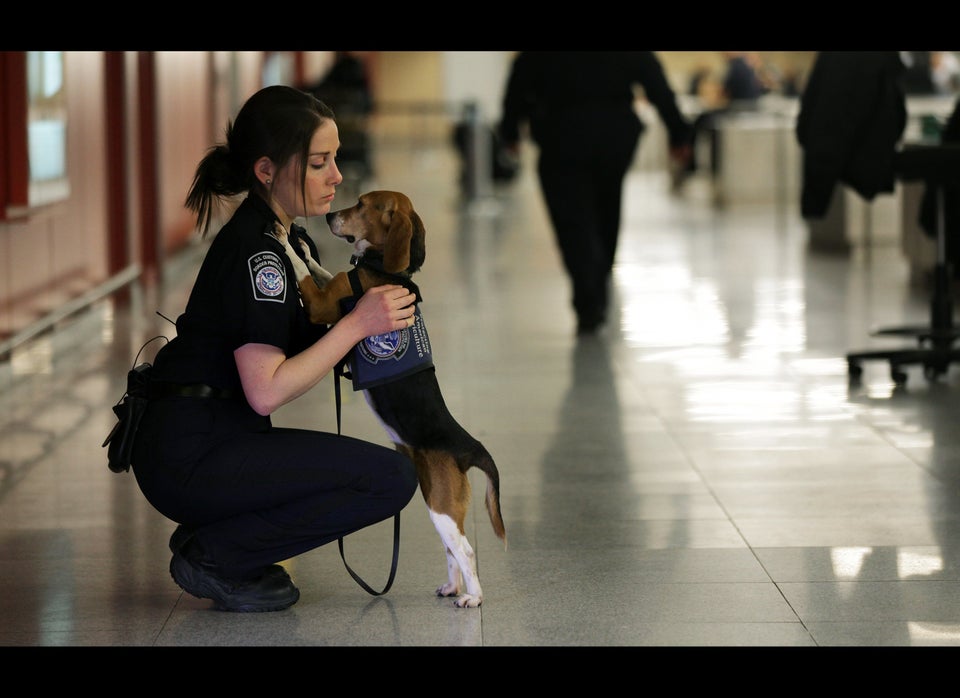 Animals Who Need Hugs
Popular in the Community