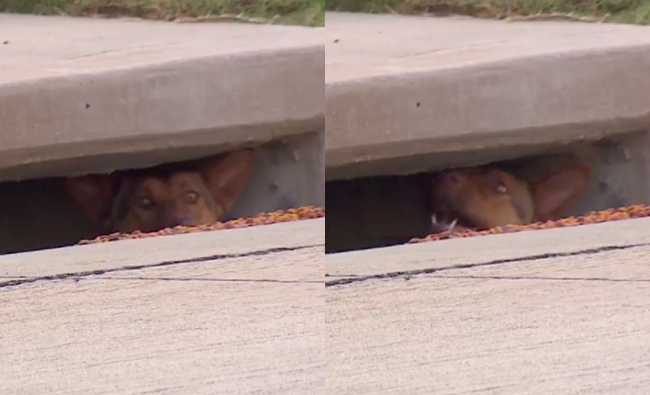 It's not just clowns coming out of storm drains.
Authorities are trying to capture a German Shepherd mix that has made a home in a Texas neighborhood's storm drain. The furry animal is described as popping up to eat treats from passersby, but rebelliously evading capture.
The full-grown dog is believed to have taken shelter beneath the streets of Grand Prairie for at least three months, a city official said.
"He pops his head out of the drain and then smiles, looks at you and watches people as they go by," Danielle Tate, Grand Prairie's animal services manager, told HuffPost on Tuesday. "He's not stuck, not in any danger. He can come and go at his leisure."
Animal control workers have been working to capture the dog, whose sex is not known. She noted that other dogs are known to frequent the storm drains, which have three large entrances. So far, they've had zero luck, Tate said.
"If you try to approach the dog, it will run," she said.
A woman Deana Johnson, who lost a similar looking dog a year ago in Garland, is among those hoping the dog is captured. Despite the amount of time that has passed, as well as the distance between the two cities, she's hopeful that it's her pet named Sasha.
On Tuesday, Johnson told HuffPost that she went down to the storm drains to see if she can find recognize her lost pet ― if the dog actually shows up.
Tate said they've had animal control officers search the sewer on foot and have left baited traps, which have gone untouched. She said she suspects that's because of locals providing food, which she implored them to stop.
Though the dog has been on animal officials' radar for the last three months, neighbors told a local news station that they've seen the animal there for the last six months.
"The story is that he kind of likes to live down there," neighborhood resident Michelle Chargois told station WFAA.
Fellow resident Karla Thompson expressed concern, however, about recent rain.
"It was flooding Friday, I kind of panicked. I was like, 'she's just stuck down there,'" she told WFAA.
Tate assured HuffPost that the dog appears to wise up and leave the drains when rough weather rolls in.
"He's smart enough to get out of the drain when he needs to," she said.
Still, she recognized that storm drains are no place for animals, and they hope to capture and remove the dog as soon as they're able.
Popular in the Community