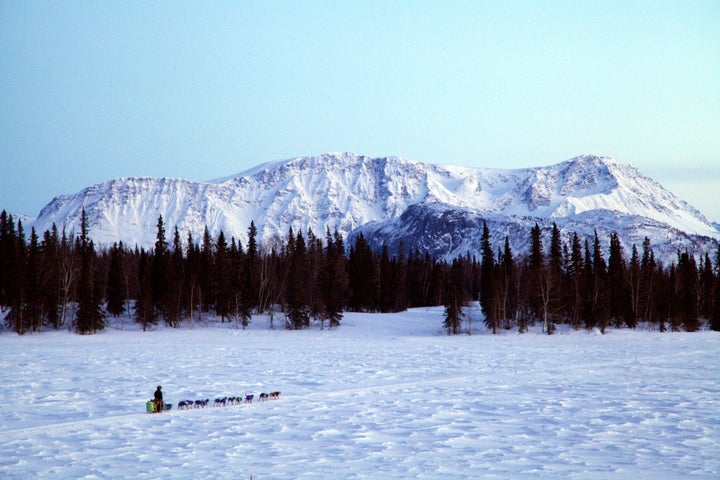 We're in Anchorage, and the latest forecast is calling for 18 inches of new snow. That's just great. I am trying to fly back to the wilderness lodge where I live, amongst others, with Nancy, one of the sled dogs from our 20-member dog lot team.
Nancy (named for Nancy Reagan) had to fly in to Anchorage to be seen by a vet who examined her middle toe for a small injury. Hundreds of dollars later, Nancy is sporting a colorful vet-wrapped bandage on her foot plus a plastic bag taped to the outside to keep the bandage dry. She's riding around in the backseat of the car, peering out the window contemplatively. I wonder what she is thinking this adventure is all about. It's her first time so far from the dog lot and away from the woodsy wilderness world of our Alaskan lodge.
Nancy is a good dog. She only had one episode yesterday of chewing through her mesh leash and bolting away. We scrambled and eventually cajoled Nancy into circling back towards a human close enough to nab her collar. We were lucky to catch her. Sled dogs aren't like other dogs. They are ready to run like the wind given any opportunity.
Someone on a recent online blog post wrote, "Dog mushing is stupid." Ok, I can understand that sentiment if you've never tried it. Once you do try it, however, you might think dog mushing is addictive. For me, that addiction comes in the quiet of gliding over snow through the woods with a perfectly silent team working together to move us all forward.
It takes a village (or, in our case, a lodge) to raise a dog team. Our dogs need constant attending to. We have to "cook" the dog food ahead of feeding, trick them into eating plenty of protein by adding nutrients into their water, check their paws, bellies, coats and examine their necklines for rubbing against collars. The dogs need encouragement and support, pats and rubs, just like people do.
The premise of dog mushing is simple: hook a few dogs together along a rope, attach the rope to a sled, stand on the runners of the sled and hold on. The reality of dog mushing is infinitely more complex. Some dogs are born leaders and others will never make the team, no matter how hard they try. Nearly from birth, a musher will recognize the characteristic of leadership in a dog. Famous Alaskan musher DeeDee Jonrowe looks puppies (after their eyes are open and adjusted) right in the eye. If a puppy turns and shies away, it is unlikely to become a leader. If a puppy stares DeeDee back, she puts him into the "future champion" playpen. In a dog team, you need to have good, strong leaders, middlemen willing to negotiate and stay calm and those in the back of the pack content to put in a good day of hard work.
We don't scrimp on mushing gear, for dogs or humans. Good boots help keep the toes warm on a minus-degree trail. There is an adage in Alaska that those with good circulation in their extremities make better mushers because of endurance in cold temperatures. Mushers wear oversized full-body insulated suits to keep them warm, but they are still able to move quickly if they have to jump off a sled or lean far to the right or left to negotiate a turn. Some suits are fancy, in bright colors like red or blue, and others more often are utilitarian Carhartt brown. Mittens and mittens over the mittens are critical. Face masks are commonly worn to prevent frostbite, but sometimes people put duct tape right onto their face with only their eyes peeping out from thick silver strips of tape.
Recently, the Northern Lights 300, a rugged sled dog race passing through our lodge, brought dozens of dog teams onto our lake. Bitterly cold weather, outrageous real northern lights, and deep snow made for a challenging race -- but mushers and dogs alike sailed over miles of trail, clocking in at an average of over eight miles per hour. Mushers laid straw on the snow for dog beds, cut a hole in the ice for water and heated up dog food over small liquid-fuel stoves. The winner of the race, Anjanette Steer, negotiated her dogs across 300 miles of wilderness terrain in 50 hours. No problem.
I'm not tough enough to mush Nancy all the way back home. We'll fly to the lodge from Anchorage in a DeHavilland DHC-2, with heaters, headphones and comfy seats. We won't be able to fly today, however. We have to have enough visibility to take off and land. Pilots prefer to be able to see about five miles into the distance to feel comfortable about judging depth of field for landing onto our frozen all-white lake. So, Nancy and I have another day of the easy life. I wonder if she'll dream about her big trip to town when she is back in the dog lot.