A few days after Crystal Crotwell's new foster dog, Piper, gave birth to four puppies in February, she got a call about two baby raccoons whose mother had been killed.
It wasn't a great time to be taking in more animals -- Crotwell has appendix cancer and lives with her daughter in tight quarters in Texas -- but she couldn't say no.
"My oncologist said do what I love. That's what I love," says Crotwell, who does wildlife rehabilitation in addition to pet rescue. "I'm too soft-hearted. I can't stand anything to suffer."
The raccoons were about a month old, and screaming with hunger, when they arrived. Just before Crotwell was about to feed them some kitten formula, Piper came wandering out of the bedroom, looking like she wanted to know a thing or two about all the ruckus.
Crotwell carefully held a baby raccoon in front of Piper's nose, so she could give the cub a little sniff. The baby "got to purring," Crotwell says, and Piper seemed to be interested in a gentle, friendly sort of way.
That got Crotwell wondering: "Would the raccoons nurse on Piper? And would she be OK with that?"
The answer to both questions, in turns out, was yes.
"As soon as they saw her, they went for her nipples. They latched on. She let them," Crotwell says. "They nursed and nursed and nursed. She cleaned them when they were done."
From: Holly Clark Fedor-Dool - Piper - feeding her brood - of four pups, plus two orphaned raccoons. Piper was very pregnant and mange infested when she was plucked from death row at the last moment. On Valentine's day she gave birth to her pups and became foster mom to two baby raccoons whose mom was killed. Piper loves them all equally. PNP flew Piper to her foster home in TX where she & her pups await their forever homes.

Posted by Pilots N Paws on Sunday, March 22, 2015
It's rather amazing that Piper was in a position to help out like this.
Before that, Piper had been at a high-kill Texas shelter, where her odds weren't looking good. The lucky dog got a last-minute reprieve when Holly Clark Fedor-Dool, who runs the rescue Citizens for Animals of Midland Odessa, agreed to take her. With the help of a volunteer from the group Pilots N Paws, Piper made it to her new, albeit temporary, home in San Angelo.
"Thank god we found her a foster," says Fedor-Dool.
But Piper's troubles weren't over. On top of being pregnant, she had worms and a very contagious type of mange.
"Endless amounts of laundry," Crotwell says. "But she's this big sweet dog. The sweetest dog ever."
Indeed, Piper proved an excellent dog and an excellent mom to her pups, as well as to the raccoon cubs who came her way.
"She had plenty of milk. They all did wonderful," says Crotwell. "That was their momma. And they were her babies."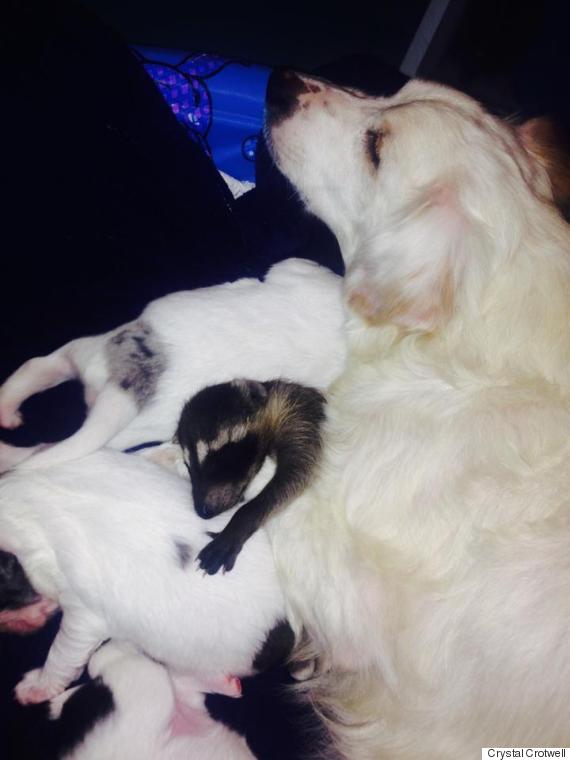 After about three weeks, the puppies started growing a lot bigger than the raccoons.
"The puppies were getting to where they were chewing," says Crotwell, who worried that the pups would hurt their adopted siblings.
The raccoons were dispatched to a fellow wildlife rehabilitator's house in a nearby town, where they will stay until they are big enough to live on their own, in the wild.
"They're doing great," says Crotwell, who says she will ensure that when the time comes, the raccoons are released somewhere free of trappers and hunters.
The puppies are also doing great. They're "little monsters," Crotwell says, affectionately.
Even while living in a space that isn't quite big enough for all the critters who come her way, Crotwell's work isn't through yet.
"Today I had to save a turtle," she says. "Everyone knows to call me because I try to save everything."
Get in touch at arin.greenwood@huffingtonpost.com if you have an animal story to share!

Before You Go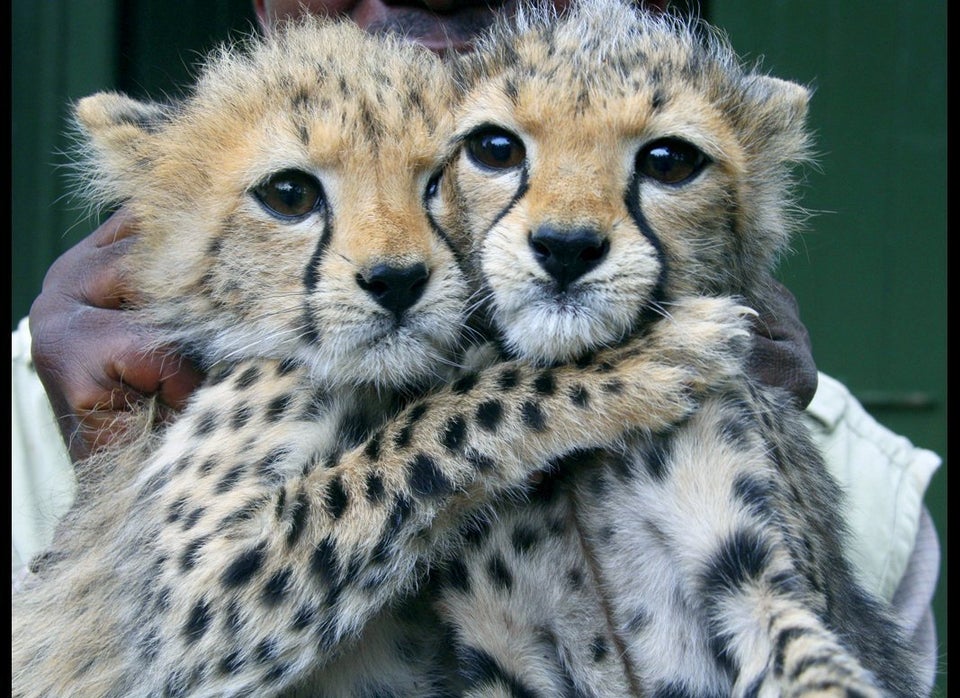 Baby Animals
Popular in the Community