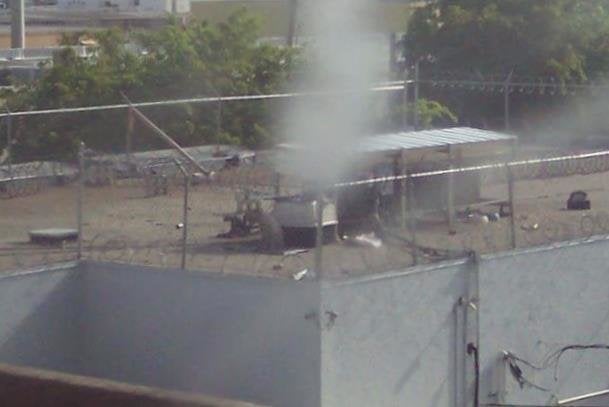 UPDATE, FRIDAY 9:40 p.m.: Miami-Dade Animal Services' Kathy Labrada told NBC 6 that Burro's owner has agreed to stop keeping the dog on the roof after a conversation involving police and city code compliance. Authorities told the station they have been getting calls about Burro since June of 2011, but did not elaborate on why it has taken so long to reach an agreement. Read our original story below:
A photograph of a dog living on the roof of a Miami business has taken Facebook by storm and prompted outrage from animal activists.
"The heat on this roof has got to be above 150 degrees during the day and unbearable!" wrote the poster, Bev. "If this is not animal cruelty, what is!"
Raudel Hernandez, a worker for G&G Produce, told Local 10 that the dog's name is Burro and that he is there to guard the building from thieves who have already stolen copper wiring from air conditioning units. A second dog, Milagro, lives inside the building.
Amy Roman, the president of 100+ Abandoned Dogs of Everglades Florida, said a member notified her of the incident and posted the photo to the page.
"The entire roof is surrounded by coil wire with sharp points on it," she said. "Are [thieves] going to get dropped off a helicopter and break in through the roof?"

Roman said that officials told her they couldn't get involved because it is not against the law to leave a dog outside if it has food and water. Her group is in the midst of a campaign to inundate Miami commissioners and the State Attorney's Office with requests for intervention. A protest at G&G is scheduled for August 8 at 11 a.m.
Cody Bond, who owns a neighboring business, said in a video shot by Roman that he and others have called authorities more than once about the dog being on the roof, and was told nothing could be done.
Miami-Dade Animal Services released a statement that the dog is properly cared for and has access to food, water and shelter. Officials said on a visit to the building Wednesday, Burro was inside the warehouse playing with Milagro. On a follow up the next day, the dog was on the roof and agents did not have access to inspect his situation.
In a separate statement released by Miami Mayor Tomas Regalado, he said the city "vehemently condemns any form of animal cruelty."
The animal activists disagree that the dog is in good condition, and the message has spread beyond South Florida. On Thursday, a woman in Illinois created a Change.org petition addressed to Governor Rick Scott. It has more than 1,900 signatures to date.
WATCH: An online message gone viral saved these dogs from slaughter:
Related
Popular in the Community