Since they were first domesticated between 15,000 and 30,000 years ago, dogs have been man's best friend. Pets provide us with so much more than entertainment or companionship. In fact, there's a whole field of scientific inquiry called anthrozoology, which purports to investigate the relationships between humans and non-human animals.
Is there any truth to the idea that cat people and dog people are fundamentally different? Can having a dog improve your chances of getting a date? And do people really look like their pets? What does the science say?
CLICK HERE FOR FULL TRANSCRIPT
CARA SANTA MARIA: Hi everyone. Cara Santa Maria here. And this is my guy, Killer. And we want to know, is there any truth to the idea that cat people and dog people are fundamentally different? Can having a dog improve your chances of getting a date? And do people really look like their pets? What does the science say? To learn more about our relationships with our four-legged friends from an evidence-based perspective, I reached out to Dr. Hal Herzog, anthrozoologist and author of "Some We Love, Some We Hate, Some We Eat: Why It's So Hard To Think Straight About Animals."
HAL HERZOG: My background is in animal behavior, so I've studied things like alligators and crocodiles and snakes in the wild and lots of stuff like that. I also studied things like attitudes towards the use of animals, attitudes toward things like why we love animals and why we hate others and then why we eat some animals, so I'm sort of interested in what our relationships with animals tell us about human nature generally. Like what we learn about what it means to be a person by looking at the role that, the diverse role, that animals play in our lives.
CSM: And there's no denying that pets play a major role in many of our lives. I used to have two cats, Darwin and Porkchop. But now, I have a relationship with Mr. Killer here. Does that make me a recently converted dog person? And is there any scientific evidence that the labels "cat person" and "dog person" are actually meaningful?
HH: The best study that we have is from a large study down at University of Texas by a really great psychologist named Sam Gosling. And he's a personality psychologist, but he's also interested in personality in people and in animals and how they relate to each other. So he was doing this giant personality test where thousands of people would go online and take this really quite excellent personality test that's been really verified by a lot of other studies, and what Sam did was he put on a question for a while, 'do you consider yourself a dog person or a cat person' to see if there was any personality difference. Seventy percent of people will say that they're a dog person. Well, is there any personality difference there? The answer was yes. When he correlated what people said with their personalities he found out that people who said they're dog people, the biggest difference was in introversion-extroversion. Dog people tend to be more extroverted, but there were also differences in other things as well for example the dog people scored higher on measures of conscientiousness, agreeableness, they were more relaxed, they also tend to be more closed to new experiences and a little bit more closed-minded. Cat people on the other hand were more introverted, they were more anxious, they were more interestingly open to new experiences and they were more impulsive.
CSM: Interesting. Perhaps even more interesting is the fact that dogs may really work as date bait.
HH: How can I say it? Women are suckers for puppies, and unethical men can use that to their advantage. So for example, there was a study done in France where they picked a really hot guy, a guy named Antoine, and they had him go to a mall and he would hit on randomly selected young women that were walking by. (And this was all very scientifically controlled; they were randomly selected for him to walk up.) And he would say 'Hi my name is Antoine, and I find you attractive. I have to go to work right now but would you be interested in meeting me for a drink later? Could I have your phone number?' And what they found out was that 10 percent of the time, even though he was a nice looking guy, 10 percent of the time the women would say yes and 90 percent of the time they rejected his offer. But when he had a dog, 30 percent of the time women said yes, so his hit rate, literally, went up 300 percent simply by having a dog.
CSM: It'd probably work on me too. I really am a sucker for puppies. And people tell me all the time that they see similarities between Killer and me.
HH: Much to my surprise, does seem to be some truth to the adage that people tend to look like their pets, and I have to admit when I saw the first study, I was really skeptical, and I was so skeptical that I was going to repeat the study myself. I didn't have to repeat it because somebody else did and they found the exactly same results, then a research team in Venezuela found the same results, then a research team in Japan found the same results, and recently a research team in England has found the same results, so I'm a believer. What these studies typically do is they'll take pictures of people and pictures of their dogs, and then they will ask people to match who the dog is, the picture of the owner, with the picture of the dog, and what we find is in these choice tests, people get it right about two out of three times, which is much better than what you expect on the basis of chance.
CSM: Dr. Herzog cautions that this research focused only on purebred dogs. What are your thoughts? Do you look like your pet? Do I look like Mr. Killer here, even though he's a shelter mutt? Let me know by reaching out to me on Twitter, Facebook, or leave a comment right here on the Huffington Post. Come on, talk nerdy to me!
For fun, check out this slideshow of celebrities who look like their pets!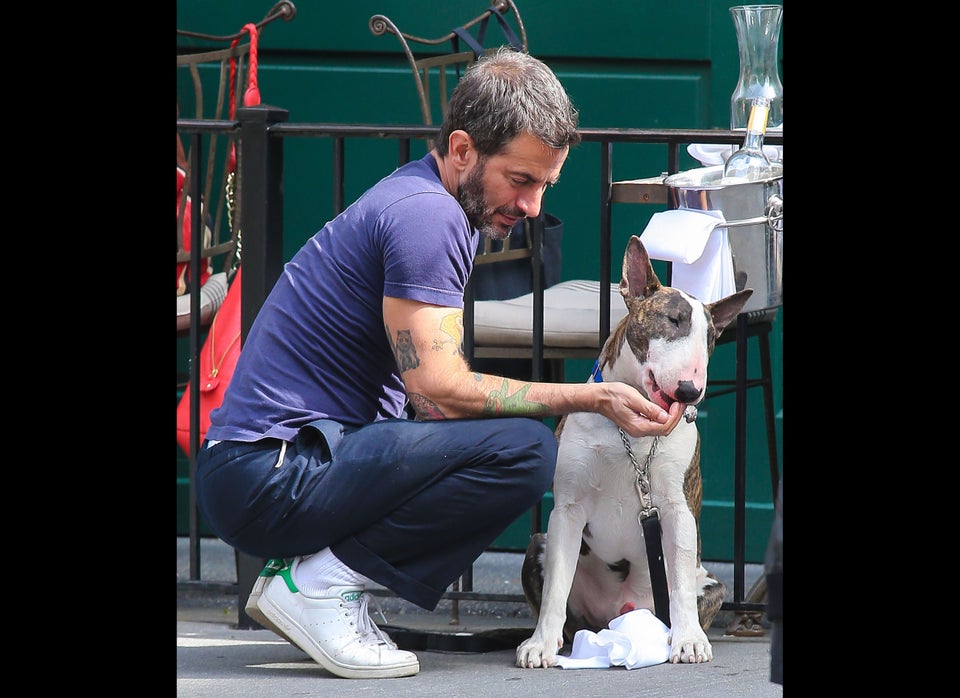 Celebs Who Look Like Their Dogs
Related
Popular in the Community