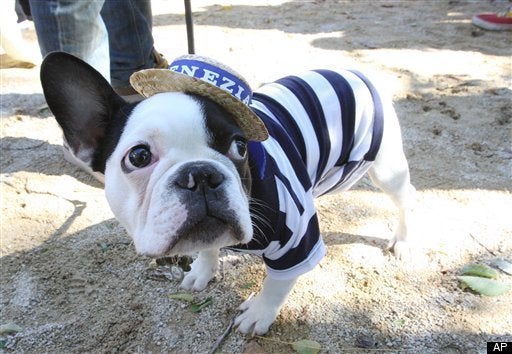 In partnership with DNAinfo.
GREENWICH VILLAGE -- Preservationists already battling NYU officials over the school's expansion plans have a new gripe -- dog poop signs.
The protectors of the Village's historical character told DNAinfo they were irate at New York University for putting up dozens of signs asking walkers to kindly curb their pooping dogs. The preservationists claim the signs are illegal.
The city's Landmarks Preservation Commission waded into the battle this month and ordered NYU to remove three signs at its Silver Towers complex, off Houston Street.
The offending signs, which say "please leash and clean up after your pet" and "curb your dog at the street," were installed illegally on landmarked property without a permit, the commission said.
But preservationists claimed the city was ignoring similar posters plastered all across the neighborhood. They are also outraged by "Dogipot" clean-up stations that provide litter bags complete with instructions.
According to the preservationists, it's illegal to install the"Dogipots" on properties with landmark status.
The fact that the city hasn't asked NYU to ditch the rest of the offending signs and stations is setting a dangerous precedent, claims Greenwich Village Society for Historic Preservation executive director Andrew Berman.
"We are still concerned alterations have been legalized by the LPC," Berman said. "This seems like special treatment being given to a powerful and well-connected institution."
He said the Greenwich Village Society for Historic Preservation notified the city of more than a dozen of NYU's alleged illegal signs and clean-up stations in June last year.
Only the three at Silver Towers were ordered to be pulled down.
Elizabeth de Bourbon, a spokesperson for LPC, said the other signs were not ordered pulled down because they did not detract from the "historic fabric" of the area.
A letter sent by LPC chair Robert Tierney added: "The primary purpose of Landmark's enforcement efforts is to protect our landmark buildings, not to penalize owners."
The university did not respond to email requests for comment on the issue.
In the meantime, local residents are keeping an open mind.
Anne Deneys-Tunney, who was walking her pet shitzu on Monday, said she saw both sides of the issue.
"In the grand scheme of crimes, this doesn't seem like a big deal," she said, "but I don't see why the school didn't get approval."

Calling all HuffPost superfans!
Sign up for membership to become a founding member and help shape HuffPost's next chapter