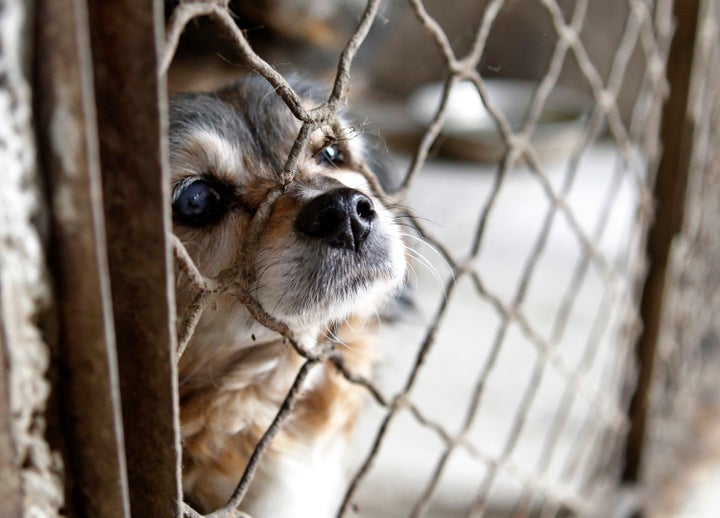 BEIJING (AP) -- After spotting a truck packed with hundreds of whimpering dogs on a Beijing highway, a man put out a call on a microblogging site, begging fellow animal lovers to help him force the driver to release the animals.
Around 200 people responded, blockading the truck at a toll booth for 15 hours until they finally negotiated the dogs' release for $17,000, saving them from being slaughtered and served as food. Many of the animals were dehydrated, injured and suffering from a potentially deadly virus; at least 68 have been hospitalized.
Video footage taken at the site and provided to The Associated Press on Tuesday showed the animals hunched over or lying down in cramped metal crates in the back of the truck, many of them barking and whining.
"They were squeezing and pressing on each other and some were biting and fighting, and I saw some were injured or sick," according to Li Wei, who is the manager of Capital Animal Welfare Association and one of the people who participated in the rescue. Li said at least one dog had died in the truck.
The rescue was a rare successful case of social activism in China, where authorities are currently waging a brutal crackdown on dissent, locking up dozens of activists amid fears pro-democracy protests in the Middle East could catch on.
But the blockade may be more remarkable for what it shows about changes in Chinese society over the past decade as fantastic economic growth has bred a middle class with new sensibilities.
Pet ownership was once rare because the Communist Party condemned it as bourgeois and most people couldn't afford to own cats or dogs. Both animals were typically eaten, and Friday night's rescue has set off a debate that underscores the clash between those age-old traditions and the country's growing animal rights movement.
One example of that tension is the police response to the rescue. They told the animal lovers that they were breaking the law by blocking traffic and said there was no legal reason to hold the truck because the shipment's paperwork was in order.
Li said many in the group – including the man who put out the call on Sina Weibo, a popular Twitter-like microblogging site – suspected the dogs were stolen or otherwise illegally obtained. China has no animal protection laws, except for wild animals. The truck's driver himself told the Global Times newspaper: "I transported dogs as (I would) pigs, cows and sheep. The country does not ban the consumption of dog meat."
At one point, it looked as if the truck would be allowed to proceed. "We felt very helpless but we were not willing to let them go," Li said.
That's when the dogs – about 580 in all – were bought off the driver for 115,000 yuan ($17,606), mostly contributed by a pet company and an animal protection foundation, Li said.
Now dozens of volunteers have flocked to the Dongxing Animal Hospital in Beijing where they are helping to clean cages, mop floors and disinfect visitors.
On Tuesday, 68 dogs filled every room of the hospital, with a few lying in cages in the corridors. Many had bandaged legs and were hooked up to intravenous drips.
Most were severely dehydrated and some had parvovirus, a potentially deadly virus that infects the intestine, said hospital director Zhu Mingke. Almost all of them suffered external injuries, he said.
The rest of the dogs have been taken to a property on the northern outskirts of Beijing where Li's group is caring for them.
"When I saw the poor dogs on Twitter, I cried and cried, but I thought there was no way they could stop the truck. So I was very surprised when they did it and I wanted to help," said Chen Yang, 30, a woman in tight jeans who tended to a dog that had given birth to four puppies just after the rescue.
The volunteer response indicates a growing awareness for animal rights that shows that social attitudes have shifted with growing affluence, said Lu Yunfeng, a sociology professor at Peking University.
"Dogs were historically on the food list in China and South Korea, while they were loved in Western countries," Lu said.
But in China, "as people became well-off, they had money to raise dogs, and while raising these dogs, they developed feelings for dogs," he said.
China still has a shoddy record on animal rights: There is little animal welfare legislation, many zoos are poorly run and animal parts are traded for use in traditional medicine.
But in recent years, activists have criticized government-ordered mass killing of dogs during rabies outbreaks, protested outside government offices against the slaughter of cats for food, and urged China to phase out bear farms where bile is harvested for traditional medicine.
Still, there was some criticism of the rescue. An editorial in the Legal Daily newspaper accused activists of breaking the law and putting animals' rights over people's.
Associated Press researcher Yu Bing contributed to this report.
Related
Popular in the Community