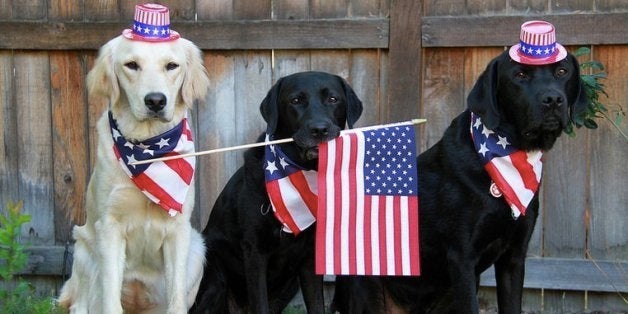 Don't let the bright lights distract you on the fourth. According to the ASPCA, many dogs will go missing over Independence Day weekend.
The day-long celebrations that roll into nighttime, the booming sounds of fireworks, and unsupervised exits in a pet owner's home all contribute to this phenomenon, animal trainer Nicole Ellis, who works for DogVacay told The Huffington Post.
"Dogs are instinctively flight animals," Ellis said. In other words, they'll want to run and hide when they're scared, not face the mysterious noises coming from the sky. Whether you're hosting a party or not, there are several security measures you can take before the celebrations begin to ensure your pup is safe, sound and around for behind-the-ear scratches come Monday. Check them out below.
1. Take your dog for a nice, long walk before the festivities start.
"A tired dog is a more relaxed dog," said Ellis. The more exercise your four-legged pal gets before the party starts, the more sleepy he'll be, meaning he'd rather lie down in a comfy spot in the living room than pace anxiously by the door. Walk your pup in an area he's used to and seems to enjoy.
2. Don't give your pooch any new experiences today.
You might be tempted to take your pet to a new part of town to really wear him out, but this may exacerbate his discomfort. Ellis said your dog will already have to adjust to the new sounds and perhaps new people around the house, so it's smart to keep everything else within his routine.
3. Stay calm for your dog's sake.
Your dog freaking out about the sound of fireworks may make you feel unsettled, but it's important to keep your emotions in check. "If you're nervous about your dog's reaction, your dog will be nervous even before he hears the fireworks," Ellis said. Speak to him in a happy, upbeat tone and be confident. Your pet picks up on your emotional cues, so maintaining a "chill" demeanor is your best bet if you want him to follow suit.
4. Check his tags.
You should routinely make sure your dog's tags are secure and easy-to-read, but if there's a particular time to do it, it's before these patriotic parties kick off. Ellis said it's crucial that the contact numbers on his collar are up-to-date and that everything is legible. If you don't have time to get a new nameplate made (places like PetCo and PetSmart make it very easy), purchase a metal-rimmed key ring or use an old luggage tag temporarily. You'll want to include a cell phone number, and maybe even your party host's phone number, on the tag to make sure you can be reached immediately.
5. Keep your pup at home.
A lot of people think it'll be really fun to bring their dogs out to the picnic that turns into the fireworks show, Ellis said, but for your dog, this is a scene of the unknown, where he may be uncomfortable and easily startled. "I would not suggest bringing your dog out to an activity," Ellis said, stressing that his home is the place where your pooch will be most comfortable. While it's not always possible, it'd be ideal if you could stay home, too, she suggested. This way, you could give your pooch a lot of attention and love, reminding him that he's safe. And if you're home, you can distract your dog with noises from the TV or his favorite game.
6. Hosting? Be very aware of the exits.
You're dog may be thrilled to have the company and random petting of your 10 closest friends, but that doesn't mean he won't be tempted to sneak out at some point. And that could definitely ruin the party. "Other people aren't looking out for your dog," Ellis said, "so make sure you're alert." Since your pet is your number one priority, keep him in a place where outside doors aren't accessible. Make sure the windows and doors are extra secure and consider putting a note on the front door to remind guest about the animal's presence. If your pup is crate-trained and comfortable in his crate, he might like celebrating America's independence from inside it.
If you're having people over, you'll probably be having snacks. Allowing your dog in only certain areas of the house is the safest way to ensure he doesn't munch on something dangerous. Classic party foods like chocolate, beer and ribs (among a host of other munchies) can really harm your pet. If you keep him away from the food, you won't have to constantly police your guests, asking them not to feed the dog.
8. Let your pet comfortably hide.
If your dog runs away from company and hides under the bed, don't force him out or push him closer to the fireworks to try to make him comfortable with the sounds. This might make him even more distressed.
9. Hire a pet sitter.
If you're really concerned about your pet's safety and comfort, research some pet sitting services in your area (the sooner, the better). The trained experts will keep your pal occupied and you won't have to worry about his well-being while you're out celebrating.
Related
Before You Go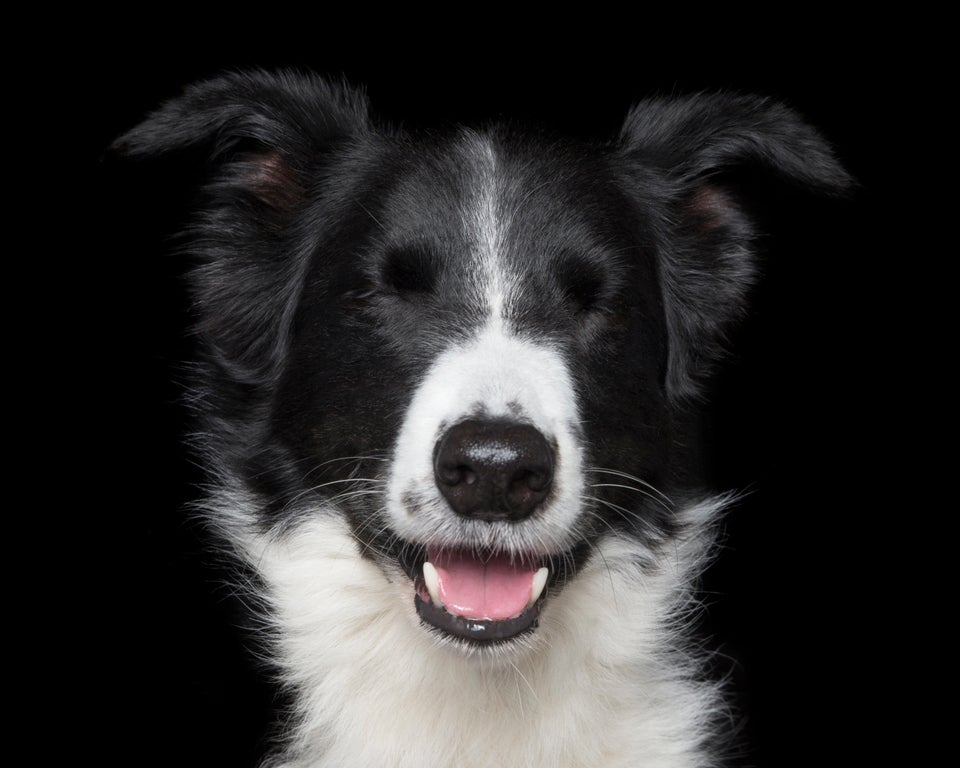 Zen Dogs