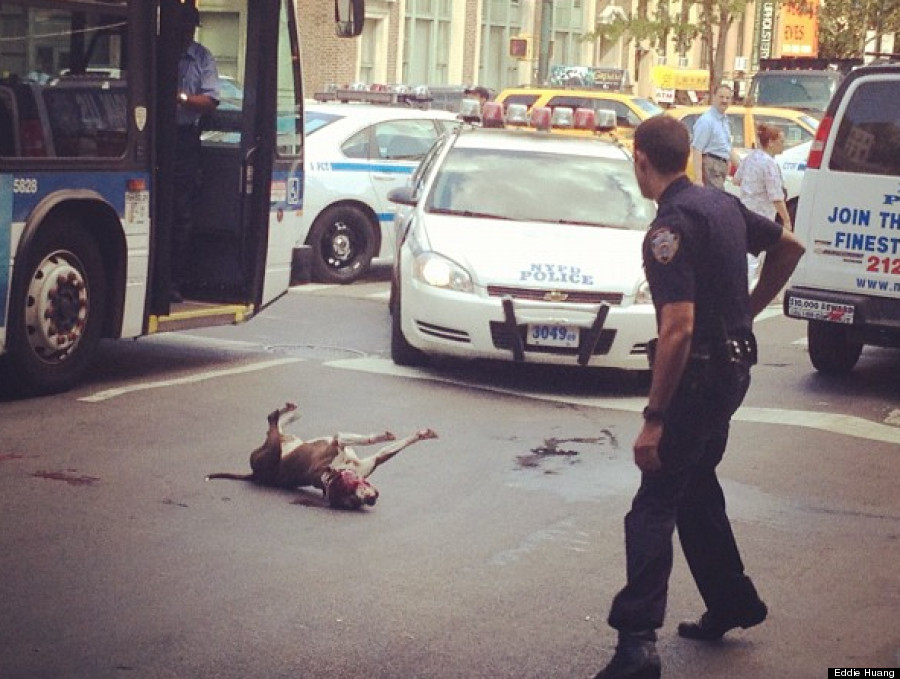 Gothamist reports the dog, named Star is being treated by Animal Care & Control. The dog's medical summary:
Medical Summary brought in by police was shot by police and tranquilized by unknown drug dog was sedated and covered in blood on head and front legs cleaned dog up and found blood to be oozing from left eye socket, and nostrils, oral exam-- larynx filled with blood, placed endotracheal tube, mass on distal left soft palate, crepitus felt(possible fx or final placement of bullet) swelling on left side of face no other abnormalities felt placed 2 iv cath in left cephalic and left saphenous veins, cont IV LRS bolus at shock rates (1000 ml) dexamethasone 2mg/ml 3cc iv vit B12 6cc IM gave 1cc yohimbine iv to reverse effects of xylazine? administered recc rads to find bullet and possibly remove transfer to emergency for observation and further tx Weight 45.0

Star was shot by officers in the East Village on the corner of 2nd Avenue and 14th Street, after she allegedly lunged at officers who were attempting to approach her owner, a man visibly passed out on the sidewalk.
Bystanders, including famed chef and Baohaus owner Eddie Huang, looked on in horror. Huang described:
You can see in the photo, the trail of blood. The dog traveled. People were really really vocal, harassing the cops to put the dog down, and they wouldn't do it. The whole thing just seemed really, really unnecessary. I don't know what the protocol is for this, I know they have to keep the peace, but it really seemed like an abuse of power, an unnecessary one, and not doing it the right way. They really should've put that dog out of its misery. We've all seen Old Yeller. We all know the right way to do this.
Popular in the Community