A missing cat that was believed to have perished in a house fire is being called a little "miracle" after being found beneath the fire-ravaged home's floor, two months later.
Ringer the cat was found malnourished but alive thanks to the family's pet dog, who sniffed him out during the canine's first return to the property on Sunday, the owner told HuffPost.
"They're buddies. They've been buddies since day one," owner Christine Marr, told HuffPost of her two rescue pets ― Ringer, 4, and Chloe, 5, the dog.
Chloe was exploring the now-gutted South Haven home, which caught fire from a space heater. Then some casual sniffing led to some strange behavior, Marr said.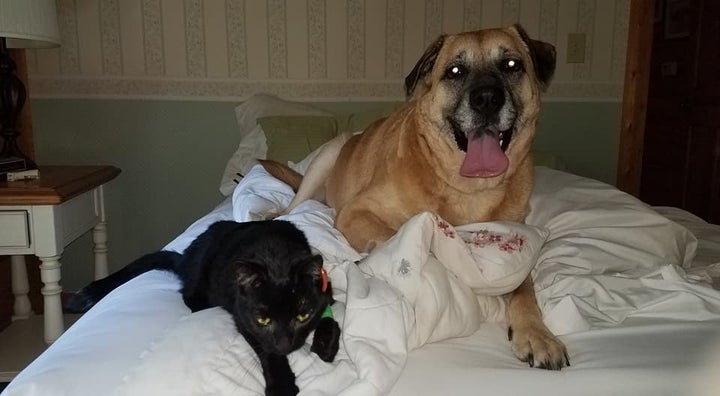 "She's running around the house and she's sniffing all the corners," Marr described Chloe. "And then she went to another part of the house and she started licking the floor and scratching at it. I thought, OK, that's weird."
They pulled the dog away from the floor three times, but each time she returned. Realizing something was up, Marr said she got a flashlight and shined it into a hole near the floor, "and I heard a faint meow."
"I figured it was a stray," she said, as there were several outside the house that she had cared for.
She went to get cat food as bait and upon her return saw her husband petting and studying a bony black cat in total silence.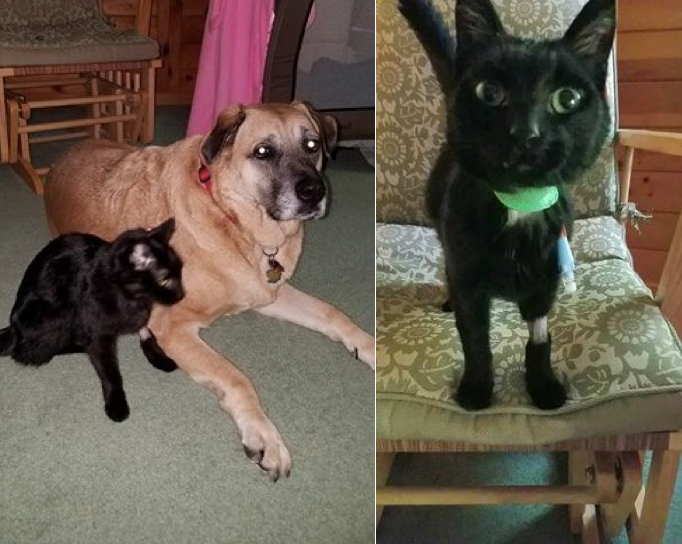 "I'm thinking nothing of it," she said of her reaction, figuring that the cat was another all black stray. Then she saw a white ring circling the cat's tail. It was the same mark Ringer had.
"I'm like, 'Oh my God, that's Ringer!'" she recalled her shock, which she said led to tears. "This is our missing cat of two months that just came out of a hole in the floor."
The cat was scooped up and taken to a Kalamazoo emergency animal hospital. There, she said a veterinarian listened to their story with amazement.
"He goes, 'This cat's a miracle because this cat is in incredible shape for what he's gone through,'" she said.
In a Facebook post, Marr called the cat's discovery her "Mother's Day miracle."
They said they picked the house clean in their search for the cat following the March blaze, which killed the family's second cat, an 8-year-old named Smoke. Marr also said that she returned to the wreckage dozens of times, calling out Ringer's name in hopes that he would respond.
This time around, it took Chloe the dog's keen sense of smell, which was tragically almost lost in the fire as well.
The canine family member was pulled from the home semi-unconscious by firefighters, according to the South Haven Area Emergency Services Department, which shared photos of the dog receiving oxygen on Facebook.
Chloe's safe spot was the bathroom floor "and that's where they found her," Marr said.
As for how Ringer managed to survive for so long, Marr said she can only assume that he ate bugs and whatever else he could find. He lost half of his body weight.
She also suggested that he could have initially escaped the fire, only to run back inside and into this now exposed floorspace as workers came to gut the property. In the process of that, he may have become trapped. That time frame would have placed the cat beneath the floor for at least four to five weeks, she said.
"I'm just still in awe that he's back. I got my cat back," Marr said. "That makes all that bad stuff not so bad."
The fortunate feline is still recovering, with a feeding tube in his neck helping him eat for the time being. Marr said it will remain in place until he's able to keep down solid food, which could be up to a month from now.
Ringer's family has since set up a YouCaring account to help raise money to cover his medical expenses, as well as Chloe's.
This story has been updated to include a link to the family's fundraiser.