According to a statement released by the Houston Police Department, on Aug. 12, two unknown men accompanied a third, who threw a live black and white pit bull into a Dumpster in the parking lot of a U-Haul store. One suspect closed the lid on the Dumpster, which prevented the dog from jumping out of it.
The suspects then fled the scene in a white or gray four-door sports utility vehicle.
The dog was rescued by the manager of the U-Haul facility the next day, and has since been adopted.
In an effort to enlist the pubic's help in identifying the suspects, Houston police released a video of the incident to its YouTube channel. However, at time of writing it had been removed for violating the company's terms of service.
Information requests to the HPD and YouTube by The Huffington Post were not immediately returned, but excepts of the surveillance footage remain in news report videos. In a still captured by KHOU, a man can be seen tossing the dog into the dumpster.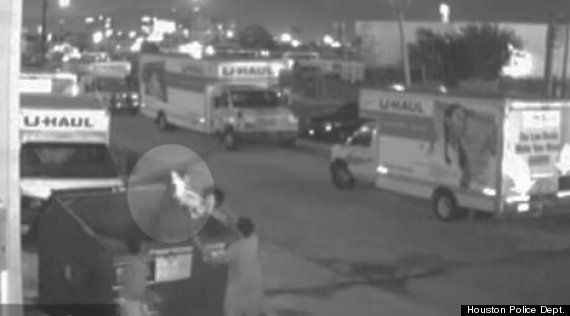 Anyone with information on the identities of the three males or the dog is urged to contact the HPD Major Offenders Division at 713-308-3100 or Crime Stoppers at 713-222-TIPS.
BEFORE YOU GO
PHOTO GALLERY
Animals In The News