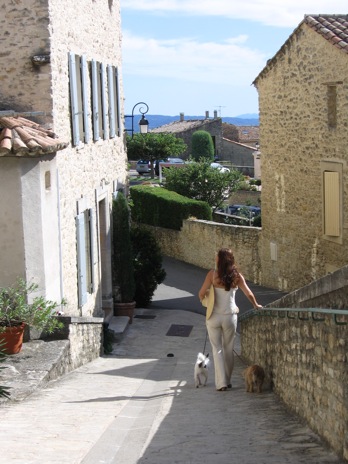 I love traveling but if I can't take my dog, I'm not going.
More than ever, people are traveling with their dogs and when they take a family vacation, they want to include their four-legged furry kid, too.
Traveling in the United States with my dog is a challenge. Most hotel managers recite their pet policy coldly, "No dogs allowed" followed by some silly excuse about "hygiene laws." It's insulting. My dog is cleaner and better behaved than most children.
Are dogs really dirtier than people? Have you ever seen some of these people in hotels? If they're really worried about hygiene, why don't they kick out the kid with the cold who is blowing his nose in his hands and working the doorknob? I don't even want to go into the character of the guests versus my dog. My sweet little dog is given the bum's rush while criminals, politicians and rock stars are welcomed with a discount to the presidential suite and a gift basket full of alcohol and condoms.
In the US, I usually have to settle for a room that looks like a sheetrock box with a view of a highway in a charmless area miles away from where I want to be. But I'm with my dog and that's what makes the room cozy for me.
Luckily for dog lovers, there is a fabulous place you can go where your dog will not only be allowed, but welcome -- France.
You might not like the French, but the French like your dog and France is dog country. Everywhere you go you'll see dogs. Dogs are so much a part of French culture that you'll see them wagging their tails in line at the post office, sitting at tables in restaurants, shopping in boutiques, even riding a city bus. So if you love history, architecture, art, spectacular scenery and great food served with incomparable style, then ask your dog, "want to go for a walk...in Provence?"
Last summer my husband and I took a road trip through Provence with our two rescued terriers, Jinky and Finley. We drove to Crillon le Brave (pronounced Cree-on luh Brahv), a medieval stone village nestled in the hills below Mont Ventoux. Normally, it would take three hours to drive to Crillon le Brave from Nice but we wanted to savor the south of France by taking a little detour to Arles, where Van Gogh lived and painted.
Arles is an ancient town established by the Greeks in the sixth century BC. It later became an important city of the Roman Empire, with a canal link to the Mediterranean Sea. Our dogs were very enthusiastic about one of the main attractions in the heart of Arles--the Roman arena with its massive arches. While we enjoyed the architecture, Jinky and Finley dragged us around the arena stalking a cat.
Arles is so dog friendly that our dogs had as much fun as we did exploring the ancient city. They were allowed in every gallery and wine shop. There were even opportunities for canine cultural exchanges when they met some French doggie friends who were loitering and drooling in front of a patisserie (pastry shop).
Unlike human tourists, the dogs had no problem with the language--seems like sniffing each other's back end is universal for, "Hi! You like me? I like you! Sniff my butt!" It was hot walking in the sun and we each took turns drinking from the many water fountains in town (bring travel drinking pouches for dogs).
Later, we found a bistro in the shade of leafy sycamore trees. It was the height of the tourist season and the only waiter handling the entire terrace looked stressed. When he saw the dogs though, he smiled. "Ah! Zee dogs must need some water. I bring zem some right away." We humans didn't get served until much later.
After all that touring on foot, we were happy to drive to Crillon le Brave and watch the picturesque scenery unfold --the pale, rocky landscape dotted with pine and cypress trees, the fields of lavender and corn and the famous crows Van Gogh painted, probably on that very same road. Under a royal blue sky we passed through vineyards and quiet stone villages lined with chestnut trees.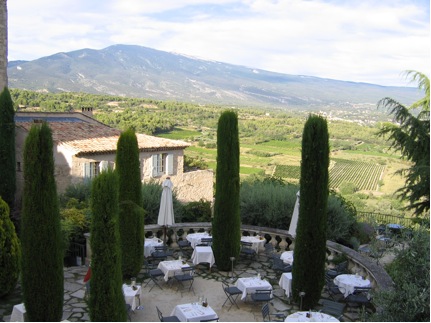 Dozing from their big hike-and-sniff in Arles, Jinky and Finley perked up at the site of cows and sheep grazing in pastures, who stared back at them through sleepy eyes over fields of poppies. For American dogs from a Los Angeles shelter, this was the most exciting adventure of their lives.
The dogs pushed their quivering wet noses out the open car windows and sniffed the unfamiliar aromas of ripening grapes on the vine and freshly baked olive bread.
As soon as we arrived in Crillon le Brave, I knew it was the perfect place to relax, breathe pure mountain air and listen to the song of the cicadas. It was peaceful, stylishly elegant yet unfussy and casual.
The hotel, which has the same name as the town, is a compound made up of several old stone buildings interconnected by winding cobblestone pathways. Green shady areas and clay pots overflowing with geraniums set off the unspoiled natural beauty of the Vaucluse. (The Vaucluse is a département, the French equivalent of a state and is located in the region of Provence.)
Thrilled to get out of the car for a new adventure, the dogs galloped ahead through the landscaped gardens. Each of the rooms at Crillon le Brave is luxurious and unique. Ours was comfortable and elegant, with a fireplace and a stunning view of the countryside.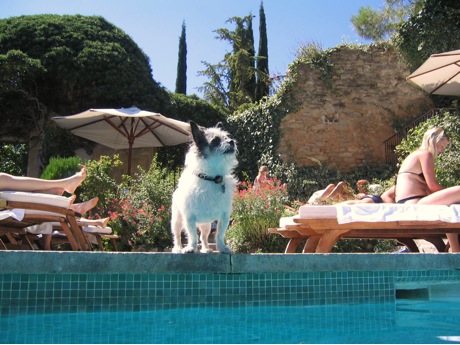 Before dinner, we had time to discover the village. Now, when humans travel, they go sight-seeing. But when dogs travel, they go sense-seeing. Watching the dogs explore Crillon le Brave it dawned on me that with their noses, which are hundreds of times more sensitive than ours, they enjoy foreign aromas that remain mysteries to us, like a Poodle fart in Bédoin, a neighboring village.
We'll never know exactly what they were thinking on our first walk through Crillon le Brave, but Jinky and Finley were in a dizzying frenzy of the senses, noses to the ground, alert, ears pivoting in every direction. In fact, with their keen ears, they might hear a mouse scurrying along the medieval ramparts of Venasque, kilometers away. Who knows, they might even smell historical markings left by village dogs of another century. For dogs, every stained stone is a history book filled with news that is important to them.
We hiked up the narrow stone road to the thirteenth century church which occupies the highest perch of Crillon le Brave, from where you can see Mont Ventoux, the mountain Petrarch climbed in 1336, for the pleasure of seeing the view.
Under the stars, the dining room looked like a glamorous movie set. As the sun went down over the vineyards, the hotel staff lit candles at our table. The chef prepared an unforgettable meal that was centered around the finest local truffles of Carpentras (a nearby town with the oldest synagogue in France), served on a bed of very young and tender haricots verts along with an engaging bottle of Château Valcombe from the Cotes-du-Ventoux.
We discovered that Jinky loves truffles. Unless he can be trained to find the "black diamonds" himself, I doubt he will be getting very many truffle treats in the future at up to $500 a pound! (Which, by the way, makes a comfortable living for the people who find and sell them: trufficulteurs--the crack dealers of France.)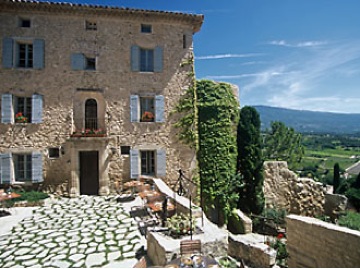 Here's how nice people are to dogs in France: When we arrived at the hotel earlier, we found we had forgotten food for the dogs. When we asked at dinner if the dogs could possibly have a few scraps, the waiter said, "No problème, Madame, I will talk to zee chef." But the chef didn't send us scraps. He cooked a special meal for them of rice, vegetables and chicken, all chopped up (sans truffles).
Here we were, in the most beautiful restaurant in the world, enjoying a gourmet dinner and our dogs were sitting with us, being served by a French chef! It was so civilized. What was comical to us was that our dogs could eat there with us but they aren't even allowed inside the most ordinary diner in the US.
After dinner and an oversupply of champagne, we straggled merrily through jasmine scented gardens to find our suite. Without our dogs, we might never have found our room but the little geniuses "smelled" us right to it. When we got in, we opened all the windows to let in the fragrant air. My husband, our two dogs and I piled into the bed and slept like puppies.
In the Vaucluse, there is a variety of extraordinary hikes, for the casual walker or the passionate alpinist. In every direction, there are quiet country roads that meander through vineyards, lavender fields and ancient fortified towns and there is even a labyrinth made of corn stalks just a ten minute drive from the hotel.
For ambitious hikers and well conditioned cyclists, there is Mont Ventoux with its endless trails that go from the cultivated foot hills to the summit (elevation: 6,263 feet). Even the lazy (me and Finley, my corpulent Cairn ) can enjoy Mont Ventoux by ascending the windy summit by car. Bring a jacket up there; the wind is icy but the view of the Alps and Rhône valley is spectacular.
The rest of our vacation was spent on stress-free, breezy comings and goings from historical town treks to country hikes. Mostly, our schedule was dictated by the dogs--they wanted to explore, eat, relax, eat some more and then recline by the pool until the moon rose. It turns out, that was exactly what we wanted to do, so we had the ideal vacation--not quite as good as the dogs, who were smarter than we were and didn't go broke shopping for touristy trinkets, get sunburned or hung over from too much Rosé.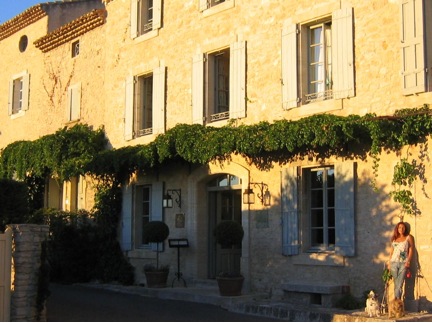 In my next life, I want to be a trufficulteur. I want to run a truffle hunting school for rescued dogs in the foothills of Mont Ventoux and, as the leader of the pack, say things like, "Jinky, fetch me a truffle, will you?" Or, "Oh fat Finley, be a good girl and work off some calories--trample that cluster of grapes into wine for me." And best of all, in my next life in Provence, my dogs will actually obey me.
How to plan your trip:
Organizing a trip to France with your dog is not as complicated as you might think but it does require planning. If your dog can be squeezed into an airline approved Sherpa bag, then he can fly in the cabin with you and all you need is an international travel document provided by your veterinarian within ten days of your departure. Your dog needs a current rabies vaccine and a clean bill of health to be signed by your vet and your nearest USDA office within 10 days of departure. Your dog must be micro-chipped to enter the E.U.
If you have a larger dog who can't accompany you in the cabin (unless he's a service dog), I recommend taking a direct flight from the East coast of the US. Taking a direct flight insures that the dog will not get lost by the airlines in transit. Enjoy a night in New York at a dog-friendly hotel and leave the next day. Your dog's safety is paramount.
It's only an eight hour flight from New York to Nice (Delta/Air France) and if you exhaust him with exercise before your departure, he'll sleep the whole way there. It'll be an anxious eight hours for a highly strung dog, but for the secure dog, or one on vet approved tranquilizers, it's not the end of the world. Once you are reunited in France in the morning, get through customs and empty his bladder outside (there is a grassy area to the right, outside arrivals at the Nice airport), all will be fine and you'll be ready for your French aventure.
Crillon le Brave is easy to reach.
By Air: The nearest major international airport is Marseille-Provence (Marignane), which is a 90 minute drive south of Crillon le Brave. The Marseille-Provence airport has frequent flights from Paris and good connections from London and other major European cities.
The Nice Airport has direct flights from several North American cities and most major European airports. The Nice airport is a three hour drive from Crillon le Brave.
By Train: If your trip to France includes time in Paris as well as Provence, then a good way to reach Crillon le Brave is by high speed train (the "TGV") from Paris to Avignon. The TGV leaves from the Gare de Lyon in Paris and also from the train station located in Terminal 2 of Charles de Gaulle Airport. Travel time from Paris to Avignon is less than 3 hours and all the major car rental companies have offices at the station.

Route Planning: An excellent online resource for planning the driving portion of your trip gives you maps and an itinerary planing tool.

Things to see and do in Provence: There are good online resources to help you decide what you might like to see and do during your visit to Provence. And for a detailed Vaucluse guide, click here.
Related
Popular in the Community