In May, Rachael Chambers of Morgan Hill, Calif., gave her four dogs Milo's Kitchen Home-style Dog Treats. Not long after, three of her dogs began getting sick.
Her Dachshund-mix, Liz, had diarrhea and wouldn't eat and Chihuahua-mix Jack stopped eating and had to undergo weeks of liver treatment. But 13-year-old shepherd-mix Cali died when her stomach ruptured.
"It's been sad and hard on our family, but I think what's been harder is to understand why almost seven months later there's more dead dogs and nothing has changed," Chambers told ABC7 News in December.
From 2010 through Dec. 17, 2012, a reported 3,243 dogs and nine cats were sickened after eating chicken jerky treats made in China, according to the U.S. Food and Drug Administration Center for Veterinary Medicine (FDA CVM). A reported 501 dogs and one cat have died as a result of eating the tainted treats.
According to its website, the FDA has become "aware of increasing numbers of illnesses in pets associated with the consumption of jerky pet treats" since 2007, but "no definitive cause has been determined."
As of Dec. 17, the FDA had received 2,674 reports of illness and death in pets. Most complaints involve chicken jerky treats, but others include duck, sweet potato, and treats where chicken or duck jerky is wrapped around dried fruits, sweet potatoes or yams.
Recalls
Although the FDA hasn't issued a recall, last week Nestle Purina PetCare Co. voluntarily recalled its Waggin' Train and Canyon Creek Ranch brand dog treats, and Del Monte Corp. recalled its Milo's Kitchen Chicken Jerky and Chicken Grillers home-style dog treats.
Publix also recalled its Chicken Tenders Dog Chew Treats, and IMS Pet Industries Inc. removed its Cadet Brand Chicken Jerky Treats from stores.
The antibiotics — only one of which is approved for U.S. poultry use — include sulfaclozine, tilmicosin, trimethoprim, enrofloxacin and sulfaquinoxalin. All of these antibiotics are approved in China, where most of the treats are made.
However, because these antibiotic levels are extremely low, they're unlikely to cause health problems in pets, according to the FDA. In fact, some of the antibiotics listed in the NYSDAM report are used safely in dogs.
Investigation ongoing
The FDA is still investigating pet treats imported from China, but has so far found no toxins or other contaminants responsible for causing illness or death.
Last week the Chicago Tribune reported that Tamara Ward, spokeswoman for the FDA CVM office of public affairs, told contributor Steve Dale that one Chinese plant under FDA investigation had falsified receiving documents for glycerin, an ingredient in jerky pet treats. As a result, China's Administration of Quality Supervision, Inspection and Quarantine told the FDA that it had suspended the firm's exports.
When asked for clarification, the FDA spokeswoman said she could give no further comment on an ongoing investigation.
In December, U.S. Rep. Jerry McNerney of California's 9th Congressional District wrote to the Chinese government asking it to "consider halting production of these chicken jerky treats until the FDA can determine whether or not the products contain tainted material."
In response, the Chinese government was critical of the FDA's advisory alert on the agency's website, saying that "From the perspective of the Chinese side, there might be something wrong with the FDA's investigation guidance."
Do you feed your dog chicken jerky products?
The FDA advises not to substitute chicken jerky treats for dog food and cautions owners of small dogs to be especially careful in limiting the amounts given to their pets.
Stop feeding your dog these treats if the animal shows any of the following signs, which could occur within hours to days after ingestion: decreased appetite, decreased activity, vomiting, diarrhea, increased drinking of water or urination.
Related
Before You Go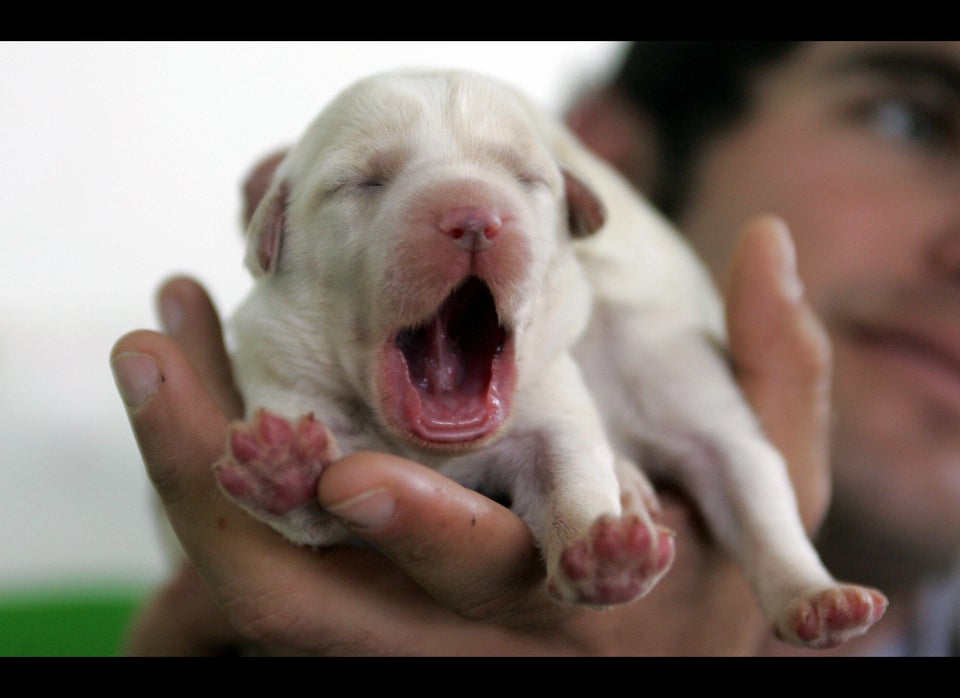 Puppies
Popular in the Community