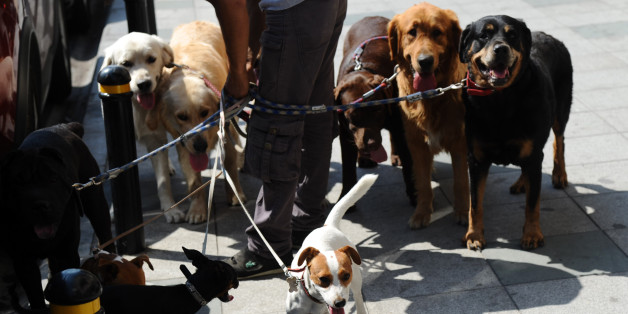 When a St. Louis woman shared the story of a Girl Scout who sold cookies in front of a Colorado marijuana dispensary, she had no clue it would leave her dogs, who have special needs, with no one to walk them.
The Moyer family and the Pack Leader, Plus dog walking service severed ties after a disagreement over marijuana legalization. The owners of Pack Leader, Plus, who describe themselves as devout Christians, said they took issue with Tricia Moyer's decision to share the story on her personal Facebook page.
"We saw it online and we were honestly appalled by it. The fact that they were putting children there to sell cookies," Tom Zeigler, one of the owners of the dog walking service, told The Huffington Post. "I understand why some people think it's funny, but we didn't find it funny, we found it to be reprehensible."
When Moyer, a longtime client, contacted Zeigler via Facebook to schedule another walk, Zeigler said he felt inclined to bring up the pot-centric post.
"We told the Moyers it made us uncomfortable and gave them several different reasons why we had a problem with it," Zeigler said. "We simply said it was against the idea of being clean and sober-minded and treating your body as a temple to the Holy Spirit. I guess Mr. [Shawn] Moyer, who is a devout atheist, took serious offense to our religious standings."
Moyer disagreed with that assessment, telling HuffPost, "I don't take issue with anyone for their faith."
Zeigler said he asked Moyer if he was involved in the promotion of marijuana or its use, and a heated argument soon followed.
In an interview with The Riverfront Times, Moyer mentioned that he and his wife support marijuana legalization but are not users.
"I work at a security consulting firm. Many of my clients require background checks and sometimes drug screening. I've also held federal security clearance in the past," Moyer explained to HuffPost. "I'm not a drug user."
Despite this, Zeigler seems undeterred.
"This was, among other things, a legal issue," he told HuffPost. "As a business, say we went to a house of people involved in the use, promotion or trafficking of these drugs and the police were watching the house. Boom, there's a legal issue right there that could lead to a multitude of other things, including having our business splashed all over the media or something."
When asked if they would work with the Moyer family in the future, Zeigler said they would not and said he and his wife were unapologetic for following the teachings of Christ.
This article has been updated to include further statements from Shawn Moyer.
REAL LIFE. REAL NEWS. REAL VOICES.
Help us tell more of the stories that matter from voices that too often remain unheard.
BEFORE YOU GO