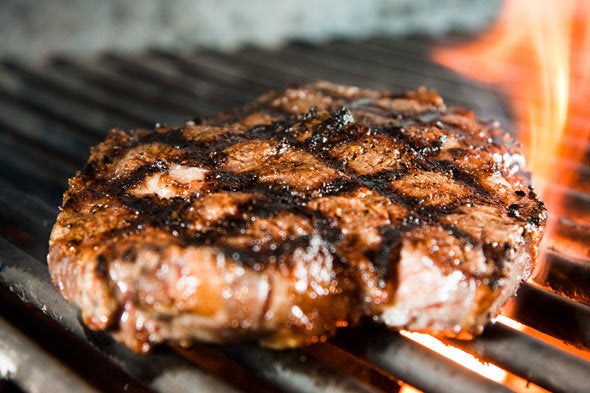 Some of Billy Hulse's most vivid memories of his mother, Mary Cobb, were in the kitchen. Her friends and family called her "Cobbie" and remember her as an inventive cook. As a child, Billy remembers fondly his mother creating recipes over the stove during their summers at the beach.
"My mother used to serve all the kids wet and covered in sand on the outdoor porch," Billy says.

Although Cobbie was famous for edible concoctions, most were never recorded. It was only her famous barbeque sauce that was saved after she died. Billy and his wife, Betty, had perfected the sauce over the years and often gave it as gifts to their friends.
"As far as we know, [Cobbie's Sauce] is the only recipe that made it to an index card and was passed down," Betty says. "What fun to inherit a barbeque sauce recipe instead of a watch!"
Becoming immediate fans, friends often joked that the Hulses should market Cobbie's special sauce. Billy and Betty laughed off the idea until the trajectory of their lives changed in an instant. Living with an abnormality to his central nervous system, Billy was accustomed to experiencing night terrors while sleeping. During one episode in 2009, Billy slammed his head into shelving above his bed, which injured his spinal cord at the C-2 level.
Immediately, Billy was rushed to the Atlanta-based Shepherd Center, a top nonprofit hospital that specializes in medical treatment, research and rehabilitation of those with spinal cord and/or brain injury. It was there that Billy learned he would forever be paralyzed from the neck down and began his life as a quadriplegic.
Walking into the Shepherd Center, Betty remembers reading the motto: "Life beyond injury." The motto became the Hulses' mission as the hospital literally "shepherded" the couple through the harsh realities associated with Billy's injury.
"We have been the fortunate recipients of the many years they have put into making the Shepherd Center top in its field," Betty says.
Overwhelmed with the injury's specifics, the Hulses were blown away by Billy's medical treatment and the corresponding family training Betty received daily. In addition to a doctor, a Shepherd Center patient's medical team involves an occupational therapist, physical therapist, chaplain, psychiatrist and, in Billy's case, an entire department of respiratory therapists.
During Billy's hospitalization, Betty combated her nervous energy by preparing 80 bottles of Cobbie's barbeque sauce to give as gifts for Billy's doctors and nurses.
"I immediately knew that the best gift would be Cobbie's Sauce because it was personal to Billy and me as we've been making it in our kitchen for 15 years," Betty says.
Their medical team raved about Cobbie's Sauce, and it sparked the idea to transform the barbeque sauce into a way to give back to the hospital. Betty jumped headfirst into developing a brand around Billy's family recipe and relied on community business leaders to help with packaging, branding and general operations.
"It is such a wonderful feeling to be supported by your community," Betty says. "There were other professionals who believed in Cobbie's Sauce taste and mission who have given their time to help us start our business."
From her research, Betty learned it was most important to the mothers she targeted that Cobbie's Sauce was all natural and sustainable. Luckily, Cobbie's recipe happened to be gluten free, so Betty emphasized the sauce's natural ingredients in their marketing efforts to attract a niche market. She also chose glass bottles instead of traditional disposable packaging to limit waste.
Committed to making Cobbie's Sauce a household name, the company continues to focus on securing shelf space in both specialty and large retail stores. The Hulses understand they are in a competitive product category so depend on its undeniable flavor and connection to the Shepherd Center to set Cobbie's Sauce apart.
"We are finding that tasting equals purchase so in-store tasting festivals and other occasions where the consumer can sample Cobbie's is central to our plans," Betty says.
This past Christmas, the Hulses were thrilled to learn the Today show had featured Cobbie's Sauce as one of the best holiday gifts for 2011. The exposure immediately generated a huge spike in sales. Overnight, they were shipping up to 60 boxes per day.
"Many of the orders had emails attached telling us stories about family members with spinal cord injuries and their experience," Betty remembers. "It was a huge morale boost for us."
Betty is quick to acknowledge that launching Cobbie's Sauce is harder than she imagined. She has learned that successes usually follow disappointments and how important it is to remain focused on your goal.
"You have to constantly give your best and raise the bar personally and professionally," Betty acknowledges. "We see this played out daily at the Shepherd Center, which continues to make a difference in our daily lives."
Related
Popular in the Community