There are more than half a million dogs in New York City, and for two years now, Kim Wolf has documented as many of them as she possibly can.
Through her project, Dogs Of New York -- inspired by the series Humans of New York -- Wolf travels all over the city taking pictures of, and asking questions about, people and their pups.
Hardly anyone says no; in fact, most people, no matter who they are or what they and their pups look like, are delighted to tell Wolf about their sweet dogs, and about themselves.
"They light up when they start talking about them," Wolf says. "People love their pets ... That's something they all have in common."
One of Wolf's favorite photos is of a man named Marion with his dog, Lady.
When Wolf met the two last winter, Lady was wrapped up in a piece of carpet. Marion explained that he'd found Lady in the street a couple of weeks earlier. He believed she'd been mistreated, and decided to give her a home.
Among the first things Marion did was stitch up this "jacket" to make sure Lady would stay warm.
"Used some shoe string to tie it on to the dog," Wolf says. "It just spoke so much to how strong a bond is with animals."
If one goal of DONY is for Wolf to have an excuse to pet so many dogs, another, more socially minded aim is to show that it doesn't take a fancy zip code to be a loving pet owner.
"I'm especially interested in sharing the stories of people who might have been discriminated against or pre-judged because of appearances -- whether it's the dog, the person, or both," she said.
That's why of all the personal things she talks about with her subjects, the one question Wolf never asks is the most New York question of all: What do you do for a living?
"I'm going to see that person as an individual, and I'm going to let that person tell me the story of who they are," she says.
Another aim of DONY is helping get resources to folks who might need some assistance providing for their pets.
For example, Wolf brought Marion and Lady a brand new winter coat soon after meeting them.
She also made them part of a nonprofit she runs -- Beyond Breed/Ruff Riders -- which provides pet food and other supplies, mostly to Brooklynites, who have fallen on hard times.
You may see her riding around Brooklyn, making deliveries out of a bright blue cart attached to an adult-sized tricycle.
Wolf''s helped out about 60 families -- and 130 pets -- through this program so far, many she met via Dogs of New York.
She'd like that number to keep growing.
Making sure families can take care of their pets is an important part of keeping animals out of shelters where they risk euthanasia, she says. But this is also a way of recognizing that anyone can take a bad turn, and it shouldn't be made even worse, by losing an animal.
"I'm listening when people say, 'Our pets are family, this is important to us,'" Wolf says. "Having a pet might be a privilege, but I don't believe that only privileged people deserve that companionship."
Wolf doesn't feel anywhere close to done with Dogs of New York; she has yet to get to Staten Island, and there are so many dogs that she hasn't encountered and so much work left to be done.
"There's a whole big world out there I want to make visible," she says. "There are so many amazing stories."
Oh, and by the way. Wolf has three Brooklyn dogs herself: Mary Todd Lincoln, Cappy and Fannie.
If she were to be interviewed for Dogs of New York, here's what she'd say about her pups:

I'd tell you that Mary Todd Lincoln once got stuck inside a sofa cushion and my other dog, Martha Washington, dug her out.

I'd tell you how Cappy once escaped from a fenced-in pond by swimming out the drainage tunnel.

I'd tell you Fannie was the first dog I ever lived with and I adopted her when I was 26 years old.

You'd ask me about the pit bull tattooed on my foot and I'd tell you his name was Sarge and he was a certified therapy dog who was nearly 17 when he died.

And then I'd have to end the interview because Cappy would be eating chicken wing.
But, Wolf says, she'd get out of being in the actual photo.
"I'm never in the pictures!" she says.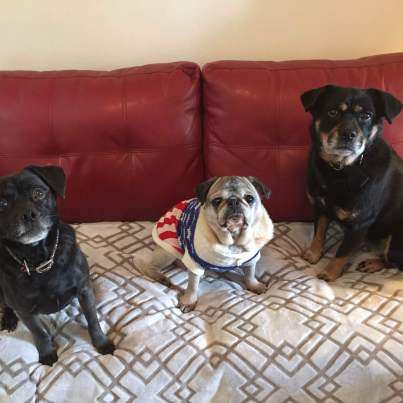 Left to right: Cappy, Mary Todd Lincoln, Fannie. Photo: Kim Wolf
Video produced by Oliver Noble and Sam Wilkes.
Get in touch at arin.greenwood@huffingtonpost.com if you have an animal story to share!
I met Blaze (1 year old) and his family outside the Broadway Junction subway station in East New York, Brooklyn. "Hold on, hold on. Let me show you something. Look at this! He sits on my arm like a statue!"

Posted by Dogs of New York on Wednesday, August 28, 2013
Junior lives in Bushwick, Brooklyn. He's 1 year and 9 months old. "We adopted Junior in April 2012. Someone gave him to us because they couldn't afford his care."

Posted by Dogs of New York on Tuesday, September 10, 2013
Related
Before You Go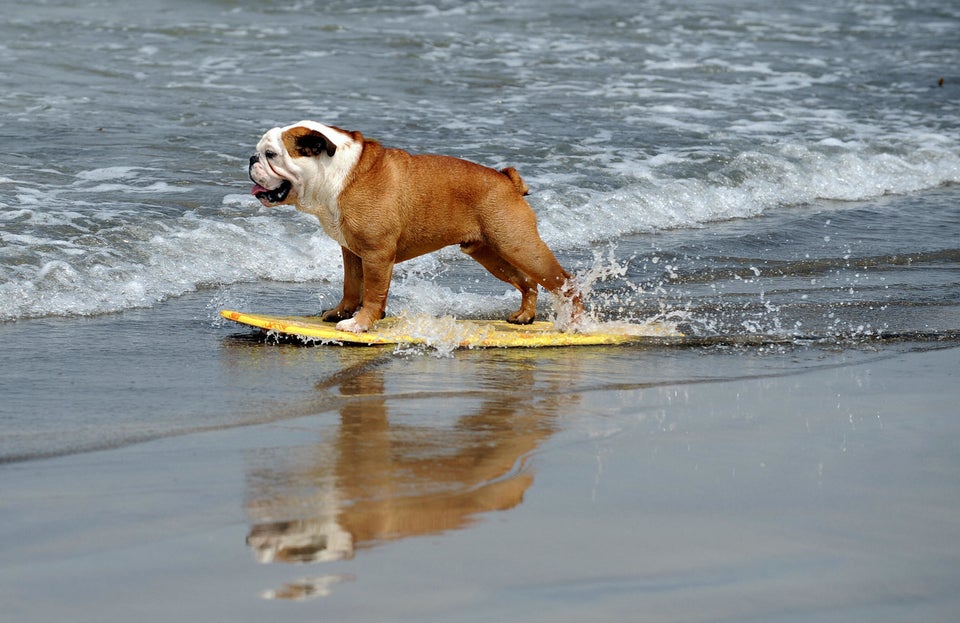 Cute Animals Galore