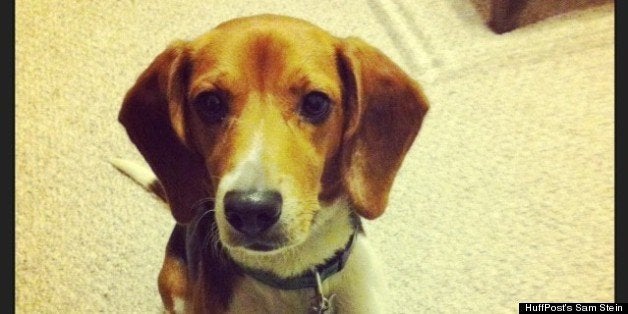 WASHINGTON -- Even during moments of vicious partisan bickering, members of Congress seem to find common ground over their love of pets.
When Republicans were exploring every means possible to stall the Democrats' push for health care reform, they nevertheless put forward a measure to give people a $3,500 annual tax deduction to pay for their pets' medical care. When Michael Vick's dog-fighting scandal burst open in public, Democrats stopped beating up on the Bush administration to admonish the NFL star on the Senate floor. (A famous speech by the late Sen. Robert Byrd (D-W.Va.) came out of this.)
And when Congress was in near paralysis over how to handle sequestration and the expiring Bush-era tax cuts at the end of 2012, lawmakers were still able to pass a bill giving military dogs a place to live if they were not adopted after they retired.
So it is with cautious optimism that two members of the House of Representatives introduced legislation on Tuesday that would require Amtrak -– the government-subsidized rail system -– to allow passengers to travel with domesticated cats and dogs on certain trains.
The Pets on Trains Act of 2013 would reverse standing policy prohibiting animals from being brought on trains unless they are traveling with people with disabilities. Its bipartisan co-sponsors -- Rep. Steve Cohen (D-Tenn.) and Rep. Jeff Denham (R-Calif.) -- fully acknowledge that they are personally vested in ensuring its passage.
"My dog, Lily, is a part of our family and travels with us to and from California all the time. If I can take her on a plane, why can't I travel with her on Amtrak, too?" said Denham. "Allowing families to bring their animals with them will facilitate transportation and efficiency while also providing a much-needed source of revenue for Amtrak."
"Those of us lucky enough to have pets are greatly blessed with their companionship," said Cohen. "When travelling on Amtrak, families should be able to bring their pets along. Our bill would establish a pet policy on Amtrak trains so pets –- which are a part of the family –- won't be left at home to fend for themselves."
Because both co-sponsors fully disclosed their personal interest in seeing the Pets on Trains Act become law, this reporter should probably be forthcoming as well. I have a dog. His name is Bennett. He is a Beagle. I would love to bring him on Amtrak and promise that he will behave (ok, I can't promise that).
UPDATE: 4:10 p.m. -- The Humane Society of the United States has come out in support of legislation to allow pets to be brought on Amtrak.
"Millions of American families have beloved pets, and allowing them to travel by train will support the human-animal bond," said Wayne Pacelle, president and CEO of The Humane Society of the United States. "We are grateful to Congressmen Denham and Cohen for introducing this common-sense legislation to help pet owners."