Dozens of dogs rescued from a South Korean dog meat farm are destined for lives of belly rubs and squeaky toys after being flown to shelters in the U.S. over the weekend.
Humane Society International removed the 55 dogs from a farm in Goyang, just northwest of Seoul, after reaching an agreement with the owners, the animal welfare group announced.
Shelters in New York, Pennsylvania and Maryland are accepting the majority of the dogs, which eventually will be up for adoption. Nine of them are being sent to Dallas, where they can also be adopted, an HSI spokesperson said by phone Monday.
According to HSI, this was the seventh dog meat farm to close in South Korea because of its efforts, collectively saving more than 800 canine lives.
"Their capacity to bounce back from the worst situations is astonishing to me," HSI's Adam Parascandola, director of animal protection and crisis response, said in a statement. "A number of the dogs are already super friendly, and one of the Jindo mothers who appeared nervous at first, just sat in my lap and wouldn't move. It was like she'd found comfort at last and she wasn't giving it up. She doesn't know it yet but she'll have a soft warm bed for the rest of her life now."
Parascandola, who said he's participated in rescues over the last two years with the HSI, described the farm in Goyang as the worst he's seen.
"I thought I'd seen it all until I first saw this facility. It literally took my breath away, not least because when we first entered the darkness, the stench was overpowering," he said. "The ammonia burned the back of our throats. We could hear the dogs' desperate barks but we couldn't see their faces properly, just their eyes peering out."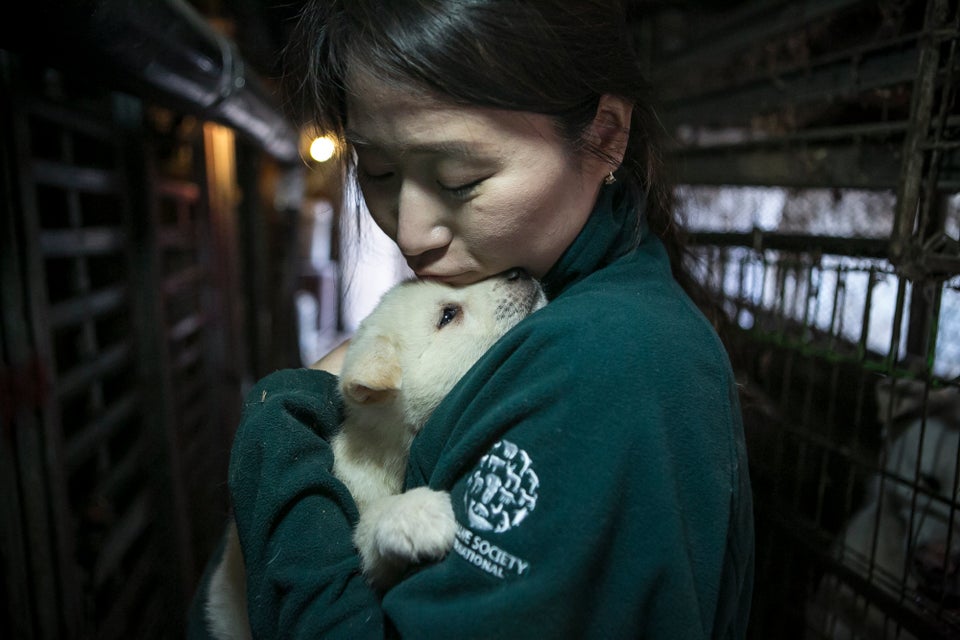 Happy Tails! More Than 50 Dogs Rescued From South Korean Meat Farm
In past situations, the HSI said, the group has helped dog farmers transition to chili or blueberry farming. In the case of this Goyang farm, the owners were in their 70s and wanting to retire, but just weren't sure where to begin.
The owner, identified only as Mr. Kim, told the HSI through a translator that he had increasingly regretted the work and personally never slaughtered the dogs, but allowed buyers to come and select the animals.
"I used to have around 20 dogs and I tried to leave the dog meat industry several times but somehow people gave me dogs and I restarted," he said.
That doesn't mean it's a growing industry, he said.
"I've heard that more and more dog meat restaurants are shutting down and now it's not a business that people are willing to do for a living," he said. "Dog meat consumers are also getting less and less, so although I can't say it will be ended, I can say it is a dying business for sure."
Those wanting to adopt one of the many dogs can contact the following shelters:
Popular in the Community