A Minneapolis family is demanding answers after a police officer shot and injured their two dogs on Saturday while responding to a security alarm at their house.
Surveillance video that the family shared on Facebook shows an officer walking into the home's fenced backyard when one of the dogs approaches, wagging its tail but with what appears to be bristled hair along its back.
The police officer involved in the shooting, whom the Minneapolis Police Department has not identified, can be seen taking several steps back with his gun pointed at the approaching dog. The dog pauses and then draws closer, tail wagging.
The officer then opens fire, causing the dog to fall on its back and scramble away. A second dog can be seen running toward the officer before he, too, is shot and sent scurrying.
"He was wagging his tail," homeowner Jennifer LeMay told the Star Tribune. "My dog wasn't even moving, lunging toward him or anything."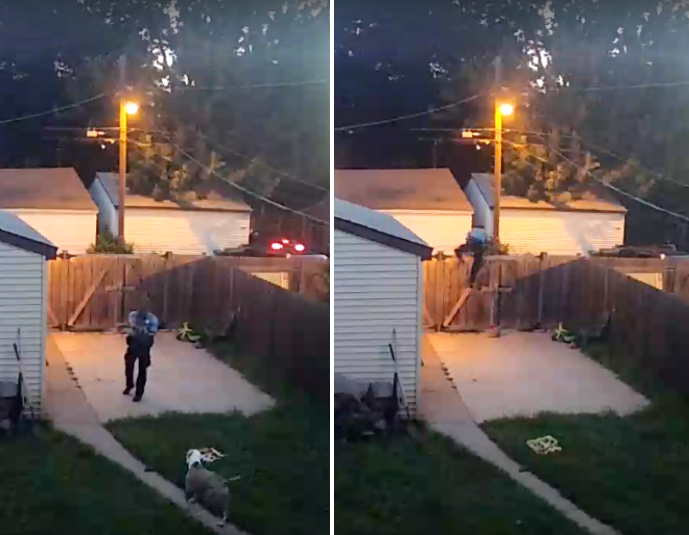 LeMay said a friend was watching the family's two Staffordshire terriers, Ciroc and Rocko, when her two daughters, ages 18 and 13, came home early from a family camping trip and triggered the home's security alarm just before 9 p.m.
Within four minutes, Le May called the security company and the alarm was deactivated, she told the Star Tribune. But about 20 minutes later, she said, two police officers arrived and split up to investigate the property, with one staying at the front and the other going to the back.
LeMay's 13-year-old daughter, Vanessa, said she was looking out of a bedroom window when she saw the officer shoot the dogs. LeMay said the dogs are emotional support animals for her two sons, who have anxiety.
The family invited the TV station to see the teen's bloodstained bedroom, where Ciroc ran after being wounded, according to Vanessa.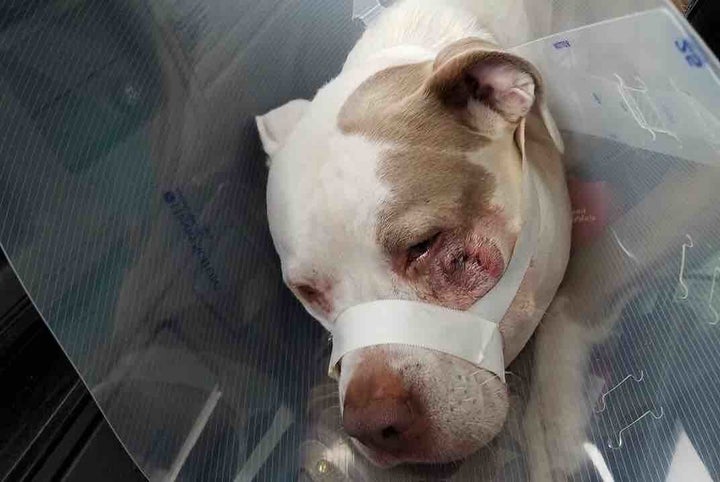 After the shooting, the officers reportedly knocked on the front door and told the family not to call for medical help, because animal control was just minutes away. But help never arrived, LeMay told the Tribune.
The family eventually took the dogs to a vet that night. Ciroc had suffered a gunshot wound to his jaw, and Rocko had several gunshot wounds to his body. LeMay said she has already paid $900 for Ciroc's medical care, but he'll require additional surgery that will cost $5,000 to $7,000.
Both dogs are expected to recover, according to local CBS affiliate WCCO.
On Facebook, LeMay accused the officer of being "trigger happy" and shooting her "fur babies" without a valid reason.
"These just aren't family members, they make my kids' days possible. They make it possible for my kids to function in their day-to-day life," LeMay told WCCO.
To help with the medical bills, LeMay shared a link on Facebook to a GoFundMe account that has raised $15,000 as of Monday afternoon.
Le May and her family did not immediately respond to HuffPost's request for comment on Monday.
Calling all HuffPost superfans!
Sign up for membership to become a founding member and help shape HuffPost's next chapter
BEFORE YOU GO