What a difference a year makes!
The man whose name has been tied for years to press freedom and the defense of journalists worldwide from his Paris perch, then transplanted to Doha to start a similar gig, has become the bête noire of a leading Qatari paper that accused him of promoting "immorality" and insulting Qataris.
"It's been a year since the center opened, and six months since it became operational, at phenomenal cost, and it was hoped it would provide added value to the local landscape, but it hasn't, and its limelight-seeking director has limited himself to fiery statements," blasted the editor in chief of the daily Al Sharq on Sunday.


Al Sharq logo
The editor was referring to Robert Menard, who set up the Doha Centre for Media Freedom , with blessings from Qatar's emir, Sheikh Hamad bin Khalifa al-Thani, and under the patronage of the country's first lady, Sheikha Mozah bint Nasser al-Missned.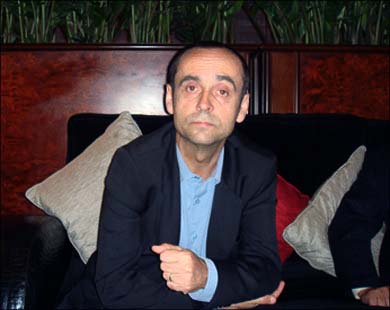 Robert Menard (Aljazeera.net)
Editor Jaber Al Harmi also slammed Menard for not being a team player, a trait he alleged the Frenchman carried over from the time he founded and headed Reporters Sans Frontiers, or Reporters Without Borders.
"Menard not only got rid of Qataris from the organization, but repeatedly insulted the state of Qatar; most recently by lambasting our brothers in Dubai who tried to limit the toxic effects of obscene websites, notably through YouTube in the United Arab Emirates," Al Harmi said.
He added that Menard's excoriation of the Dubai police chief -- charged with maintaining the Emirates' moral standards - meant the former wanted the latter to allow websites that insulted Islam and deities and promoted blasphemy in the name of press freedom.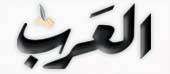 Al Arab logo
Menard defended himself in an interview Monday in another daily, Al Arab, saying he only criticized what was wrong, in Qatar and elsewhere, and that alternate ways existed to counter pornography. He also said his center had helped 250 journalists in distress who had sought refuge in Doha from persecution in their home countries.
He denied getting on his political high horse, or hiring French compatriots at his center to the detriment of qualified Qatari employees.
But Al Sharq's editor begged to differ and on Wednesday ripped into Menard again with a huge editorial demanding to see proof money had been handed to journalists fighting for press freedom around the world .
Al Harmi added that needy reporters in Iraq had never heard of the Doha center and that Palestinian journalists whose freedom had been trampled- 51 being incarcerated by Israel -- weren't even on Menard's radar screen.
The media tug-of-war is thought to result from Menard's prickly pear, chip-on-the-shoulder attitude, and some of his hosts' sensitivities to ideas running contrary to the Gulf country's conservative population.
A Doha-based journalist said the latest flap, one of many in recent months, meant the honeymoon was over for Menard who created a local and international ruckus in March when one of his staffers was barred from leaving Qatar after which he lambasted Qatari authorities for the action.
Menard also urged the UN's Human Rights Council to reject a draft resolution by Muslim countries condemning criticism of religion, saying it was "an unacceptable violation" of international agreements.
The recent dressing down by Al Sharq, critics believed, spelled his doom because the emir wants him out while the first lady wants him to stay.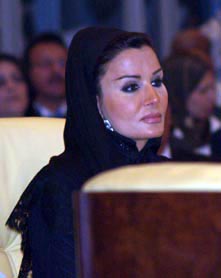 Sheikha Mozah, Qatar's royal consort
(Abu-Fadil)
It's a far cry from the fanfare surrounding the DCMF's official launch in October 2008, almost a year after it was set up, with a glittery board of international governors that include actress Mia Farrow, former French prime minister Dominique de Villepin, Argentinian-Israeli pianist/conductor Daniel Barenboïm, former South African first lady and Mozambican minister Gracia Machel and former CNN president Chris Cramer.
The DCMF's motto is "Let's Give Freedom of Information a Future" and was established to help journalists in difficulty and provide them with shelter and recourse to their rights.
But critics say all Menard has done is siphon funds from his benefactors, duplicate the work he did at RSF, hire cronies from his former place of employment, turn the center into a platform to advance his ideology, and lash out at politicians in the Arab region and beyond, much as he had done earlier in France.
They pointed to his unabashedly having recycled a journalists' handbook from the RSF days, funded by UNESCO, and passing it off as a DCMF publication. The book is available online.
Only one other publication and three reports are available on the site with thin "resources" piggybacking on different organizations' fame.
Maverick Menard is a self-styled activist who, according to Wikipedia, was born to a French family in Algeria and had planned to become a priest before turning left, hooking up with Trotskyist elements and joining the Socialist Party.
It said he created a pirate radio station in the mid-1970s, published a free magazine and founded RSF in 1985. All along, media analysts questioned his motives for leaving RSF to head an organization in a region not noted for press freedom.

Related
Popular in the Community