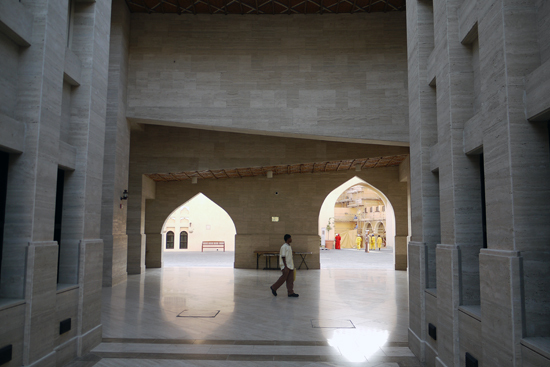 Last November I spent a week in Doha, with a day trip along Qatar's widest, smoothest and newest highway (the North Road). It had been more than a year since I'd been in Doha, and that year has been a big one for Doha, at least in the news cycle -- World Cup drama*, diplomatic efforts throughout the Middle East and Africa, a development schedule that disregards global crisis.
There is no city that has generated such a complex and multifaceted public campaign for itself. Real-time Doha, however, cannot compete with the city's media frenzy. That's a reality one confronts as soon as the sliding doors open at the airport (the gigantic new one is not yet open). Doha on the ground still feels small, comfortably quiet, graspable. In contrast, the splendid, audacious Doha is a concept usually performed on stages elsewhere: Zurich, London, Cairo, Tripoli, Damascus, Khartoum to name the first six that come to mind. In a discussion about the cleft between the two Dohas, the concrete one and the conceptual one, Mishaal Al Gergawi captured for me what Doha is: a Colosseum. It's a place which knows it can host the world, but it is, more often than not, a modest city.
Driving, walking around Doha, one has to become reacquainted with the Doha that is a real city. One discerns evidence of the billions being put into new building and infrastructure, even though the spokespersons say that 2012 will be the year when more construction will be evident. For now, it is easier to find where these big investments aren't happening. Doha's agenda is bold, but fortunately not everything about Doha has to be bold. There are parts that, though as characteristically global as super Doha, remain at a smaller, dustier scale.
A former colleague had asked me to help on an Olympic Games research project by reporting back on a few topics about Doha. In the coming months, I'll post here my answers to his questions, but for now here are seven five-snapshot sequences from my stay.
* See a previous article on Qatar's World Cup bid. (Article dates from before Qatar's win.)
At work. Construction at the Msheireb project is where one finds the thump of 24-hour construction. With the building schedule soon to escalate in preparation for the 2022 World Cup, the domain of transformation is spreading beyond Doha and into the smaller towns.
West Bay from the base. In the Financial Times, Edwin Heathcote refers to this district when he writes: 'All that has been learnt from New York or Hong Kong is... the spiky skyline: nothing has been learnt from the successful spaces of everyday urban life...' Even Doha's leaders will say they have learned what not to do based on the West Bay experience. Many towers remain unoccupied, but that's not just through a blunder of urban design.
PHOTO GALLERY
West Bay from the base.
Qatari architecture. Almost everyone in Doha (like Berlin in the 1990s) talks about architecture. A popular topic is what characterizes Qatari architecture. Here are five buildings I liked (or once liked?). I've only been inside one of them, but I would say they are all Qatari architecture.
The horizontal. Qatar calls for the wide-angle. Though few cities in the world are pursuing pedestrian projects like the one in Doha, the city and its surrounding towns are still to be experienced from the car. Landscapes to be read at 120km/hr or more.
PHOTO GALLERY
The horizontal
Qatari soft. There are moments when tactile surfaces offer respite in Doha. Materials can seem to know their existence is resistance, even if they will eventually succumb to harsh climate.
Frontage. Some of the ways Qatar welcomes its visitors.
PHOTO GALLERY
Qatari Frontage
The Italianate. It is difficult to avoid using this elusive term in Qatar. The suffix -ate is used to form an adjective from a noun. In this case, it is used to make an adjective of a word, Italian, that is already an adjective. An intensified adjective, I guess.
REAL LIFE. REAL NEWS. REAL VOICES.
Help us tell more of the stories that matter from voices that too often remain unheard.