Welcome back to Doin' Work: Flash Interviews With Contemporary Photographers. This is a place to celebrate the photographers who inspire me, and present you with an easily digestible bite of their personalities and work.
This week's guest is Bryan Schutmaat. Bryan is a Texas-based photographer whose work has been widely exhibited and published in the United States and abroad. He has won numerous awards, including the Aperture Portfolio Prize, Center's Galllerist Choice Awards, the Daylight Photo Awards, and an Aaron Siskind Fellowship, among many others. His first monograph, Grays the Mountain Sends, was published by the Silas Finch Foundation in 2013 to international critical acclaim. Bryan's photos can be found in the permanent collection in the San Francisco Museum of Modern Art, the Baltimore Museum of Art, the Hood Museum at Dartmouth, and the Museum of Fine Arts, Houston.
Where do you live and work and how does it impact your photography?

I live in Houston, Texas, which I don't find it particularly inspiring for picture taking, so most of the serious shooting I do is pretty far away. And when I'm in places that are more conducive for my work, I'm really appreciative of the surroundings and feel a sense of urgency to get work done, given the effort and cost it takes to travel.
When and how did you get your start in photography?

I picked it up by taking an elective photo course in college, and then over time I got addicted. The start was in the fall of 2003, but I didn't take photography very seriously until years later.
What compels you to pick up your camera?

I'm compelled by a really fundamental desire to create stuff. Who knows where it comes from. I feel useless when I'm not doing something creative, and I can't imagine life without some kind of expressive outlet. For me, it's photography.
What are you working on now?

I'm working on a long-term and often-altered body of work about the landscape and highway drifters in the American Southwest. I'm also doing a lot of commissioned work and a couple small side projects/experiments.
If you had to explain your work to a child, how would you describe it?

I take pictures of people and mountains and things.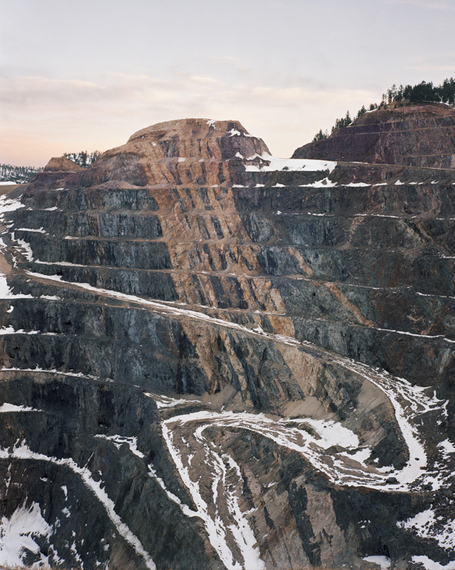 Do you make a living as a photographer? If yes, please explain how. If no, tell me about your day job and how you balance photography with said job.
Yes, I sell prints, license photos, apply for grants and so forth, but the majority of my income is from jobs for magazines and other clients.
Show me the image you feel you're best known for. What are your thoughts on it?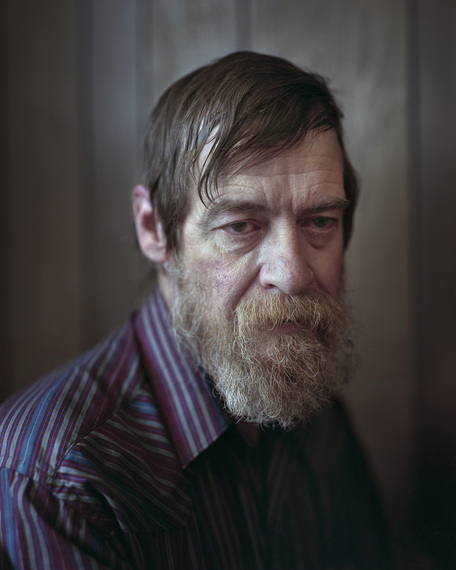 Image courtesy Bryan Schutmaat
I don't have a way to gauge this with any degree of accuracy, but my best known picture might be "Ralph," a portrait of a man I met briefly in a cafe in Wyoming. I like the mood and the light.
What - if anything - frustrates you about photography?

Photography often lacks the emotional potency - or expressivity, I suppose you could say - of cinema, music, and literature. Most photographers will try to argue this point, but sadly I think they're wrong.
Describe your working process.

I drive around a lot and look for things. I meet people and try to learn about their lives. Some days I spend all alone and other days I might find myself eating raw vegetables with hitchhikers in the woods of Idaho. When I'm out shooting, everyday is different and most are beautiful in one way or another. Lately, I've been traveling with a writer, Travis Klunick, and that has been really nice because he's curious and I can sense his appreciation for things most people wouldn't think to appreciate. It's contagious.
Describe the approach you take when establishing a relationship with a subject.

There's not much to it. When photographing people, especially strangers, it's usually just a matter of conversation and kindness.
What do you think of the vast sea of online photography? What's your approach for standing out?

Is it ok if I recycle something I wrote online while back? It was in response to Robert Frank's declaration that photography might not be art and maybe never was. I wrote on my blog: "There's ample reason to believe that photography still has something to contribute to art, perhaps even more so than ever. The existential crisis some photographers are undergoing in this bewildering digital age seems, to me, unnecessary. Years ago there were hundreds of millions of pictures circulating the globe and now there are trillions and trillions, but both these sums are beyond what human minds can fathom, so what's the difference? And most photos these days will never even be printed, lost somewhere in the digital sea. So let the photos flow plentifully, frequently, even infinitely, as they will, because photos don't really matter; it's what we say and do with them that does, and we have to trust that somewhere in society discerning eyes and minds will be receptive to our statements. Photographers could learn something from literature and how it has endured, since words are even more ubiquitous than photos. When the printing press made its debut or years and years later when word processing software and the internet etc came about, writers did't exclaim, 'There are too many words in the world! Too many people talking and writing about life! Why go on?' No, those with capability and something to say stand out in literature, so it shouldn't be different with photography and art."
What are you most proud of in terms of your work?

Probably the inclusion of my work in the recent exhibition "California and The West" at SFMoMA because my photos were shown on the walls next to my heroes.
What are you doing when you're not making pictures?

When I'm not actually making pictures, I'm probably on the computer editing them or emailing people about them! But when I'm altogether not doing photo related tasks, I like spending time in nature, camping, hiking, being with loved ones, watching movies, reading, eating good food, drinking beer.
What do you think the future of photography might look like?

I think VR projects are going to be a thing.
Name three contemporary photographers that blow your mind.

Off the top of my head - Curran Hatleberg, Doug Dubois, Jasper Bastian. There are so many though.
The most important question of all: dogs or cats? Why?

Dogs for their friendliness and loyalty, but I'm totally cool with cats too.
REAL LIFE. REAL NEWS. REAL VOICES.
Help us tell more of the stories that matter from voices that too often remain unheard.