Welcome back to Doin' Work: Flash Interviews With Contemporary Photographers. This is a place to celebrate the photographers who inspire me, and present you with an easily digestible bite of their personalities and work.
This week's guest is Matt Eich. Eich is an independent photographer born and based in Virginia, working on long-form photographic essays about the American Condition. His projects have received numerous grants and recognitions and his prints and books are held in the permanent collections of The Portland Art Museum, the Museum of Fine Arts Houston, the Chrysler Museum and The New York Public Library. Eich studied photojournalism at Ohio University and holds an MFA in Photography from Hartford Art School's International Limited-Residency Program. He currently lives in Charlottesville, Virginia with his wife, Melissa, and daughters, Madelyn, and, Meira.
Where do you live and work and how does it impact your photography?
I live in Virginia and was raised mostly in rural areas, which definitely influences my personality, my interests and the places that I am drawn to. While I move in and out of large urban areas and make photographs there, I never quite feel at home. In most of my long-form personal work I am drawn to daily life in small towns or easily overlooked parts of America.
When and how did you get your start in photography?

I started making pictures when I was about ten years old. My grandmother was dying of Alzheimer's disease and I went on a road trip with my grandfather. He handed me a small point and shoot camera to record our journey, and among the photographs I made, one stood out to me as an encapsulation of the feeling of being there. It struck a chord with me, so I started making pictures really early. Mostly bad photos of flowers and birds. Some pictures of my family. When I went to college I decided to study photojournalism, then started freelancing for my hometown newspaper (The Virginian-Pilot) and one thing sort of led to another. I started freelancing in 2005, when I was 19.
What compels you to pick up your camera?

It depends upon the day, or the moment. Usually the camera is dangling from my shoulder whenever I'm out in the world. I can be walking along, just looking, and something (a person, a plant, a crack in the sidewalk) might surge forward in my visual awareness and I respond with the camera. I try to think of it as a tool that is an extension of my eyes, it allows me to look in a way that my eyes cannot. Similarly, I may be at home doing a mundane task like washing dishes when I'll see one of my children step into the light just so, or strike a certain pose and I'll drop what I'm doing and rush to snag the nearest camera.
What are you working on now?

At the moment (and for the last ten years) I have been working on an expansive photographic essay about the American Condition, under the title, The Invisible Yoke. The project contains four chapters, Carry Me Ohio, Sin & Salvation in Baptist Town, The Seven Cities, and We, the Free. The first of these four volumes was just released as a monograph with Sturm & Drang. My goal is to release the second volume in 2018, the third in 2019 and the final chapter in 2020, just before our next presidential election. Photography mostly deals in surface, but I am interested in the intangible possibilities of the medium such as memory and emotional resonance. Aside from the work about America that is mostly color work within the documentary tradition, I am also making a series of black & white family photographs that will be released as a book in 2017.
If you had to explain your work to a child, how would you describe it?

I make pictures with a camera, mostly of people and how we feel about one another. I make pictures so that we can better understand one another. Sometimes I put those pictures in magazines or on computer screens or on walls.
Do you make a living as a photographer? If yes, please explain how. If no, tell me about your day job and how you balance photography with said job.
Yes, but there is no easy explanation for it. Some days I am working for editorial outlets (magazines/newspapers), some days I am writing grant applications, some days I am making personal work, some days I am making videos, a lot of days I am simply in front of the computer trying to maintain contact with folks and carve out a living with a camera. Sadly less time is spent making pictures than time trying to pay bills. But I still feel incredibly fortunate. As a parent, I couldn't make the freelance thing work without the loving support of a spouse who has a full-time job. Her stability balances out the sporadic nature of making a living as a photographer. My goal in the near future is to begin teaching photography so that I can be home more often and create my projects around my teaching schedule.
Show me the image you feel you're best known for. What are your thoughts on it?

Elvis the Zebra, Cumberland, Ohio. 2008. This image sort of stands out from a lot of my other images because its central figure is an animal, not a human, and just because it is a bizarre visual situation. My thoughts on the image ... I suppose they have changed over time. I now see Elvis (the zebra) as a stand-in for us, out of place, isolated, trapped in an unforgiving environment.
What - if anything - frustrates you about photography?

So much! It's damn near impossible to make a living, nobody understands what you are trying to do, pretty much everyone thinks you're a creep or a weirdo and it is easy to make a good (functional) picture but great pictures are incredibly elusive. There is something magical or intangible about a great picture. The collision of something you could never imagine, and have always imagined. I have the feeling that making important documentary work in and about America will only become more complicated over the next four years.
Describe your working process.

Wander. Let serendipity be the guide. When I find something that grabs me by the heartstrings, stay. Return again and again. Ask questions, don't expect answers. Repeat.
Describe the approach you take when establishing a relationship with a subject.

I try to make it a two-way street by listening, first and foremost, and then telling them something about myself. I'm trying to find common ground, to put myself in someone else's shoes as best I can despite our potential differences. I bring prints back to folks, I make pictures of things that they want me to make pictures of. I am always trying to sort out things in my own head when making work, but I try to be zero bullshit when speaking with people about my motivations and intentions with the work.
What do you think of the vast sea of online photography? What's your approach for standing out?

Looking for great photography online can be like searching for a needle in a haystack. There is a lot of stuff that hits a certain technical proficiency bar but leaves you feeling empty. I'm always looking for the gut punch. How to stand out? That's a question for someone brighter than me ... I think of putting work out there a little bit like taking a pickaxe to a giant boulder. You just chip away, day after day ... sometimes people pay attention and an audience grows, sometimes the work seems to fall on deaf ears. If the only goal in making work is to "stand out" and the only thing that motivates the artist is recognition, then they won't be able to push forward and create something meaningful.
What are you most proud of in terms of your work?

That's hard to say ... I've been trying to figure out my personal limitations with photography for some time now, and I'm often disappointed with how it functions in our contemporary society and how little I've been able to accomplish with the medium. If I can be proud of anything, it's simply that I'm too stubborn to quit.
What are you doing when you're not making pictures?

Carting my kids around, spending time with family, cooking, making fires in the back yard, reading (not enough), binge-watching TV ... oh and running a photography business, so tons of emails, archiving digital and film files, spotting negatives, printing, preparing books and exhibitions, marketing, writing grant proposals, invoicing, driving, listening to lots of music.
What do you think the future of photography might look like?

Scary. Both in terms of social implications and the difficulty with monetizing the work.
Name three contemporary photographers that blow your mind.

Christian Hansen. Mustafah Abdulaziz. Curran Hatleberg.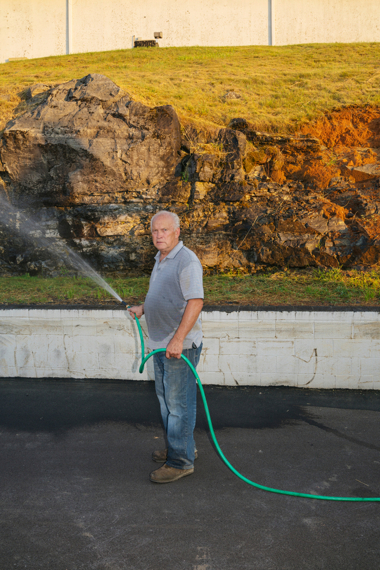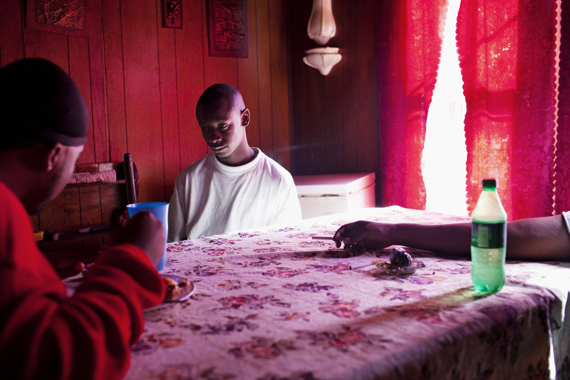 Images courtesy Matt Eich
The most important question of all: dogs or cats? Why?

Dogs. There isn't enough loyalty in the world these days, dogs seem to counter that for me. Plus they are pretty transparent with their emotions, which I can appreciate.
Calling all HuffPost superfans!
Sign up for membership to become a founding member and help shape HuffPost's next chapter