Welcome back to Doin' Work: Flash Interviews With Contemporary Photographers. This is a place for me to celebrate the photographers who inspire me, and to present to you an easily digestible bite of their personalities and work.
This week's guest is Zora J Murff. Murff is an MFA student at the University of Nebraska-Lincoln and holds a BS in Psychology from Iowa State University. Zora's photography focuses on the experiences of youth in the juvenile justice system, the role of images in the correctional system, and how images are used to define individuals who are deemed criminals. His work has been featured online in The British Journal of Photography, and has been published in VICE Magazine and Good Magazine amongst others. Zora was named a LensCulture 2015 Top 50 Emerging Talent, a 2014 Critical Mass finalist, and is a part of the Midwest Photographers Project through the Museum of Contemporary Photography in Chicago. Zora published his first monograph, Corrections, through Aint-Bad Editions in the Winter of 2015.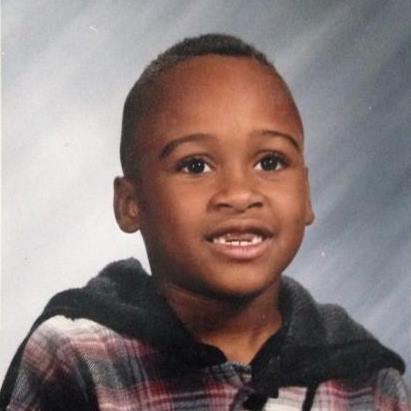 The artist at 7, via Zora J Murff
Where do you live and work and how does it inform your photography?
I currently live in Lincoln, Nebraska and am pursuing my MFA at the University of Nebraska-Lincoln. Lincoln is not very racially diverse. The lack of diversity in the population keeps my racial identity at the forefront of my mind, so I'm currently making work that explores the boundaries of identifying and being identified as a person of color. Coming to Lincoln to study has been a major life transition, which also makes me question the type of work that I have made and the type of work that I want to make.
How long have you been making pictures?
I have been seriously making pictures since I began studying photography in 2012, but I spent my teenage years documenting myself and my friends with disposable cameras.
What compels you to pick up your camera?
When I feel a connection to a person, place, or object. In that moment, I can't explain why I want to make an image, but the feeling is undeniable.
What are you working on now?
Currently I'm working with the idea of images rather than creating my own. Through appropriation of pictures and information, and the manipulation of materials, I'm exploring black identity in the criminal justice system; specifically looking at the development of stereotypes and police violence towards people of color.
If you had to explain your work to a child, how would you describe it?
I take photographs of kids who are in trouble, and they have to hide their faces when I photograph them. The pictures are meant to describe the effects of going to jail may have on their lives.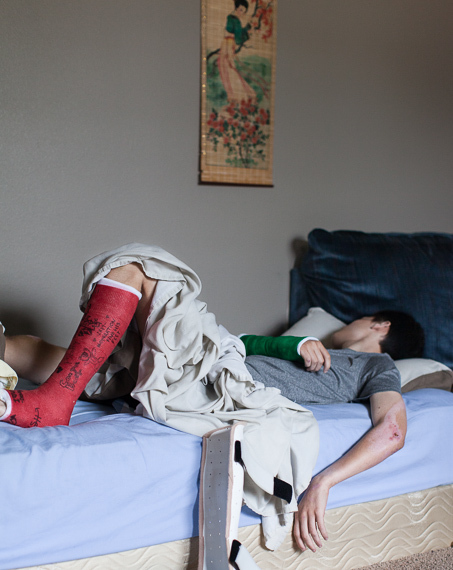 © Zora J Murff
Do you make a living as a photographer? If yes, please explain how. If no, please tell me about your day job and how you balance photography with said job.
Being a photographer doesn't currently pay my bills, but I still think it's how I make my living. I find fulfillment through creating and sharing what I have created with others. I also enjoy collaborating with other artists and am currently a co-curator of Strange Fire Collective with Jess Dugan, Hamidah Glasgow, and Rafael Soldi. To pay the bills, I am a graduate teaching assistant.
Show me your signature image.
What is it about this image that makes it your signature?
In the context of the series Corrections, this is the signature image because it says so much about the kids I tracked and photographed in an uncomplicated way: the collision of adolescence, adulthood, culture, and choice. On a personal level, this is my signature image because it is one that I can continue to look at and never get tired of.
What does it look like when you're in the flow?
I'm pensive and make a lot of guttural noises.
Describe your working process.
A lot of ups and downs. I experience brief and spontaneous periods of creativity. When I'm not in that zone, I spend time trying to hash through my ideas.
Name three contemporary photographers that blow your mind.
LaToya Ruby Frazier, Walid Raad, Amy Elkins.
What frustrates you about photography?
When I can't translate the image in my head into the camera.
What are your thoughts on the vast sea of online photography? What is your secret for standing out in this sea?
I feel that we become desensitized to images as we are inundated by them. However, being able to put our images online allows us to connect with people in unimaginable ways. I have been able to have conversations with people in places like South Africa and Australia about my work, something that would not have been possible without the internet.
I try to work in the medium in novel and exciting ways, mainly by making images with a depth that can heighten narrative.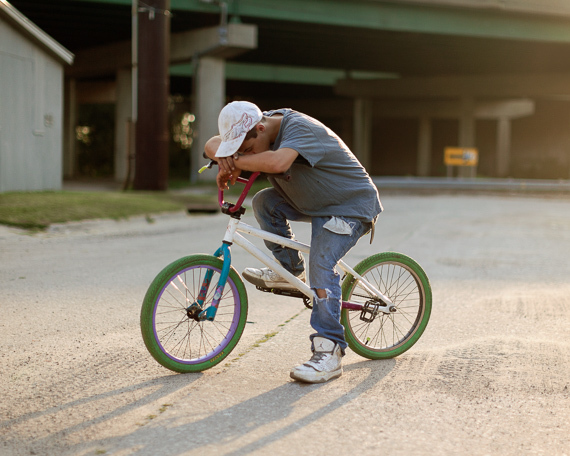 © Zora J Murff
What are you most proud of in terms of your work?
I was proud to have been immersed in the population that I photographed, to be able to have such first-hand insight to the kids' experience in the system, and that they provided me with the opportunity to share it with the rest of the world.
Aside from photography, what else is of great importance in your life?
Continuing to find myself.
What are you doing when you're not making pictures?
When I'm not making pictures, I'm thinking about making pictures (or about art in general), looking at work, teaching, or trying to develop my career as a professional.
What do you think the future of photography might look like?
That's a complicated question, and I'm not sure if I can provide a clear answer. Going back to my response about "the vast sea of online photography," I think that when photographers make pictures, we have to find ways to make them stand out. Part of this could be cross-disciplinary practice and another part could be attempting to transcend the preconceived notions and aesthetics of photography as an artistic medium.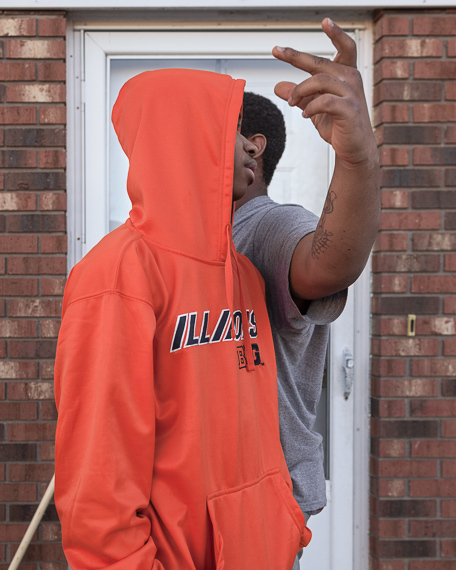 © Zora J Murff
I like cats because of their dismissive attitude.
Calling all HuffPost superfans!
Sign up for membership to become a founding member and help shape HuffPost's next chapter