Welcome back to Doin' Work: Flash Interviews With Contemporary Photographers. This is a place for me to celebrate the photographers who inspire me, and present you with an easily digestible bite of their personalities and work.
This week's guest is Flo Fox. A street photographer since 1972, Fox's work has been published and exhibited internationally including at the Photographer's Gallery in London, the Nikon House in New York, and the Icebox Gallery in Minneapolis, MN. Group shows include the Newseum in New York City, the International Center of Photography, and the Meguro Museum of Art in Tokyo, Japan.
Fox was born blind in one eye and is now legally blind in the other. In 1977 she was diagnosed with MS. As her MS progressed, her muscle tone deteriorated and she went from using a cane to a motorized scooter. In recent years she has lost the use of her legs and hands completely but she is never caught without a camera. These days she instructs her personal aides to help make the pictures she records.
She has appeared on the Today Show, Tomorrow with Tom Snyder and Live with Regis and Kathie Lee. At one point she hosted her own cable TV show called The Foto Flo Show.
Icebox Gallery will present work by Fox and Sid Kaplan in a show entitled New York Icons, set to open May 20 and run through August 27.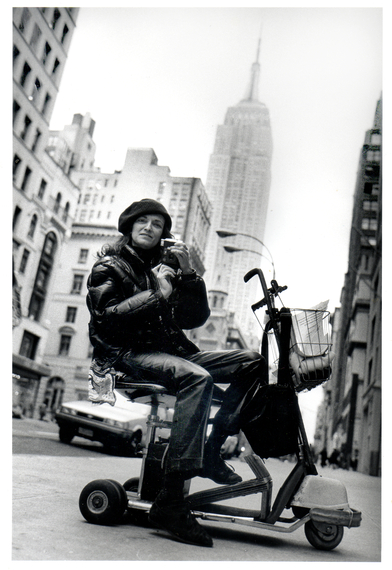 Flo Fox, 1997, image via the artist
Where do you live and work and how does it inform your photography?
For 17 years I lived in Greenwich Village or Soho, but for the last 28 years I've lived in Chelsea, all New York City. Wherever I have been, I always carry a camera with me, so the world is always within range at my fingertips.
When and how did you get your start in photography?
I had wanted a camera since I was 13-years-old; my mom promised me one when I graduated junior high school but she died before I got it and I left home because I was an orphan. I didn't get a camera until I was 26-years-old. At that time I was a costume maker and stylist. Up until that point photography was my hobby. But as the symptoms of multiple sclerosis increased I found that photography was more apropos.
Whether I have been healthy, visually impaired, physically challenged, or just plain off the wall: photography has always been my standby friend.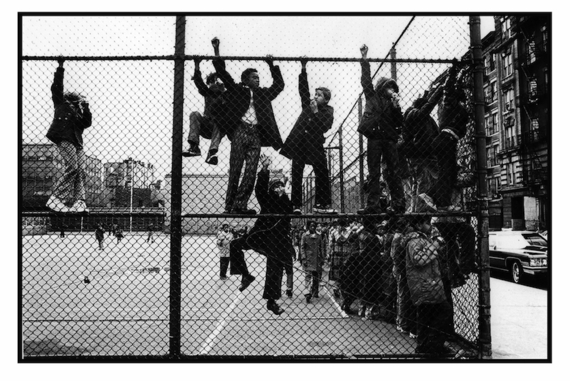 "Climbing the Fence," image via Flo Fox
Describe your working process.
Photography is my existence. I see everything as if it was a photograph and often frame it. I spent over 20 years in the darkroom making my own gelatin silver prints. Now I just get digital copies, which makes life easier. Since I have become visually impaired it is very satisfying because I see more details in a photo. I'm just glad that modern technology kept up with my needs and built auto focus cameras, enlargers, and a talking timer.
Wherever I go I always have my point and shoot, auto focus camera ready to capture the moment. Because my hands can't function, I always have my health aide or any nearby person help me attempt to capture the image I desire.
If you had to explain your work to a child, how would you describe it?
I would first say that I chose to do what my favorite thing was. My pictures are usually ironic. The funny things that happen on the street.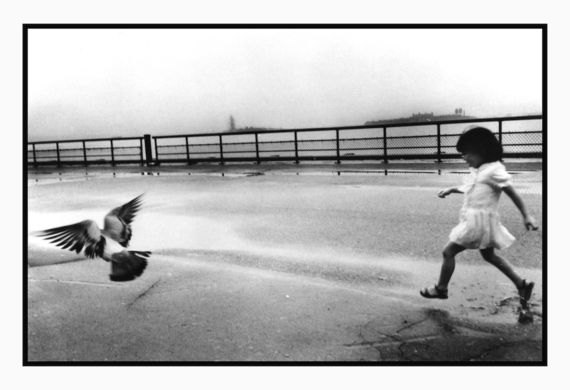 "Trying Their Wings," 1984, Image via Flo Fox
What has compelled you to carry a camera around your neck every day for the past 43 years?
I first started photography to remember all of the things I have seen and done. [For example], in 1972, on my 3rd roll of film, I photographed a flat inner tube in a gas station that I call "Fresh Meadows." I will always recall how workers thought I was odd but I knew that sensual image would always be one of my trademarks.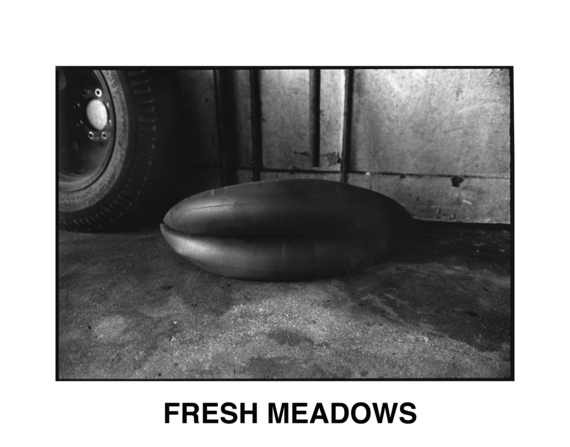 In what ways have you seen things change for women in photography over the course of your career?
It seems that more women are getting more attention as photographers. Perhaps due to their unique perspective. Maybe it's my imagination, but I always felt that male photographers got first preference. In recent times I believe women are known and their work is shown equally. I never hesitate to brag about my work to galleries.
Do you make a living as a photographer? If yes, please explain how. If no, please talk about that.
Any money I earn goes directly to photo labs and camera stores.
Show me the image you feel you are best known for. What are your thoughts on it?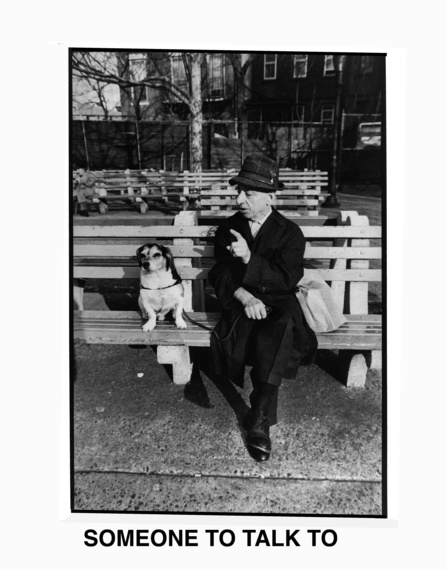 [This is called] "Someone To Talk To," 1974. It was published in books, and as a postcard and featured in a Magnum ad, which spanned across the Paris metro system. It is also in the permanent collection of the Brooklyn Museum. I'm glad I caught this moment in time and I often send the postcard.
When I was asked to loan the image to the metro station ad, I was going to charge $300 for the image. An art director suggested he handle the deal. After he took his percentage I received $3000! It proves I am an artist before a money maker.
What if anything frustrates you about photography?
The most frustrating thing is when you see an image and miss the perfect moment. It is also difficult to find labs that use old methods of developing and printing.
In terms of your work, what are you most proud of and what do you wish for most of all?
Not only do I love the recognition but it is so meaningful to hear from people who relate to my images.
Can you speak to the importance of humor and irony in your work?
I always try to make life a little happier and recognize visual ironic situations.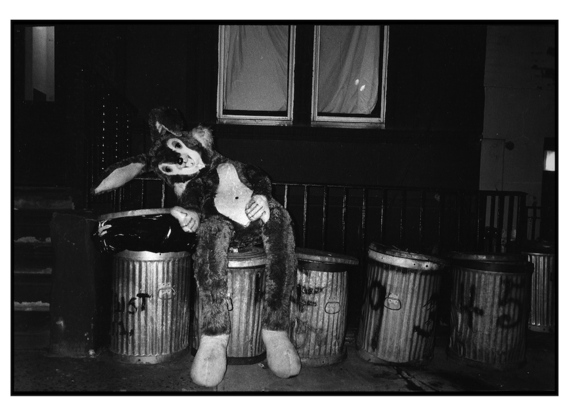 "Hare Today Gone Tomorrow," image via Flo Fox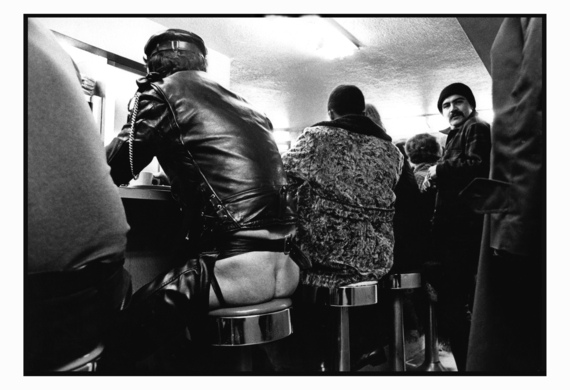 "Rikers Coffee Shop, 1974," image via Flo Fox
What are you doing when you're not making pictures?
I just completed my autobiography and am now in the process of editing it. I hope to find a literary agent and publisher that takes an interest in my photojournalistic, daring story.
What do you think the future of photography might look like?
It seems that the majority of our population has a phone with a camera built in. It just means I have more competition! I believe people will soon be taking pictures using equipment that will become an extension of their body.
Name three contemporary photographers that blow your mind.
Some of my favorite photographers are: Arlene Gottfried, Meryl Meisler, Gigi Stoll, Len Speier and Elliott Erwitt. But if you want to speak about the past include Weegee, Andre Kertesz and Lisette Model.
What are you working on now?
We have been publishing my own books. Times Square When the Deuce Was Wild, The Good Old Gays, and Madhattan. I just started designing a new book involving downtown NYC places and characters.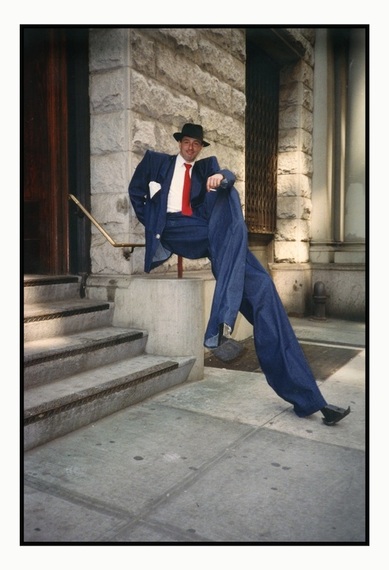 "Daddy Long Legs," image via Flo Fox
Neither, I'm allergic and don't have any animals.
Calling all HuffPost superfans!
Sign up for membership to become a founding member and help shape HuffPost's next chapter