Welcome back to Doin' Work: Flash Interviews With Contemporary Photographers. This is a place for me to celebrate the photographers who inspire me, and to present to you an easily digestible bite of their personalities and work.
This week's guest is Arlene Gottfried. Gottfried was born in Brooklyn, graduated from the Fashion Institute of Technology in New York, and worked as a photographer at an ad agency before freelancing for top publications, including The New York Times Magazine, Fortune, Life, and The Independent in London.
Gottfried has exhibited at the Leica Gallery in New York and in Tokyo, and at the Smithsonian Institution in Washington, D.C., among others. Her photographs can be found in the collections of the Brooklyn Museum of Art, The New York Public Library, and the Maison Européenne de la Photographie in Paris.
She is the recipient of numerous awards, including the Berenice Abbott International Competition of Women's Documentary Photography. Gottfried is the author of Mommie (powerHouse Books, 2016), Bacalaitos & Fireworks (powerHouse Books, 2011), Sometimes Overwhelming (powerHouse Books, 2008), Midnight (powerHouse Books, 2003) and The Eternal Light (Dewi Lewis Publishing, 1999).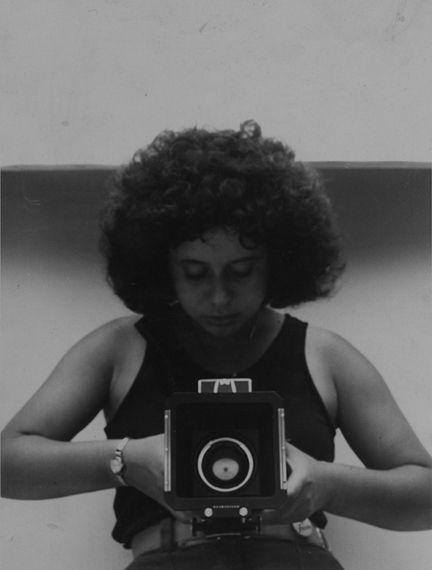 The artist in 1977, image via Arlene Gottfried
Where do you live and work and how does it inform your photography?
I live and work in New York City. It inspires my photography. My photography is kindled by my relationships with people and my family members.
How long have you been making pictures?
I've been taking pictures for over 40 years. I got a camera from my father and began photographing people in my neighborhood and [taking] pictures of my family. Then I went to FIT to study a two-year course in photography. After that, I became an assistant to other photographers, since in those days it was harder for women to get jobs in photography.
Please expand on your experiences of being a woman in photography. How have you seen things change over the years?
Being a woman in photography is more visible than it used to be years ago. It was hard to get started. Some people gave assignments to women and some did not. Jobs have opened up and work is more available to women in the field now.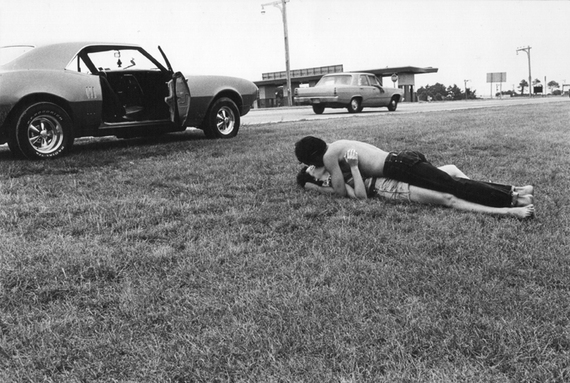 Kissing on Highway, Queens, NY, 1980, image via Arlene Gottfried
Walk me through a busy workday.
Packing a bag, loading up lighting, and then going out to photograph. I return to organize and spot vintage prints before sending them off to Les Douches la Galerie in Paris, Hardhitta Gallery in Cologne, Germany, and Daniel Cooney in New York.
If you had to explain your work to a child, how would you describe it?
I like to photograph all sorts of people.
Do you make a living as a photographer? If yes, please explain how. If no, please tell me about your day job and how you balance photography with said job.
I don't have a day job. My photography is what supports me. What has happened currently is that I have been selling prints as fine art, after years of work as a photojournalist for Life Magazine, The New York Times Sunday Magazine, Fortune, Guardian, Observer, Time and Newsweek.
Can you tell me about your new book Mommie?
The book covers a period of my early work, documenting my family and when my mother and grandmother began to age and to become ill. I tried to hold onto them by increasing the amount of photographs I was taking. Of course, I could not stop the hands of time. The book ends with my sister having a child to continue the flow of family life.
Show me your signature image.
Name three contemporary photographers that blow your mind.
Bruce Gilden, Flo Fox, Jeff Mermelstein, Chris Killip, and Sid Kaplan.
What frustrates you about photography?
Cell phone photography. There seems to be lots of photography available for people.
What do you think of the vast sea of online photography? What's your secret for standing out in this sea?
There is too much photography online. My secret is that I've been taking photographs for a long time.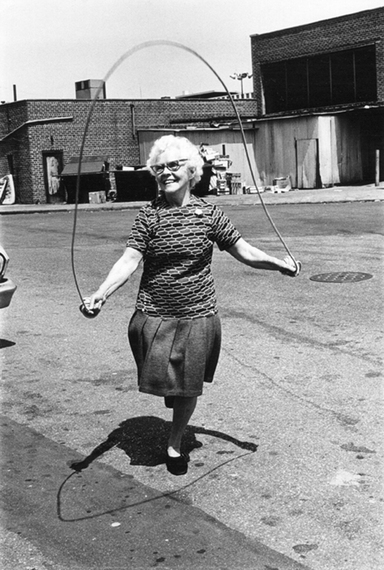 Isabel Croft Jumping Rope, Brooklyn, NY, 1972, from Sometimes Overwhelming image via Arlene Gottfried
How do you procrastinate?
I like to watch television.
What's your definition of creative success?
Being recognized for your efforts.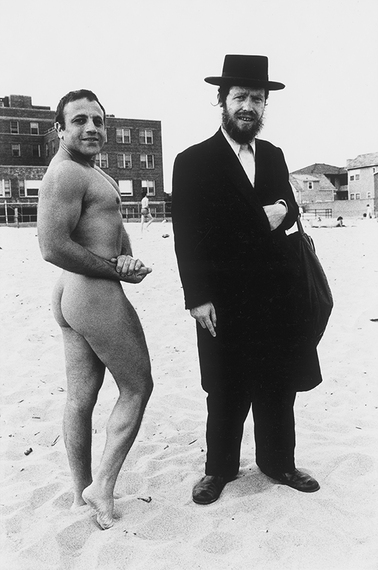 Hassid & Jewish Bodybuilder, Coney Island, NY, 1980, image via Arlene Gottfried
Tell me about your singing. How did you get the nickname the "Singing Photographer"?
My mother gave my the name when she found out I was singing in a choir. I like Gospel and Rhythm & Blues. I sang when I was a teenager and started again when I met The Eternal Light Community Singers. I photographed them and then joined the choir as a singer.
Gottfried singing "Loving You Too Long" at Westbeth Music Festival, September 2008
What do you think the future of photography might look like?
I think we'll see less and less film photographers.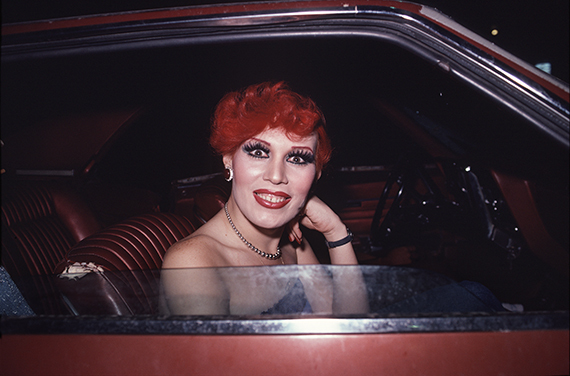 El Cotorito, San Jose, Puerto Rico 1980, image via Arlene Gottfried
What do you most enjoy about having family members for subjects? What is most difficult?
I tried to capture my family before they moved on. Getting on their nerves with my camera.
How did you find the courage to keep shooting when your subjects objected?
I would just stop. Usually I don't like to try to convince anyone to be photographed. In Mommie, my mother is quoted as saying, "Why do you take so many photographs? Man Ray only took a few." But most of the time they were really good-natured about being photographed, and they didn't object.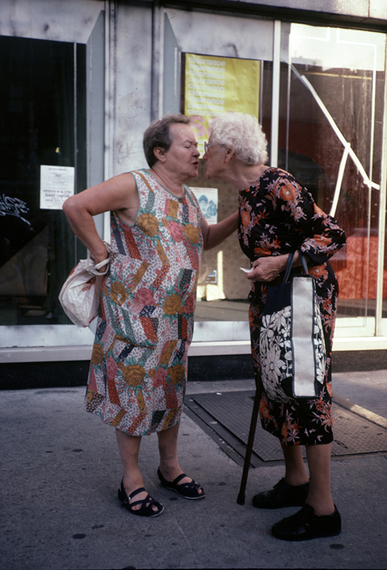 Mommie Kissing Bubbie on Delancey Street, New York, 1979, image via Arlene Gottfried
Do you prefer dogs or cats? Why?
I like all animals in general. My favorite TV show is the Dog Whisperer.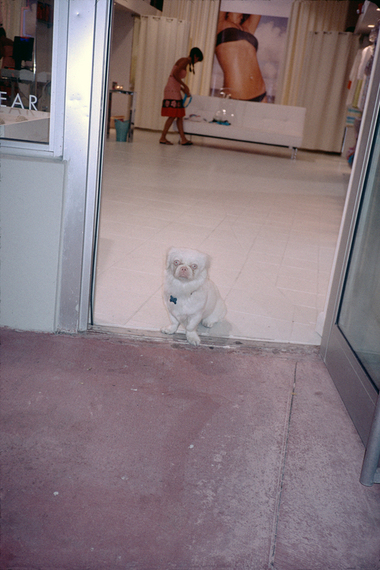 Little Dog in Fashion Shop, Miami, image via Arlene Gottfried
Related
Popular in the Community