Welcome back to Doin' Work: Flash Interviews With Contemporary Photographers. This is a place for me to celebrate the photographers who inspire me, and present you with an easily digestible bite of their personalities and work.
This week's guest is Chris Verene. Verene has been photographing three generations of his family in the small midwestern community of Galesburg, Illinois, since 1986. Over the last thirty years he documented the daily lives of family and friends, producing a vast library of pictures -- though few people saw them until 1997, when he held his first New York exhibition.
Verene's documentary work has been published in two major books with Twin Palms Press, while his glamour photography and performance art series, "The Self-Esteem Salon," gained a national profile at the Whitney Biennial, and has been staged at diverse venues including Christie's Auction House and Socrates Sculpture Park. Verene is a professor of photography at the College of Staten Island, CUNY, and his work is in the permanent collections of The Whitney, The Met, The Jewish Museum, SFMoMA, LAMoCA, and has appeared in exhibitions worldwide.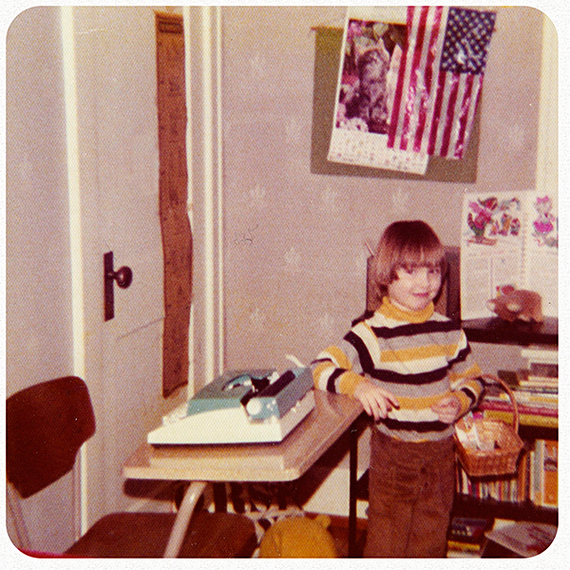 "Chris Verene in his Home Office," 1973. Image courtesy the artist
Where do you live and work and how does it inform your photography?
I live in New York City, the center of the whole photography world, and that's why I moved here in 1999. As a teacher at an urban public college, I teach students from all walks of life, many whom juggle jobs, children, and full-time college. These young students are so inspiring to me, and keep me grounded.
When and how did you get your start in photography?
I took a photography class in high school. I was fortunate to go to a public school that had a photography darkroom. I was already making a lot of photographs with my mom's camera, and the class made me feel like I could take it all much more seriously. I began documenting my family in rural Illinois in the late 1980s, and I'm still doing the same project today.
What compels you to pick up your camera?
I think I went through a period of discovery between 16 and 21 where EVERYTHING seemed like a reason to take a picture. I thought that things were more interesting once they'd been photographed. Today, I really only get out a camera to make my documentary work, my performance work, or when there is a special occasion at home.
If you had to explain your work to a child, how would you describe it?
I make pictures about family and friends, and tell stories about their lives, sometimes happy, sometimes sad.
Do you make a living as a photographer? If yes, please explain how. If no, please tell me about your day job and how you balance photography with said job.
I don't make a living as a photographer these days, but there were times when I balanced freelance work and teaching work with selling pictures. Currently, my day job affords me academic breaks and summers off, and so I spend a lot of that time traveling to Illinois and other locations.
Show me the image you are best known for.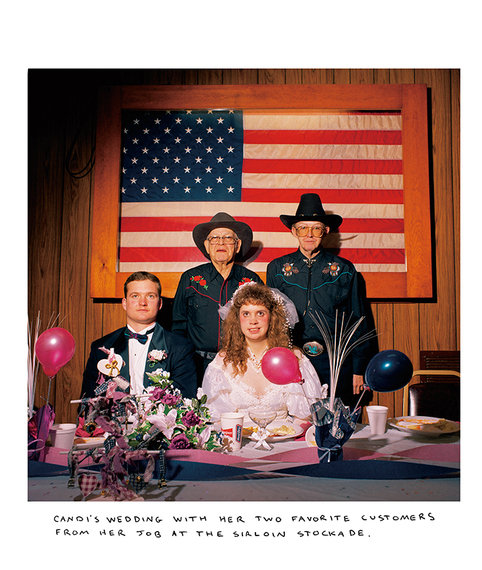 "My Cousin Candi's Wedding with her Two Favorite Customers from her Job at the Sirloin Stockade," 1992. From the book, Family, Twin Palms Publishers
What are you thoughts on it?
It's my cousin's wedding, with her two favorite customers from her waitressing job. Those two guys in the back came to the early senior dinner nearly every day at the restaurant, and they usually wore western wear. They told me later that if they had known the picture would be famous, they would have dressed in their "formal" western clothes, which I think were white cowboy dress suits. I think many people can relate to this picture because they are patriotic, they see the big flag, as the wedding reception is in the Veterans of Foreign Wars Hall. In a voyeuristic sense, people like to see what someone else's small-town wedding looks like, especially if they are from a different background than the bride and groom.
What, if anything, frustrates you about photography?
With today's technology, people are misled into the idea that what new photographs need is digital alteration to fix them, instead of just taking, and carefully choosing, better pictures in the first place.
Describe your working process.
I go around and visit family and friends. I catch up on who's been born, or graduated, or who's engaged to whom, all of life's milestones. Sometimes we make pictures; mostly we just hang out. It's a small town, so almost anywhere I go people recognize me and my camera.
Describe the approach you take when establishing a relationship with a subject.
If I'm exhibiting pictures of someone in my "Family" documentary work, it's because they have been in my life for a really long time, and that person appreciates the photography, and wants to participate.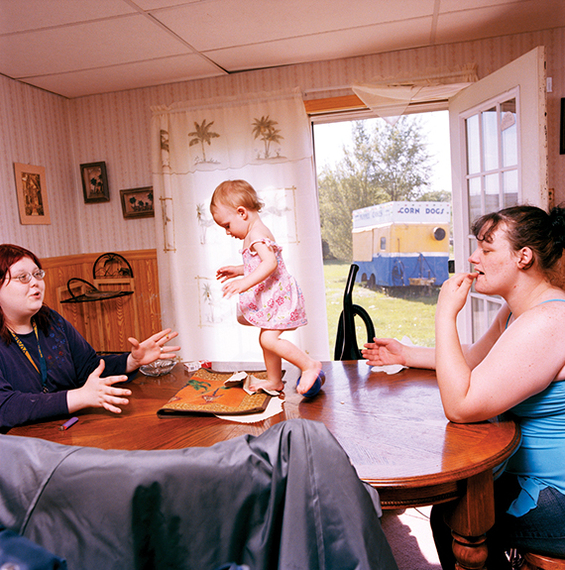 "Mercedes Will Soon Have A Sister," 2005. Image courtesy Postmasters Gallery, New York
Tell me about Cheri Nevers and how she influences your art.
Cheri Nevers is my alter-ego, and she was originally created in secret, so that I could make artwork under two identities, without the projects influencing each other. I was afraid to be "out" in the context of my strict documentary work, much of which was centered around my grandparents. I think I wanted to protect them from knowing about my other side, and so I gave her a different name. My friend, the late genius painter Todd Butler, made an elaborate anagram project to come up with a name, and Cheri Nevers was the winner. She represents the female side of me. In the mid-90s, I began making self-portraits in drag, and I made other work about human sexuality, glamour portraits, and other risqué topics. Realizing these photographs as Cheri Nevers was the right step for me, and Cheri's work has continued in the form of The Self-Esteem Salon performances and portraits.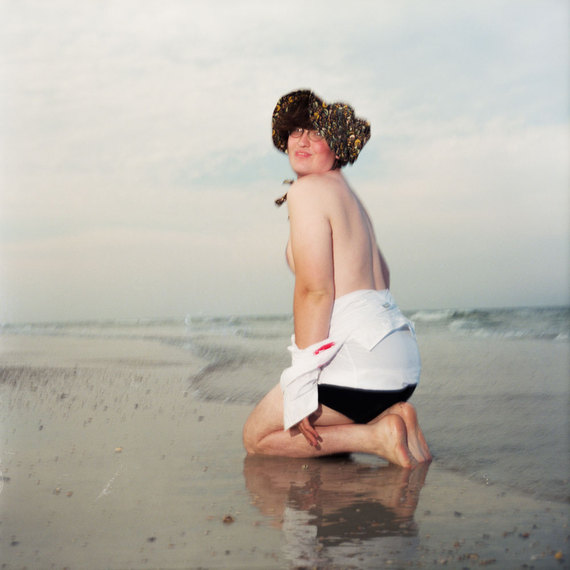 "Cheri on the Beach," 1994. Courtesy Postmasters Gallery, New York.
What do you think of the vast sea of online photography? What's your secret for standing out in this sea?
The images that people scroll past quickly only give a very brief emotion -- they judge the image, give it a thumbs up, or ignore it. That experience is a very thin moment, and I don't think it has much lasting impact. Most people I talk with cannot clearly describe what they have recently read or pictures they have seen on social media -- it's a blurry memory at best.
Perhaps my photography does stand out in the "Ocean of Images," as super-curators Marconi and Bajac at MoMA called their recent swan song exhibition. If it stands out from the Ocean, it's because I have been doing the project for thirty years -- it has a dense and palatable documentary value that always attracts people -- it feels deeper and more engaging than the fleeting quick shots we are accustomed to seeing on social media.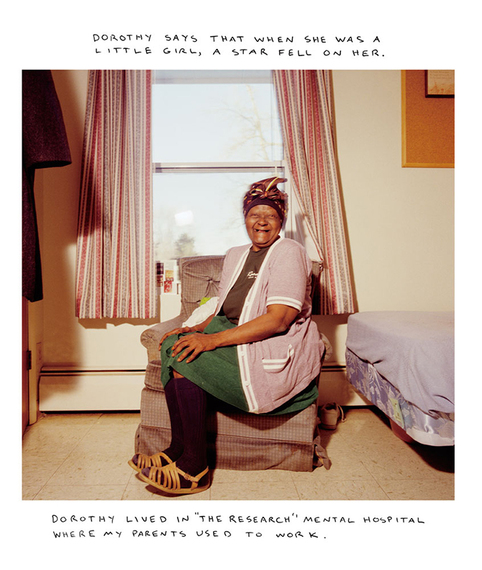 "Dorothy Says When She Was A Little Girl, A Star Fell on Her," 1995. Image courtesy Postmasters Gallery, New York
What are you most proud of in terms of your work?
My grandmother, an original one-room schoolhouse teacher, told me that she really liked my work because, "You tell things plainly, nothing fancy. It's like Norman Rockwell." I think I'm proud to tell things as they are. My pictures are true, and not staged. Sometimes everyday moments are special, when you see them in the right way.
What are you doing when you're not making pictures?
I play drums for some great bands: The Rock*A*Teens, Bach on a Hook, and sometimes I play for my wife's projects, Ani Cordero.
What do you think the future of photography might look like?
The future of photography will involve a lot of predictive apps that alter the image to look special, look better than real life, and will have a lot of built-in features that connect to current and legacy social media meta-data -- such as the GPS location of the picture and all your friends of friends who have been logged near that same GPS location, even 10-15 years before you made the picture -- as well as advertising components related to what's physically in the picture. The digital darkroom software, the "sharing" platforms, etc., will come at a price, the price of tracking and following your data. I imagine there will be free DSLR cameras with very high quality lenses and processing power that require only a Terms and Conditions agreement.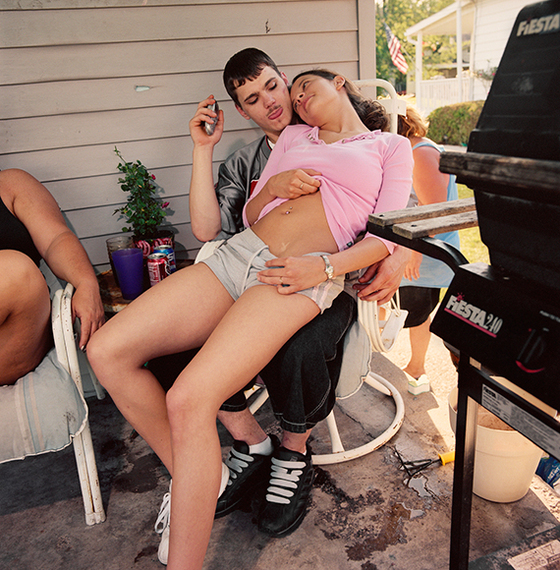 "At Amber's Cousin's House," 2012. From the series, "Family," Image courtesy Postmasters Gallery, New York
Name three contemporary photographers that blow your mind.
Contemporary is a tricky term in 2016. Right now, I'm blown away by LaToya Ruby Frazier, Stacy Kranitz and Daniel Arnold. Twenty years ago, and today, I'm blown away by Sally Mann.
What are you working on now?
I'm working on Home Movies, which will be a documentary feature film someday. It's basically all my people from the "Family" work talking in their own words about their lives, and sometimes talking to me about their ups and downs. It also shows my own photography in the movies to help explain the stories.
Do you prefer dogs or cats? Why?
One of my fans once said, "Most of Verene's work is just about people hugging their pets." I think this was partly to remark on my pictures being largely everyday occurrences, nothing fancy. Perhaps this is true, as I love animals, and anyone who is close with their pet is in a good emotional place to have their portrait made.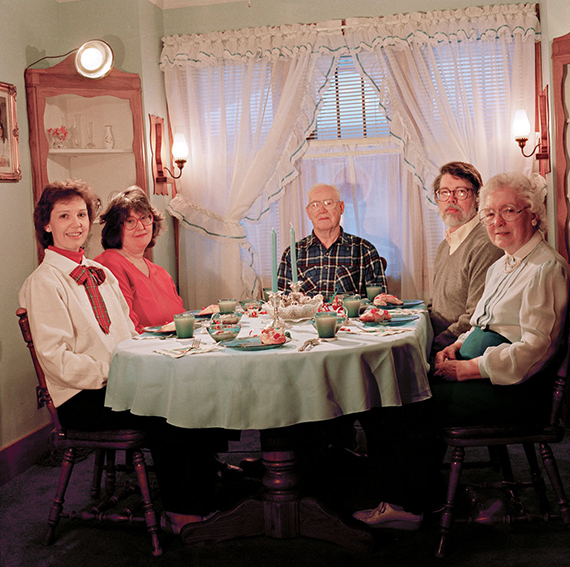 "My Family at Christmas Breakfast," 1987. From the book, "Family," Twin Palms Publishers
Support HuffPost
The Stakes Have Never Been Higher
Related
Popular in the Community