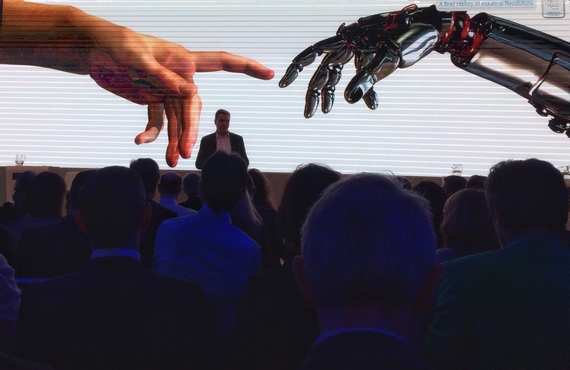 Once again, the Fast Track line at London Heathrow's Terminal 5 is snagged by those of high status travelling to Zurich, on their way to the mountain-top playground of the possible and, sometimes, probable, where chance encounters with business, science, humanitarian, academic and entrepreneurial leaders could result in a life-transforming moment for the planet -- or, more likely, for one's cyber Rolodex. This is heady serendipity, where even Leonardo di Caprio has stage fright.
When the answer to the question "What is money for?" is not, "to pay the rent," but is a construct of man's creative energies to manage and fix a world of galloping pace and innovation, you know you are at Davos. Its park is themed, and this year's networking revolved around the concept of a "Fourth Industrial Revolution", assuming one has kept up with history's last three. Today's questions the role of humanity at the hands of technology, already under attack by the blue light effect of all-day plenary sessions, and the rapid realisation that the closest one gets to a night's sleep is a nap. Anyway, it turns out it's not a revolution, but an evolution, so we can relax.
Connectivity and convergence are the strategic tools for a better world, whether to solve its dilemmas on climate or conflict, or simply to negotiate one's way around Davos's Congress Hall, a monolithic mother hub of activity. Those driving short-term success are the compact shuttle buses, their cosy interiors optimally delivering sultans and subalterns of influence from snowy exteriors to hotels, TV studios and bilateral or closed-door pow-wows. A 25-year-old explains the legitimacy of bitcoins to Nigeria's former finance minister, because, after all, he has asked Obama to "listen up" and met with the Bank of England. Despite doubtful murmurs about "legitimate tender", the ex-minister nevertheless yields her card, much to the relief of the rest of us nudging knees. Thus ends another random Davos moment that resonates with the insouciance of a cheetah spotting a gazelle.
Proximity to the upper echelons is an ongoing elixir as I step back, narrowly missing Queen Rania of Jordan's exquisite suede-swathed toes, rub the tweeded shoulder of Christine Lagarde, sit next to Tsipras's fulsome legs, thump the back of Luxembourg's choking prime minister, and get invited to the home of an island's president. "May I know you?" asks a charming woman of epic philanthropy to the giggly Philippine fashion designer who sued his government on corruption, and won.
Yet there is fervour, vibrant and heart-beatingly passionate, with brilliance. Yo Yo Ma's opening performance among his Silk Road musicians will remain a forever memory, long after I am spoon-fed by an ambulatory android. And momentousness too can happen, as when the Greek and Turkish prime ministers of a still-divided Cyprus pledge to unite their territories, in contrast to Britain's philandering behind the back of collective responsibility for a more stable Europe.
Technology might prolong life with new medical discoveries, but I reckon I might die of empathy first, so prevalent was the word in our discussions about remaining relevant among automation, artificial intelligence and meta-data. When algorithms are fast becoming the font of knowledge, Davos's hallowed halls echoed with calls for authenticity and ethics to manage this industrialisation of humanity.
Yet the biggest force for empathy was virtual, when a room of deviced-up participants were given the chance to walk on Australian soil and sit next to an Aboriginal leader, sharing his memories of Britain's 12 atomic detonations during the 1950's and 60's. If we are to ever attach equal importance to the success of others as we do to our own, it will be because we will have inhaled the breath of someone else's suffering, from a schoolroom desk or a living room sofa. By contrast, the physical simulation of a life in the day of a refugee in which we ducked and dived through falling bombs, were shoved and shunted into tiny tents and generally man-handled in an attempt to understand the terrifying plight of those fleeing, was, according to our commando, but "12%" of the real-life equivalent.
So after last night's dinner that feels 17% digested, and with the enthusiasm to embark upon a new conversation around -- 92%, I 85% conclude that technology will adapt to who we are; it won't become something we are not; it may, even, make us better.
Calling all HuffPost superfans!
Sign up for membership to become a founding member and help shape HuffPost's next chapter