Corporate social responsibility (CSR) is no longer an obligation that corporations feel they need to take on, but has become central to the operations of many of the best companies today. In 2012, I explored the way businesses thought about philanthropy and today I will provide an update on new trends emerging and on how companies are redefining their CSR platforms.
The Committee Encouraging Corporate Philanthropy (CECP), "a coalition of CEOs" from 150 of some of the world's largest companies "united in the belief that societal improvement is an essential measure of business performance," recently produced two reports: Giving in Numbers: 2014 and Giving Around the Globe: 2014. These reports provide insight into the field and highlight trends that have been driving progress over the last year. According to Michael Stroik, Manager, Research and Analytics for CECP, corporate philanthropy has become such an integral part of business that many global markets are mandating social investments as a price of doing business. Stroik provided some of the top trends in CSR: 1) linking a corporation's performance and corporate societal investments, 2) aligning philanthropic efforts with their goals for impact, 3) increasing employee engagement, and 4) increasing non-cash methods of giving.
While the mechanisms of the leadership-organizational performance are complex, multi-level and multi-dimensional, top performing companies understand the important role of philanthropy and are putting passionate advocates for social change in the driver's seat. There is an undeniable dynamic link between the performance of organizational leadership and the performance of the entire organization and if done efficiently, corporate social responsibility can be an opportunity for businesses to strengthen their bottom line, do good for society, work to reverse some of the growing problems facing the world today, retain top talent, build an engaged Board of Directors and attract customers. When a company invests in their community and beyond, and empowers their employees to do the same, they can see returns across the board. Employees want to work for companies that are committed to making the world better, customers want to spend money with these companies, and can also attract board members that can truly make even more of a difference.
The name of PepsiCo's CSR plan, Performance with Purpose, is one of the most significant trends in the CSR practices. Stroik explained, "The evolution of corporate societal investments is linked to business performance. Corporate giving is being used as more than a way to manage reputation and stockholders, but as a growth driver, platform for innovation and a way to drive a corporate culture." Doing good for society is good for business and positively impacts a company's bottom line. "Many companies link giving budgets to business performance--among companies giving at least 10% more since 2010, median revenues increased by 11% while revenues fell 3% for all other companies" (CECP's Giving in Numbers, 2014). In other words, companies that are giving more back to society are outperforming companies that are not. Such a profound shift in big business could mean the promise of progress for some of society's largest problems.
More and more companies are improving the way they do business with passionate leadership in ready-position and a laser focus on systemic change. Indri K. Nooyi, Chairman and CEO of Pepsico, described it best, as businesses operating "under a license from society." She explains that when an organization keeps this as a focus they achieve sustained value and financial returns. Candace Mueller-Medina, Senior Director of PepsiCo North America Nutrition Communications, points out that "PepsiCo was one of the first contemporary corporations to recognize the important interdependence between corporations and society when Performance with Purpose was articulated." According to Performance with Purpose, success means "providing a wide range of foods and beverages, from treats to healthy eats; finding innovative ways to minimize our impact on the environment and lowering costs through energy and water conservation, as well as reduced use of packaging material; providing a safe and inclusive workplace for our employees globally; and respecting, supporting and investing in the local communities in which we operate." (Pepsico's Performance with Purpose). Mueller-Medina explains that, "Nourishment is part of Quaker's DNA. We continue to focus our efforts on organizations that aim to fuel healthy families through a combination of nutrition, physical activity and education. While there are many worthy organizations out there, using this lens allows us to pinpoint the ones that our business can best serve."
Walmart, first on the Fortune 500 list of the world's largest companies by revenue with nearly half-a-trillion dollars in sales, is focused on sustainability at the company level and through the Walmart Foundation. According to Kathleen McLaughlin, president of the Walmart Foundation and senior vice president, Walmart sustainability, told Forbes that "business exists to serve society, in many ways," (Forbes Interview with Kathleen McLaughlin) and spoke to stakeholders this fall at a Global Sustainability Milestone Meeting about the importance of systemic change that impacts customers, society & business, celebrating Walmart's ongoing efforts to create a more sustainable, affordable, accessible, and healthy food system around the world.
"Companies are applying the same management best practices to philanthropy as they do in other areas of the business, and that is translating into more strategically driven societal investments, increased measurement and evaluation of the results, and a refinement of goals and partnerships to drive efficiency," explained Stroik. Data from "Giving in Numbers: 2014 shows that individual grants are getting larger, and corporate grantmakers are working with fewer nonprofit organizations (CECP's Giving in Numbers, 2014).
Aligning efforts with goals, abilities, resources, skills, and areas of expertise increases efficiency and allows individuals and corporations to best benefit those they help. Suzi Schelewitz, Director of Corporate and Community Affairs for United Airlines, described the process for developing their "Impact Plan" as a combination of assessing critical needs with what they, as a corporation, have to offer. The result of that is the inclusion of disaster relief response, hunger and delivering hope and healing to Veterans and children in need. By utilizing their unique strengths and resources they can make the largest and most meaningful impact in society.
According to President and CEO Larry Merlo, through CVS Caremark, their goal is to "reinvent pharmacy and focus on solutions that benefit millions of people." They have aligned that goal with three pillars of their CSR strategy, Prescription for Better World: "building healthier communities, protecting the planet; and creating economic opportunities" (CVS Caremark, Corporate Social Responsibility Report, 2013). They use their unique skills and resources to focus where they can make the most difference. Additionally, the CVS Caremark Charitable Trust collaborates with and supports countless organizations dedicated to serving children with disabilities. Through grant programs and various initiatives they focus on improving individuals' health, which includes improving their communities.
As corporate funders focus efforts and dollars for more impact, they are also more concerned with measuring the outcomes of their efforts. More companies are reporting on CSR activities, realizing the importance of transparency, especially as social media becomes more prevalent. Aside from providing leaders with data to help drive decision-making, CSR reporting helps consumers make purchasing decisions. More consumers want to know what companies are doing to improve communities and want to spend their hard earned dollars with companies that do better at doing good (CECP's Infographic, 2013).
Nielsen's 2014 Global Survey on Corporate Social Responsibility (Nielsen's 2014 Global Survey on Corporate Social Responsibility) "shows that 55 percent of global online consumers across 60 countries are willing to pay more for products and services from companies that are committed to positive social and environmental impact."
In the airline industry, where consumers are most swayed by price points, the focus becomes keeping those loyal customers happy and proud of the choice that they make. Either way, consumers have the power to influence the way businesses operate and they are demanding more. According to the CECP results (CECP's Infographic, 2013), "two thirds of consumers say that their perception of CEOs affects their opinion of a company's reputation." That number is up from 2011 and that is a significant piece of the CSR picture. The report also found that six out of 10 consumers are willing to pay more for a product or service from a company with good values.
The New Employee Engagement
In today's interconnected society, employees expect more from their employers. Passionate leadership can drive a company to give back to their larger communities and that kind of dynamic culture is what many people are looking for when deciding where they want to work, especially Millennials. This younger generation wants to feel emotionally invested to causes and favors a more participatory approach to philanthropy, extending beyond a transactional donation. Employees also want to be associated with a company that places a high value on philanthropic actions.
According to the CECP's report, Giving in Numbers (CECP's Giving in Numbers, 2014), "CEOs at CECP's 2014 CEO event identified employees as the most important stakeholder influencing decisions to expand community investments." Reports show that employees want to work at companies with good values. These employees are playing a large role in CSR, from matching programs to employee engagement and volunteer hours. Corporations are taking note and count employees as one of their greatest assets. Trisa Thompson, Vice President of Corporate Responsibility for Dell, explained, that employees were tapped to participate in goal setting for their current 2020 Legacy Plan and counts their 739,000 volunteer hours this year as one of the things they are most proud of. Many of the corporate social responsibility reports document an impressive number of volunteer hours, further showing just how important this aspect is to the overall platform. Companies are creative in finding ways to engage their employees and finding that employees are proactively seeking out opportunities. Hiring and retaining forward thinking, socially conscious employees in addition to fostering a culture of CSR will continue to drive needle-moving community collaborations to address our biggest challenges.
Cash giving, volunteer hours, employer-matching programs and in-kind services are just a few all are ways in which companies accelerate social impact.
CECP research indicates that across various industries, companies are considering how to best utilize the skills of their staff to improve societal outcomes. Further, CECP research also indicates the percentage of companies offering paid time off for volunteering increased from 51% of companies in 2010 to 59% of companies in 2013 translating into 37% more volunteer hours in that same time period (CECP's Giving in Numbers, 2014).
Matthew Pakula, Senior Manager of Corporate Social Responsibility for Tyson Foods, Inc. explains his take on this, "In addition to strategic alignment with nonprofit and cause partners, a company must approach partnership holistically by offering financial contributions, product donations, extra hands volunteers, and skills-based volunteers to help the organization make budget, build capacity and leadership, and meet its mission."
The field of corporate social responsibility is a complicated one, the work immensely challenging to say the least. But will the positive correlation between a company's philanthropic efforts and their profits help to simplify it? We know this much, there are countless ways for companies to give back and if each company can focus on what they have to offer, learn from previous efforts, build on what works, increase collaboration and partnerships, we could start to see a reversal in some of the problems facing society and accelerate impact towards the world's greatest challenges.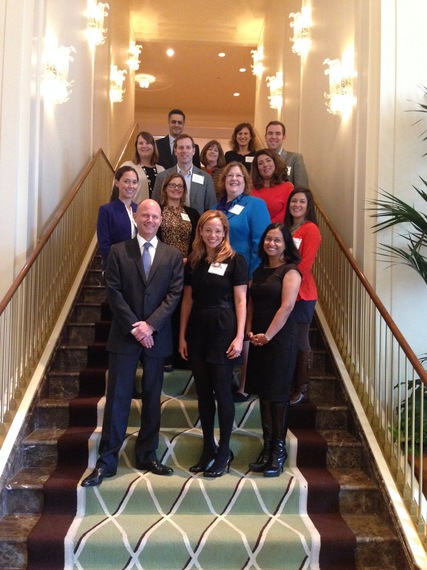 At the 1st Common Threads Partner Summit, hosted by the Peninsula Chicago, business leaders came together for an all-day event with dialogue dedicated to collaboration and learning in order to accelerate impact and move the needle towards positive change.
Back row: Jeffrey Brana, Common Threads; Holly Armstrong, United Airlines; Allison Liefer, Common Threads; Todd Traynor-Corey, United Airlines
Laura Traut Coyle, Social Capital; Matt Pakula, Hillshire; Angela Arboleda, Herbalife
Marissa Pines, Quaker; Kate Shillin, Social Capital; Carol May, Walmart Foundation; Stephanie Folkens, Common Threads
Front row: Richard Sorensen, Peninsula; Linda O'Keefe, Common Threads; Prita Wadhwani, Barilla
Related
Popular in the Community