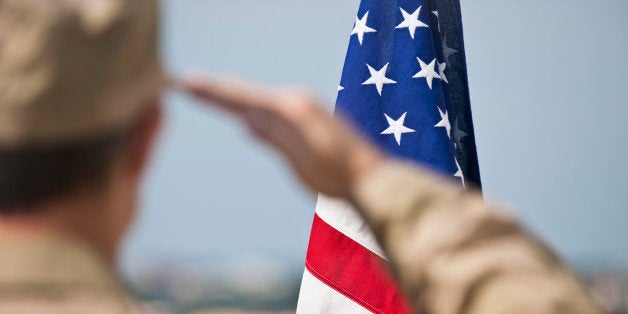 As we celebrate the contributions of our military service members this Veterans Day, many of us are heartened by the recent drawdown of troops deployed to Iraq and Afghanistan. More than 2.7 million men and women have served in those conflicts to date, many of them on multiple tours.
But our collective relief should not obscure the reality that many of our service members have come home with significant challenges, especially in mental health. We are, in fact, entering a phase in which our returning troops will need attention to their health more than ever, as they face the long-term consequences of war.
At a time when we are ready to put the wars behind us, we must renew our commitment to our soldiers by improving mental health care access and treatment, both within the VA and in the broader community.
We tend to think of war wounds as immediate, acute, and dramatic. While that remains the nature of some of the wounds of war, technological advances in battlefield medical care and changes in combat engagement have sharply reduced the death rate, compared to previous conflicts--leading to more wounded veterans, with more complex injuries.
Increasing evidence suggests that the burden of mental illness among service members and veterans may dwarf the burden of physical illness. Exposure to a range of potentially traumatic events is a common experience among military members, many of whom face mental health and re-adjustment challenges upon returning from deployment.
Studies have estimated that between 20 and 43 percent of returning troops are in need of mental health services, while samples of veterans connected to VA care indicate that about half are in need of such services. Estimates of post-traumatic stress disorder (PTSD) among those who served in Iraq and Afghanistan range from 5 to 20 percent, with rates of depression as high as 16 percent.
Suicide among active-duty troops and veterans has been a growing concern. While the suicide rate among service members was about half that of civilian counterparts before the wars in Iraq and Afghanistan, there was a sharp uptick between 2005 and 2006. The suicide rate in the Army and Marines then nearly doubled between 2005 and 2009, with the rate of suicide in the active-duty Army eventually surpassing that of demographically comparable civilians.
Despite a range of services provided by the VA and Department of Defense, returning troops face myriad challenges in accessing mental health care. Barriers include stigma and personal beliefs about mental illness. Studies have estimated that only about 50 percent of service members in need of mental health treatment actually receive care, with a third receiving what could be considered minimally adequate care. Meanwhile, a recent VA study estimated that more than half of VA-enrolled veterans in need of care waited more than two years from the end of a deployment to access mental health services.
A recent Institute of Medicine report that I led, which examined treatment of PTSD in returning veterans, came to the conclusion that while both the VA and the Department of Defense (DoD) have committed resources and attention to treating PTSD, "a lack of standards, reporting, and evaluation significantly compromises these efforts." Many new and innovative programs to prevent and treat PTSD have been initiated, but our review found that mental health care systems are fragmented, with little coordination between individual military bases or VA medical facilities. Our committee recommended a transformative shift in the DoD and VA to foster a culture in which the use of evidence-based treatments becomes the norm and that anticipates the growing numbers of veterans who will need services.
Women's health is another area that needs this kind of transformative shift, as both the number and role of women deployed to war zones grows. While the VA and DoD offer women's health services, many challenges remain in ensuring accessible and appropriate care. Studies have shown that women disproportionately face military sexual trauma. The study of women's health in the military is still relatively nascent, but the rapid growth of women in military roles creates an urgent need for both scholarship and effective interventions.
Boston University School of Public Health has a long tradition of close linkages with the VA that have allowed us to be at the center of groundbreaking scholarship related to veterans' health, including toxic exposures and PTSD. But even more difficult work is ahead. The tens of thousands of veterans who are returning home to our communities will need prompt access to effective care and help reintegrating into civilian life.
The military and the VA have struggled to keep up with these complex needs. My hope is that community providers will be trained to assist in mental health care, that more resources will be devoted to evidence-based treatments--and that academic institutions across the country will join in the effort to ensure that we protect the health of those whom we send into harm's way.
REAL LIFE. REAL NEWS. REAL VOICES.
Help us tell more of the stories that matter from voices that too often remain unheard.