Each time I make a purchase, I pull a veritable deck of credit cards to find the one I was looking for. As I fan them out, I think for the millionth time that there must be a better way. I am carrying more than 20 cards in my wallet -- everything from loyalty to library.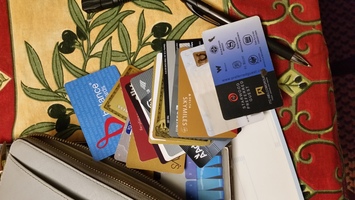 A number of new super credit cards are becoming available to serve as your uber-credit card -- one master storage locker for all your plastic payments. Stratos, Coin, Plastiq, Wocket and SWYP are a few making news. Each is surprisingly different in concept and design.
Most of them roll up all of your existing credit cards into one single "smart" card that has low energy Bluetooth (long lasting battery that can communicate with your mobile phone) and some really smart chips. Along with the magnetic stripe for swiping these cards, coupled with your mobile phone, these cards can keep track of all of your purchases, loyalty points and coupons. Plus, there are a host of other advantages to these smart credit cards, like shutting the card down when you've lost it (or if you want to put yourself on temporary austerity.)
I was given the new Stratos Card (pictured below) to take for a spin. It's pretty nifty looking. Unlike traditional credit cards there are no numbers or codes embossed on it. It has two magnetic stripes on the back side. The front side of the card has a cascade of squares that have blinking LED lights. These lights correspond to your three most frequented credit cards. If all of this tech sounds big and bulky, it's not. It's as thin as any credit card you own and a lot sexier. Plus, membership has rewards like special offers and points.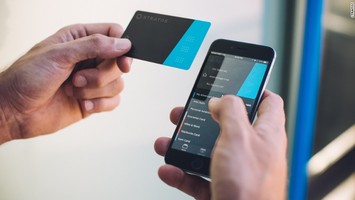 The biggest change about the card is your behavior. To wake up the card, you tap it twice on a hard surface like a countertop or your phone. To make a purchase assigned to a specific credit card you simply press the corresponding LED square. If you use a card that's not in your top three, you'll need to sync it up from your mobile device's storage.
How do you tell Stratos about your existing credit cards? It ships with a card reader which looks very much like the smart devices that scan your credit cards on airlines, flea markets and other mobile locations. You swipe each one of your cards through the reader while it's attached to your phone, then you can then store the reader away.
Setting up an account and swiping your Stratos Card is simple. Making a purchase on one of your three top choice cards is pretty foolproof, though pressing the wrong box leads to a purchase charged to the wrong card. What gets trickier is using your secondary cards. They are stored on your mobile device which means you'll need the mobile device and your card in hand.
The good news is that the app is smart. It lets you know which of your cards are accepted at a merchant based on your location. The bad news is that you'll be fumbling with your mobile phone, when swiping a card is a much easier, more ingrained behavior.
Imagine the scenario where you're redeeming points and then paying -- it becomes an uncomfortable amalgam of phone and Stratos Card combination. The last thing you want to do on a crowded Starbuck's line is fumble with your tech, right? And, at $99 a year (on top of your other fees) you'll need to decide whether lightening your load is worth it.
The biggest contender I've seen is the Coin card (pictured below). It seems slightly easier to use because instead of multiple LEDs and it has a single monitor-like LED readout that clearly cycles through and displays your cards. But reviews of the Coin are much more mixed, with people expressing concerns about the product's lack of support at some establishments and with some difficulties in getting their swipes recognized.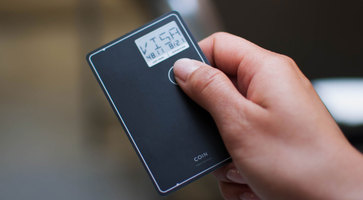 Plastiq's claim to fame is that it pays all bills -- from tuition to rent, with a single card. Wocket has a wallet-like accessory you slide your card into. SWYP is most similar to Coin card.
All of these companies are going to need to adjust as the new chip and pin credit cards become commonplace. They've used a different encryption scheme. And all of the companies are very mobile phone dependent. I don't know about you, but my mobile is often out of power.
Still too early to call this one, but I suspect that a year from now we'll all be walking around with a few less cards in our wallets.
Cashless payments will be one of the focal points and hot topics of discussion at the upcoming Digital Money Forum during the 2016 International CES on Friday, January 8 at the Venetian in Las Vegas, NV.
Robin Raskin is founder of Living in Digital Times (LIDT), a team of technophiles who bring together top experts and the latest innovations that intersect lifestyle and technology. LIDT produces conferences and expos at CES and throughout the year focusing on how technology enhances every aspect of our lives through the eyes of today's digital consumer.