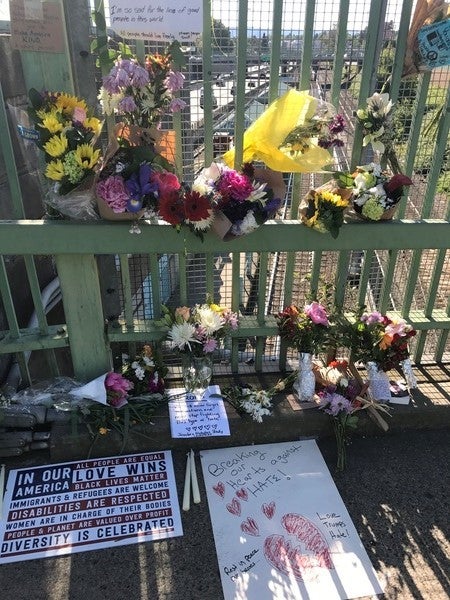 As I grow older I continue to remember that Memorial Day is a day to honor so many thousands of men and women who have given their lives for our country, our freedom, and shown bravery through their service. This has typically been a time to thank our military soldiers who have defended our constitution abroad and within our borders. Having a father who served in Vietnam, a Grandfather and Father in Law who served in WW II, a brother who served in the Navy, and many veterans in the churches where I have preached—I have been amazed at the love and dedication they have shown for our country.
I also am reminded of the many civil servants who have died in the line of duty serving as law enforcement, legal advocates, and fire and paramedic service to our city, country, and towns. Men and women continue to put their lives on the line for our safety. I am always thankful for their service, sacrifice, love, and courage so that we can feel safe in our homes.
We can never repay this debt and a day like Memorial Day will never be enough to offer them.
Even more, one thing I often hear about the service of these men and women is that they willingly chose to serve in this capacity. Knowing that they might die for their service must have been in their minds every day. We remind them of this when we see them. We thank them for their service. We thank them for "signing up." We know that their paycheck will never compensate the danger of their "job," "career," or "contract." We acknowledge that this is an ultimate sacrifice and career but somehow in the back of our minds we must think, "They are doing this for me."
I don't mean this as a criticism of us—this is how it works. People "sign up" or "enroll" for this service while others of us hope and pray to "be protected." They wear the bullet proof vests and we stand behind them. It's how this works and it's what they do and we do. Even if we have served in the past, we see it as "serving in the past." Very few expect to step up and enforce the law or go to war this afternoon, tomorrow, or even next week. We would, if called to do so, but we don't expect it.
Today is a different day. Memorial Day suggests a newer meaning, although it is one we have always known might happen.
On Friday, May 26, 2017, at 4:30 in the afternoon two young females were riding Portland's MAX lightrail. Jeremy Christian boarded the train and began to spew hate language and threats to our country, immigrants, and people of color. He began to threaten the two females, one being Muslim, and as they decided to leave the train, a passenger confronted Christian. As the confrontation escalated others became involved. Christian attacked three men with a knife killing two and critically injuring the other. He threatened the rest of the passengers and left the train, later to be apprehended by police officers. After he left other passengers rushed to help the stabbing victims.
In the end three men, Taliesin Myrddin (23), Ricky John Best (53), and Micah David-Cole Fletcher (21), decided to get involved, to help these females. Myrddin and Best succumbed to their wounds while Fletcher is recovering. I would suggest that they may very well have known that they would die for this. Our mayor Ted Wheeler, in a later press conference, stated that these men were killed/injured for "Doing the right thing." The next evening my family boarded the MAX, stopped by to view the memorial at the station where the incident happened, and attended a soccer game. The memorial was moving and we saw some attend who were emotionally shaken. At the soccer game there was a moment of silence because, as the announcer stated before the moment of silence… "These men embodied sacrifice and doing the right thing so that others can be free."
We mourn the loss of the two men and feel for their families and friends. We hurt for the females who were threatened and those who witnessed this act of hatred and terrorism. We know that people for many years have intervened and paid a supreme cost.
Not only have these men given me a new view of Memorial Day, but they gave their lives freely, on the spot, and because it is what it means to be in community. We are calling these young men heroes—and they are.
What is disturbing to me is the implications of this event. If they "Died doing the right thing…" then what does that mean for me, for you, or for all of us? Do the events of May 26, 2017 suggest that we/I should be willing to die for others as well? Would I intervene anytime for someone—even if I knew I would die? Would I "do the right thing" knowing I would no longer see my family? In my day to day activities in the "Land of the Free and Home of the Brave" would I/we "do the right thing," at any cost? While we acknowledge those in the armed forces serve to keep us safe, what does it mean for citizens to be "ready to serve?" We sometimes forget to ask what it means to us all? They have not only left an example to us, but they have silently asked us if we would follow.
As a Christian I hear many talk about being willing to die for others. We sometimes say it so flippantly; and it seems that we lift up the name of our Lord, Jesus, stating that he "freely gave his life." We share stories of the martyrs throughout the ages who "died for their faith," or "died protecting others." However, we also have convinced ourselves that "he/they had to do it," or that "it was a divine plan," and that "it was the Father's will." But what about those who "freely give their lives…because it is the right thing to do?" It's not planned, not rewarded, and not something popular. It's just "right."
I know three men who have shown me an example of what this means. When I ride the MAX I will think of these men. Memorial Day not only calls me to remember others, but offers a challenge and reevaluation of my own life. I guess it does for all of us.
I hope that we can all "do the right thing" when needed.
I am thankful for three men, and their families, who now have challenged my own view of freedom.
REAL LIFE. REAL NEWS. REAL VOICES.
Help us tell more of the stories that matter from voices that too often remain unheard.
This post was published on the now-closed HuffPost Contributor platform. Contributors control their own work and posted freely to our site. If you need to flag this entry as abusive,
send us an email
.