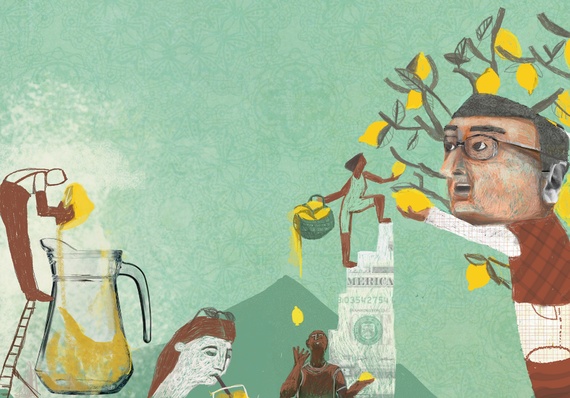 Stelios is a great role model for many entrepreneurs in Europe. When people talk about disruption in 2016, little do they know that Stelios was ahead of the game by over two decades ! Within a 20 year span he was able to take on an antiquated airline industry desperate for change and created a modern, more affordable travel option across an entire continent; This airline is known as easyJet- Europe's fourth largest airline operating across 32 countries and often the best option for those looking for an affordable no-frills option when flying.
He has always pushed the envelope so it's no surprise that he is very involved in migrant issues and feels a strong connection to this cause as he was raised in Greece. Best of luck to you, Stelios ! I know your entrepreneurial spirit can only have a positive impact on this unfortunate crisis.
Tell me more about the Stelios Philanthropic Foundation. Why did you choose to focus on supporting philanthropic initiatives in the UK, Greece, Cyprus and Monaco?
These are the four places where I have lived, studied and worked.
The "Food from the Heart" program provides free lunchtime snacks to impoverished communities in Nicosia and Limassol (Cyprus) as well as Athens in Greece. What was the inspiration behind this program? Do you think handout programs like this effectively addresses the deeper issues of hunger and poverty in the region and provides a long-term, sustainable solution?
The "Food from the Heart" program started in 2013, in Cyprus, to help alleviate the needs of people affected by the then economic crisis on the island and one year later we opened our first distribution point in Athens, Greece. I was inspired by the work of Les Restos du Cœur in France. Our Food from the Heart program is a very efficient and cost effective way to help large numbers of people who are in need on a daily basis. Currently, we hand out more than 20,000 snacks each day to people who come to our 21 distribution points. Clearly the numbers show there is the need for that sort of "short term" solution.
What are some of the causes you are passionate about?
I try not to get too passionate about any of my causes. I like to diversify in business and I like to diversify in philanthropy. However if I had to choose two projects for this year they would be the Food from the Heart distribution in Athens, the city I was born. I almost feel guilty that this once affluent city that I grew up in has fallen in such hard times.
The second is the bi-communal prizes we give to Greek-Cypriots and Turkish-Cypriots who cooperate on the island of Cyprus. With a bit of luck we might see a solution to this four decade old issue of the division of the island in the next couple of years. I am glad we could do our bit to promote lasting peace on the island.
You opened easyFoodStore to help people get access to affordable food. Have you also thought about providing employment opportunities to the community down the line?
The easy brand is trying to apply commercial principles to food distribution along the lines of the charitable program Food from the Heart which gives the food for free. It is more sustainable to use your words above.
Stelios, you founded easyJet when you were just 28 years old! Since its founding, easyJet has grown to one of the most successful budget airlines in Europe. What was the experience of being a young entrepreneur like for you?
I have heard the theory that starting a business at the age of 28 is a perfect combination between having some knowledge and experience and not being old enough to recognize the risks you are taking... I was lucky to have been at the right place, at the right time, with the right father (who financed my dreams).
Being of Greek-Cypriot origin, what are the long-term impacts you think the refugee crisis will have throughout Europe and the world? What do you believe is the most immediate refugee concern we should address?
For clarity, my parents were born in Cyprus but I was born in Athens, Greece, meaning that I am a bit of both. So far the refugee crisis has not affected Cyprus that much. I guess being a relatively remote island, it is not a convenient path to Northern Europe; however, in Athens the problem is much more prevalent.
I was there just last week [until October 31st] and watched two thousand people first-hand queue up in the middle of Athens at one of our distribution points to receive some "Food from the Heart." This is the first time that I have seen a significant number of Middle Eastern families, often with young children, in our lines. We never discriminate and we want to help all people who come and ask for our help, but this shows how difficult it can be to absorb so many people in a city with already significant financial problems of its own.
I don't know about a long term solution, but I do know that these people need food on a daily basis. Calories to live another day. And my foundation will be there to offer just that: food to live another day from the heart! The long term solution is a second order priority.
What is the greatest lesson you've learned as an entrepreneur?
Finally, do you think that by doing good, you're more successful?
I think people who are lucky to have inherited some money, and/or perhaps made some money through a successful business, have a duty to give back to society. I am just trying to repay my debt to society.
There is a moral satisfaction when you are "doing good deeds" but equally it takes time and money to do good. I reckon I spend about a third of my time on my charitable projects nowadays... which must interfere with running the business if you know what I mean.
Calling all HuffPost superfans!
Sign up for membership to become a founding member and help shape HuffPost's next chapter