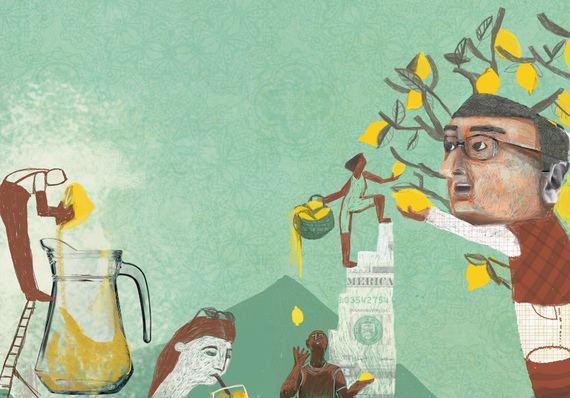 I heard for the very first time of Steve Case in 2000 when AOL merged with TimeWarner for $350 Billion. For me at that time and at the peak of the internet bubble this sounded totally normal that a young startup led by a brilliant entrepreneur can swallow such a massive media player... I followed his journey after and all his great successes (ZipCar, Everyday Health...). We met 3 years ago in a lift leaving an annual conference gathering tech entrepreneurs in NY (Founders Forum). I love what he is building but in addition to this, for more than 15 years, he has been really committed to making a positive impact in the world through the Foundation he started with his wonderful wife, Jean. You can find here someone else who is using his success to do good.

You are the Founding Chair of Startup America Partnership -- an effort launched at the White House to accelerate high growth entrepreneurship throughout the country. You've also been a leading voice in shaping policies on issues pertaining to entrepreneurship, including the JOBS (Jumpstart Our Business Startups) Act. What drove your passion to help entrepreneurs?

I want to do everything I can to maximize the likelihood that the United States is the most innovative and entrepreneurial country in the world. Just as our country's past was built by entrepreneurs, our country's future will be secured by entrepreneurs. It was entrepreneurs who ushered in the agricultural revolution, then the industrial revolution, and more recently the technology revolution. And American entrepreneurs led the way. That's why the U.S. became the world's most prosperous country -- because pioneering innovators created businesses and whole new industries that changed the world. If we are going to remain the world's most innovative nation, we need a new generation of startups to succeed -- and we need policy makers to create the right environment for entrepreneurs to succeed. And this is going to become even more important in the next wave of innovation, what in my new book I've called The Third Wave my new book (https://www.amazon.com/Third-Wave-Entrepreneurs-Vision-Future/dp/150113258X). Entrepreneurs are on the cusp of transforming many of the sectors most critical to our lives: health, food, financial services, energy, transportation, etc But to succeed, they need to understand public policy in a way that entrepreneurs in the second wave generally didn't. I want to help be a bridge between the innovators and the policymakers, so we can accelerate innovation in these sectors, in a smart fashion.
Can you name a few organizations and partnerships the Case Foundation has invested in?

Since creating The Case Foundation in 1997, we've been focused on the unique value we can bring to supporting organizations working to solve significant social challenges. Over time, we realized that we could maximize our impact if we leveraged the skills that made us successful in business: embracing the potential of new technologies, our understanding of the value of collaboration, and our entrepreneurial spirit. Our efforts are centered around catalyzing movements that have the potential to transform the way we solve significant social challenges. Currently we're focused on two key initiatives: first, the effort to transform impact investing from a niche market to a mainstream approach; and second, to level the playing field for entrepreneurship and make it easier for entrepreneurs from underrepresented populations to start and scale their businesses. Based on this premise we partner with organizations like The ImPact, which inspires families to make more impact investments more effectively, and JumpStart, which aims to unlock the full potential of diverse and ambitious entrepreneurs to economically transform entire communities.
Can you explain the "Be Fearless" approach to social change?

We launched our Be Fearless campaign in 2012, when the Case Foundation turned 15. As we approached that milestone, we began to reflect on what made us -- and our partners -- successful over the years. Whether it was initiatives like America's Giving Challenge, the Startup America Partnership or our efforts in malaria and clean water, we found that we, and our partners, were at our best and most successful when we acknowledged and worked through fear in pursuit of transformative social change.

Through five key principles, the Be Fearless campaign calls on individuals and organizations to embrace risk and experimentation, openly admit and learn from failures, and make big bets as they approach their work to solve significant social challenges.
The philanthropic landscape has changed dramatically over the past few years. What do you think we need to do to adapt to these changes?

Philanthropy is no longer just about writing big checks. Many of our peers have learned the same lessons that we have -- that we can have more impact if we use all of the arrows in our quiver. As a result, we're seeing more and more new approaches to solving social problems -- some of it through more traditional philanthropy, but much of it through newer tools and growing approaches like social impact bonds, and mission-related investing, for example.

We're also seeing the increasing democratization of philanthropy. Crowdfunding platforms have demonstrated the collective power of small dollar donations from a large number of people -- the Case Foundation has invested in a number of these platforms, including Network for Good, which collectively represent more than $2 billion in donations to deserving nonprofits.
What is the Millennial Impact Project, and how can our readers get involved?

Much of the change in philanthropy is being driven by millennials. In a report produced by the Case Foundation eight years ago, we noted that millennials are "social citizens representing a nascent model and era of citizen participation that combines idealism, digital fluency and immersion in social causes."

Our work studying this generation led to our support of the Millennial Impact Project, led by Achieve, the most comprehensive study of the Millennial generation (born 1980-2000) and their involvement with causes. Since beginning the study in 2009, The Millennial Impact Project has helped organizations, corporations and individuals everywhere understand the best approaches to cultivate interest and involvement with this generation.

The Project has helped organizations, corporations and individuals everywhere understand the best approaches to cultivate interest and involvement with this generation. Next week, Achieve will release the preliminary findings of the 2016 Millennial Impact Report.
What is the greatest lesson you've learned so far as an entrepreneur?

Thomas Edison once said: "vision without execution is hallucination." From the early days of building AOL, to scaling it throughout the 1990s, to orchestrating the AOL merger with Time Warner, to investing in hundreds of startups, I've come to realize that what is paramount is less the idea (though that's important) and more the people who actually make things happen. Many things will contribute to the success of a startup -- funding, timing, market opportunity, the idea, partnerships -- but people matter most. If you have the right people working together in the right way on the right priorities, anything is possible.
Finally, do you think by doing good, you're more successful?

In The Third Wave, I talk about how the preferences of the millennial generation are beginning to influence business. When I started my career, the conventional view was business should focus solely on maximizing profits. That's beginning to change. For example, millennials tend to be focused on creating positive social change. They want to do business with, work for and invest in companies that focus on purpose, not just profit. We've seen that in the Case Foundation's work around impact investing (http://casefoundation.org/program/impact-investing/) and also in the investments Revolution (http://www.revolution.com) has made, such as Shinola and Sweetgreen. So I do believe that by doing good you can be more successful.
Popular in the Community