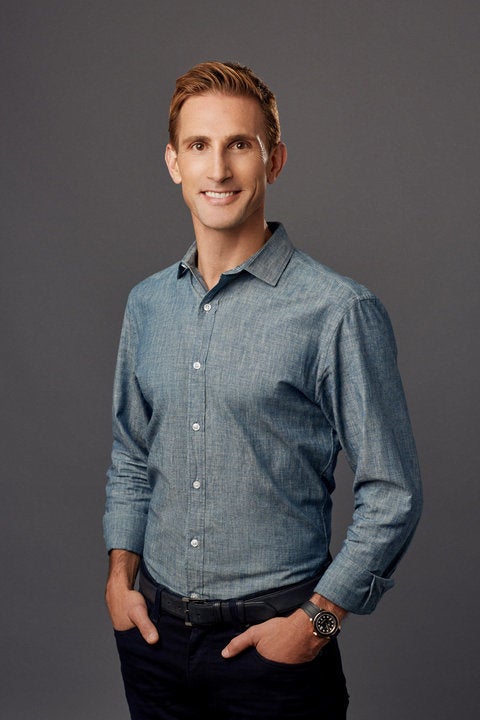 I imagine it would be difficult running a company alongside a world renown actress, but somehow Christopher Gavigan makes it look easy ! Christopher is the Co-Founder of The Honest Company, one of the most successful eco-friendly consumer goods companies in the world. Together with Jessica Alba, they have gone on to disrupt a previously untapped baby essentials and personal care industry by building a $1 billion company- and the most beautiful part, for them it's safety first, not profits. The Honest Company prides itself on providing quality sustainable products free of harmful ingredients all at prices that won't break the bank.
Christopher's passion and concern for society stems not only from his past life as CEO of the non-profit Healthy Child Healthy World, but from his life at home. As a father of four children, he understands the importance for our kids to grow up in an environment free from harm. He also understands the importance of charity as The Honest Co. is involved in several charitable projects, creating an authentic community vibe around their products.
Wholesome products, a dedicated consumer base, a purpose-driven philosophy AND a well-balanced executive team?... Congratulations Christopher, all the elements of a very successful company are in place !
Christopher, you're a former environmental scientist and NGO leader turned social entrepreneur. Tell me about your career path and your motivation to take on the issues of environmental responsibility and child betterment.
My career journey is in fact less of a planned path of pedigree and focus, and more a focused passion for continued growth, learning and impact. Even from an early age, I can remember my father instilling in us that it wasn't what you did, but who you did it for that mattered most. And so for me, it was always quite clear that being "in service" was core to who I wanted to be and how I wished to express myself professionally. And without over-thinking it, I instinctively gravitated to ecology, families and health and wellness.
I've always "listened" to my own gut and followed a path of seeking the most credible information, scientific data, and opportunities to help the planet, humanity, and even more specifically, children. I've done everything from teaching, to non-profits, to writing a book, to brand building with The Honest Company, and all of these efforts revolve around a desire to inspire, educate and positively impact the world and future generations.
The Honest Company is best known for its safe and effective baby products and work in philanthropy. As a consumer, it's rare to find such a well-rounded company that's also affordable! How were you able to achieve all of this?
Affordability and accessibility are of strategic importance for us. Honest acknowledges that ALL people, no matter their socioeconomic reality, should have access to products made with quality and integrity. It's fundamentally just the right thing to do — so it's an expression of our values and a true demonstration of our social justice tendencies.
Our products are built with uncompromising standards and a plant-derived, clean, conscious philosophy, so yes, that is indeed more expensive. Especially given the raw ingredient profiles and our heightened commitment to better sourcing, we've had to be strategic about how we price and where we sell, in order to ensure we can be in as many people's homes as possible. Ultimately, everyone deserves the right to a clean, healthy, safe, non-toxic world.
You co-founded the company with Jessica Alba in 2011. How did the two of you meet?
Well, the story is well-documented, but it was a kismet moment that we still both feel profoundly grateful for. It was in 2008. I was CEO of the non-profit Healthy Child Healthy World at the time, and Jessica came to the launch party of my new book. She was over 8 months pregnant, and the book was all about healthier, non-toxic lifestyle approaches and simple, everyday solutions. Her big request was one I had heard for 5 years: "Just tell me what to buy." Her expression of the plight of the consumer at this life moment — one of equal parts awakening and fear — was so powerful. And so, we decided to "do it better," and committed our nights and weekends to building an iconic, modern, aspirational lifestyle brand that was a primary trusted source people could turn to for inspiration, education and empowerment (our products).
Honest has made several investments in social good. You launched a Social Goodness Timeline in 2014 to offer consumers a way of tracking the company's mission of donating time, money, and product to children and families. How has this been received?
Our purpose-driven philosophy is core to the DNA of our brand, and our customers continue to be incredibly supportive of and motivated by our commitments to giving back. Our customers tell us through calls, email and our social media channels how grateful they are for the work we are doing, and some go far as to tell us that's exactly why they've chosen our products over others. But for us, there's no choice — it's simply the right thing to do.
A couple of years ago, you teamed up with a nonprofit called The MaxLove Project to raise money for kids fighting cancer. How do you hope your products will impact the prevention of pediatric cancer on a large scale?
Our mission is to inspire and empower people to live happy, healthy lives. And a key part of that health-driven mission is reducing the amount of potentially harmful chemicals in households, particularly households with vulnerable populations like pregnant moms and children. Our hope is that by doing our part in the collective effort to provide a safer environment for families and children, we can have an impact on overall human health and well-being.
What does the future of Honest Company look like? What are some of the next Honest products we should expect to see?
We joke and say global domination, but candidly, it's not far from our aspirations. We are big dreamers, but unrelenting doers, and we won't stop or be swayed in our determination to seismically shift the marketplace. This all ultimately connects to our larger core purpose of creating a healthier today and tomorrow. It's an evolutionary awakening for people about what they are putting IN, ON and AROUND their bodies – helping them identify the chemicals of concern and show their desire for clean, safe, healthy products, both with their pocketbooks and passions.
This also unfolds as Honest continues our leadership position in creating high standards for health, safety, and potency of products – and our encouragement of other brands to become more transparent, and willing to shift to green, plant-derived, innovative and sustainable technologies. And lastly, it's a revolution in our legislative and regulatory landscape — to ensure stronger controls and standards for consumer companies that prevent questionable ingredients from entering everyday consumables. This is about preventing harm, being precautionary and embracing the powerful environmental health science/data we have available to us.
As a father, what kind of impact has your work had on your children? Do you have a story to share with our readers?
Well, my children are continually at the forefront of observing me as a brand architect and passionate advocate. As a result, they're super aware of food products, skin care and even home cleaners. As any parent can attest, it's amazing how much comes into your home in their little hands, and they are very conscious of key ingredients (anything with "fragrance," for example). And for food, they continually look out for added sugars and dyes/colors.
A sweet story was from my son Luke, who was in Kindergarten at the time. When asked what his parents do for a living, Luke responded that his father "made trusted products" for families. It's my sincere hope, of course, that one day he will choose to work at Honest doing the very same thing.
What is the greatest lesson you've learned so far as a social entrepreneur?
Ultimately, brand can only achieve (unbridled) success if it clearly articulates and lives its core purpose. It's that critically important asset that helps define the relationship you have with the world. It sets your north star. It defines your culture. It makes it so clear and easy to then create your standards, values, strategies and commitments. The core mission is the heartbeat of your brand — and it's the foundation that everything else circles around.