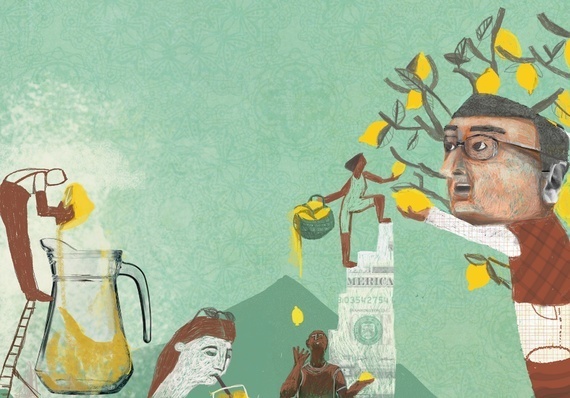 Nicolas Berggruen was once known as the "homeless billionaire," a globe trotter who traveled to many cities around the world both as a successful investor and philanthropist. In fact, he is the 1198th wealthiest guy on the planet !
I first met Nicolas at the place of a very good tech friend of mine, Fabrice Grinda. Fabrice made the introduction and we quickly hit it off. It was there that I realized Nicolas is someone who deeply believes that we can have a positive impact if we just acknowledge that it is our duty to give back. He is using his wealth, along with his success and network to change mindsets. He is so humble and down to earth ! Keep doing amazing work, Nicolas !
Nicolas, you founded the Berggruen Institute - a think tank devoted to proposing and implementing new ideas of effective governance - in 2010. What drove or inspired you to launch the Institute? Can you share some recent ideas that emerged from the workshops and discussions?

The Institute mainly deals with politics and the culture that is behind politics. The idea is that what makes the biggest difference in our lives is our political system, the political environment we live in and the ideas that are behind politics: culture, philosophy and religion.

In my particular case I grew up in Paris, but of German background. I was always fascinated by the case of East and West Germany, seeing the same culture that produced very different outcomes for its citizens. It's obvious that politics dictated the results but it also shows you how important culture is because as soon as the wall came down, the two sides of Germany, within less than a generation, came back together. In the case of North and South Korea- same phenomenon. Somehow North Korea persevered, which might be due to the highly embedded Confucian culture, but obviously the two had very, very different outcomes. It was obvious to me that politics really matters in a systematic way, at the systemic level and that there are other factors at play outside of the short-term policy level.

If you look at the world today, you see a world that is fracturing. You see a world that is becoming more populist at the national level- everywhere. East and West from China all the way to the U.S. Why is that and what does it mean? I think it's probably a reaction to globalization, a reaction to technology having been really ahead of politics. But what it means is that you need to come up with political ideas and answers that most politicians and most political parties are not really focused on or even equipped to deal with because they have to think and deal with the short-term; This is especially true in the West.

This is what ultimately drove me to launch the Institute- to create a place where we can look at things structurally at the level of political systems: compare the trends, cultures and systems. We can come up with new ideas that will hopefully address these big questions as opposed to just giving short-term solutions. It has also been an advantage and luxury at the Institute to think in a nonpartisan way, allowing us the ability to think long-term through practices and cultures from East to West.

What is the WorldPost? How has it changed the international news landscape?

Communications as we all know is key. And the good news in this age is that it's available to almost anyone that has access to the internet. It gives access and empowers people to participate in the global discussion.

The idea of the WorldPost is really a global discussion, giving a voice to the most informed, the most authoritative voices and giving them a voice that will have impact. We knew that The Huffington Post was really the initial, and certainly the largest, online publication within its norm of reach, so we created the WorldPost to partner with The Huffington Post and in essence capitalize on their reach globally. We saw it as a chance to give a lot of the people that we work with a chance to communicate and express their opinion.

WorldPost focuses on the very high quality opinions and journalism present around issues including not only the political issues of today, but also of science and culture. We do it in a way that is not just western-centric because we wanted to allow voices that are deserted on any subject. We've done a lot of work on China or Hong Kong where we've given a voice to not only traditional pro-western thinkers but also non-western, in this case Chinese, thinkers, from different stripes, so that it becomes a new discussion.

In this sense, it really worked out. The Huffington Post is a perfect publisher in a world where you need quality ideas and information to combine with its distribution and reach. It's really unique.

In a recent Bloomberg article, you were referred to as the "homeless billionaire." That's interesting! Can you explain this?

Honestly, it's not very relevant anymore. For many years I didn't have a place to call home. Now I live in L.A., have a place in L.A. and therefore destroyed this idea, so I'm very happy about that.

You recently acquired 450 acres above L.A. to build a "secular monastery" for scholars to live, work and host meetings on topics ranging from philosophy to rethinking government. Why did you choose L.A.?

This will take a number of years to build but the Institute is starting what we call a "secular monastery" in the heart of Los Angeles. It will be a place for scholars and thinkers to convene and live and work.

As far as choosing the location, It was really a personal choice. I've basically lived in three very large and sophisticated urban environments- Paris, London and New York. And those are cities in the traditional sense. L.A.'s the opposite. L.A. is almost a state of mind more than a physical/traditional urban environment. That's what drove me to L.A: the sense of space, both physical and mental, the sense of the future of hope, observation and tranquility/diversity.

I started thinking about the work that we do at the Institute more and more in Los Angeles. I spent time speaking to various university professors among others. From there the Institute kind of grew organically, and that started in Los Angeles. The location already correlated with some of the work that we do at the Institute- bipartisan reform work- which we have achieved in California. Therefore, it worked very well there.

What do you want your legacy to be?

I don't think in terms of legacy. I think in terms of the memory that the people you have known will have of you once you're gone. I do think it's relevant in the sense that you obviously want to be a contribution, a positive one at that. You want your family and friends to remember you fondly. In that sense, the most important legacy is the legacy with the people you have touched.

In terms of life itself, the beauty that some of us have is that we have choices and we have the potential to do things, engaging beyond ourselves. As humans in today's world, I think you almost have the responsibility to engage if you have the choice. I felt strongly that the area I was passionate about, meaning if I can enable some new ideas and change, I should do it. I will be very happy if we advance ideas, new political thinking, because that's helpful. And if in addition we build things that are more perfect, that's beautiful.

We've recently seen a movement of several organizations and corporations taking the pledge to donate 1% of their profits towards social good. Is this a good way to get more and more corporations to be engaged in the space of social impact? Is there a better way to get involved?

I think a formula is never enough, but the fact that individuals and corporations engage by being philanthropic, hopefully contributing to the discussions and the solutions, is very important. Again, I don't know whether there should be a formula, but I think engagement is very important, healthy and certainly needed in today's world. If you're not engaged, as an individual or corporation who can, you're not really part of the future. Society, over time, will not accept it. Things will change and they'll have to change for everyone; New ideas have to come. Part of it is a financial commitment but equally important is a dedication of time, energy and ideas.

Finally, do you think that by doing good, you're more successful?

Well, these two things have to come together. I think that as a motivation, it's wonderful. And I do think, for example in the tech and internet space, a lot of the big internet companies like Facebook and Google incorporated the idea of doing good from the beginning and it's done very well for them.

Now the definition of what is good needs to change. The consequences are not necessarily clear when you start. You always need to adapt. You could argue that Facebook and Google have been great for the world, but now they've created ecosystems that need to be addressed. At some point, you have to think about what their relationship is with the world and how they will continue to do good.

More importantly, I think that today more than ever you could argue that by doing good you can do something for yourself, also for the world, and not just because it's moral.
Popular in the Community