On Aug. 27, holdover officials from the Bush Justice Department filed 226 pages arguing that former Alabama Gov. Don Siegelman and his co-defendant have presented no evidence since their 2006 bribery convictions that justifies a hearing or new trial.
As too often in the past, DoJ officials look like they're exaggerating to block justice and to protect themselves. By seeking to imprison Siegelman for 20 additional years, DoJ clearly seeks to end public debate about Alabama's most prominent Democrat. He held that distinction for years, at least until he narrowly lost re-election in 2002 following still-mysterious Election night switches of 6,000 votes out of his column in a rural county after polls closed.
The all-out federal criminal prosecution launched against Siegelman in 2004 remains the centerpiece of unresolved evidence that Karl Rove used DoJ to target Democratic officials nationwide. In-depth public scrutiny of the DoJ's high-ranking prosecution teams risks revelations about similar problems in hundreds of other disputed DoJ investigations that altered the nation's political map during the Bush years.
In the long run, however, DoJ risks even more – including public confidence that it's protecting our rights to fair elections and trials – if it shirks its responsibility to endorse a full hearing to clear the air.
Also, 75 former state attorneys general ─ the chief law enforcers from more than 40 states ─ made a bipartisan filing that is unprecedented in U.S. legal history to argue that Siegelman committed no crime by appointing a donor to a state post.
Siegelman's convictions centered on his 1999 request to HealthSouth CEO Richard Scrushy to donate to a non-profit foundation to improve Alabama's funding for education via a state lottery.
Scrushy arranged two donations to the foundation. Siegelman reappointed Scrushy to an unpaid state board on which he'd served under three previous governors. A jury that reported deadlock finally found guilt on 7 of 32 bribery-related charges. The defendants received lengthy prison terms and heavy fines.
Last year, Siegelman, now 63, was released on appeal bond after a CBS 60 Minutes exposé about his prosecution. Scrushy, 53, remains in prison, with each of his convictions stemming from the donations to the education foundation that Siegelman helped create to counter millions in spending by casino owners secretly allied with gambling opponents.
Alabama's Republican Party sniped at CBS reporting. But former National Press Club President Robert Ames Alden, a Washington Post editor for 48 years who supervised coverage of many major stories before his retirement in 2000, found the coverage compelling. "The Siegelman prosecution," Alden tells me, "is one of the worst miscarriages of justice that I'm aware of in the past half century in America."
DoJ's most recent filing falsely told presiding federal judge Mark Fuller that Business Council of Alabama CEO William Canary has denied under oath to the House Judiciary Committee that he schemed with "Karl" to remove Siegelman from Alabama politics. But no committee record exists of such a sworn statement, as noted by Alabama reporter Roger Shuler.
Canary, a former Republican National Committee chief of staff, is well-known in relevant quarters of DoJ. Many "loyal Bushies" remain in power after eight years of employment practices that included mid-term firings of U.S. attorneys who failed to use their powers for political prosecutions. News reports and litigation show that the Bush DoJ also relied heavily on politics in hiring and promoting career staff.
Canary is a longtime Rove ally who advised Alabama's current Republican governor in his successful 2002 gubernatorial campaign against Siegelman. Canary's wife Leura, shown below in her official photo, is Alabama's U.S. attorney for the office that is prosecuting Siegelman. She remains in power despite the nation's tradition that its 93 U.S. attorneys resign after a change of presidents.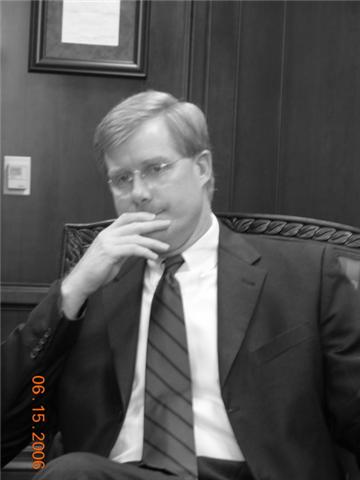 The rarely photographed Chief U.S. District Judge Mark Fuller of Alabama's middle district is shown above in a 2006 portrait released for this article by photographer Phil Fleming.
Most of those accused of framing Siegelman deny claims by the defense, whistleblowers and investigative reporters. But none of the denials have been in public under oath and subject to cross-examination. Some have been comments to the press, and many others have been in affidavits that can avoid key issues.
Rove and Harriet Miers, the highest-ranking of the Bush White House advisors accused of improperly interfering at DoJ, were interviewed in private this summer by House Judiciary Committee staff and a Congressman from each party. But the interview rules did not require an oath. Upon release of the transcripts Aug. 11, Rove claimed vindication in his Wall Street Journal column.
But Rove and Miers asserted memory loss many times on key questions during their interviews, and Rove misled his Journal readers by falsely claiming that Alabama whistleblower Dana Jill Simpson has never testified.
An attorney, Simpson voluntarily testified in 2007 under House Judiciary Committee staff cross-examination. Behind closed doors, she swore that a prominent fellow Republican predicted in early 2005 that Siegelman would be re-indicted later that year after collapse of the government's first case against him. Also, she swore that she heard that Siegelman's new prosecution would be steered to the Bush-nominee Judge Fuller, who "hated" Siegelman and would "hang" him.
Rove's spin on these kinds of post-conviction issues shows why this summer's interviews should be just a first step in a more thorough probe and public hearing.
The Justice Department should live up to its name by welcoming cross-examination of witnesses under oath before a fair judge. Questions about this case and so many like it around the country will not be forgotten simply by imprisoning the defendants. Others care deeply, both because of defendant rights and our own.
My next articles will explore growing concerns around the country about such matters, including those being voiced by Republicans and libertarians. The national magazine for paralegals Know just published my in-depth profile Dissed and Dismissed about the courageous paralegal Tamarah Grimes, an Alabama Republican fired by DoJ in June after she went through official whistleblower channels in 2007 to allege DoJ prosecution misconduct in the Siegelman case.
In the meantime, I read HuffPost comments with great interest and look forward to learning your suggestions (including, yes, your criticism) and ideas for next steps.
Support HuffPost
The Stakes Have Never Been Higher
Popular in the Community