This article was made possible by HuffPost readers through their support of the Ferguson Fellowship. Here's how you can back more reporting like this from Ferguson and St. Louis over the next year.
WASHINGTON -- As the Justice Department's Civil Rights Division opens a broad investigation into the conduct of the Ferguson Police Department and law enforcement agencies in the greater St. Louis region, it has already secured something that has proven essential in resolutions with other police departments across the county: the cooperation of the agency that is under investigation.
At a Thursday press conference at DOJ headquarters, Attorney General Eric Holder announced that the Civil Rights Division will open a "pattern or practice" probe into the Ferguson Police Department, meaning it will investigate whether the fatal shooting of an unarmed black teenager by a police officer was an isolated incident or evidence of systemic discrimination.
"I don't think there is any question that there is a basis on which to have a pattern and practice investigation," Holder said, adding that the stories he heard when he visited Ferguson were "fairly compelling, and there was a certain continuity, similarities in the kind of things I was hearing about traffic stops, revenue raising on the basis of traffic stops." Holder said that while his visit had been "invaluable," documented complaints about policing in the area contributed to his decision to open the investigation as well.
Holder also unveiled a collaborative reform initiative between the St. Louis County Police Department and the Community Oriented Policing Services Office. The COPS office will provide an "after-action" report on the aggressive response to demonstrations in Ferguson that followed the shooting, and which St. Louis County Police Chief Jon Belmar had defended.
Holder said he felt "pretty certain" that the Justice Department would be looking at the way other law enforcement agencies operate in the municipalities around Ferguson, even the department doesn't open up a formal probe in those municipalities.
"There's no question that I think, in some fashion, we'll be interacting with, looking at what those other police departments are doing," Holder said.
In an interview with The Huffington Post earlier on Thursday, Ferguson Police Chief Tom Jackson said he welcomed the Justice Department's involvement. He said he sat down with Justice Department officials for about a half hour on Wednesday afternoon and he has already been working with the Justice Department's Community Relations Service and the COPS office.
"Obviously, there are some issues here that we need to address, and who better to address it than people who do this for a living," Jackson said. "We intend to fully cooperate, and we see this not so much as an investigation as an opportunity to improve, get better."
Jackson said he expects that Justice Department officials will do ride-alongs with Ferguson police and talk to members of the community to get a "comprehensive" overview of policing in the area. Jackson said he had been speaking with police chiefs from across the county in the past few weeks, and they all told him that "the end result, when all this is over, is that things are going to be a lot better."
Labor Secretary Tom Perez, who previously served as Assistant Attorney General in charge of the Justice Department's Civil Rights Division and oversaw the rise in DOJ investigations into police departments, said in an interview that cooperation has been an essential component of successful outcomes. One high-profile exception has been an investigation into police in Maricopa County, Arizona, which has dragged on for years because of opposition from Sheriff Joe Arpaio.
But overall, Perez said, the Justice Department's interactions with police departments have been much less adversarial than they were when he served at the Justice Department in the Clinton era.
"I appreciated the leadership and cooperation we've gotten from police chiefs and mayors across the country who recognized that if we have a problem, we need to fix it," Perez said.
"The reason we've been able to do that is because we've been able to get police departments and chiefs who then talk to other chiefs and say, you know, 'The Department of Justice is not a gotcha organization, they're not in here to try to get a notch on their belt. They're here to try to diagnose the problem, help you reform the department,'" Perez added.
Perez said police officers from various communities would often privately thank him for the Justice Department's involvement, saying it made their jobs easier when they had the trust of the community they were policing.
"Whether it's large or small, what I have observed in virtually all the cases that I have been involved in is that there is frequently a crisis of confidence in the police department, whether it was the Los Angeles Police Department years ago, or whether it was in East Haven more recently," Perez said. "If the public doesn't trust the police department, or if a substantial subset of the public doesn't trust the police department, it's tough for officers to do their job, it's hard to command respect, because the community is your eyes and ears. That certainly is a common denominator in many cases in which we initiate investigations."
Back in Ferguson, just a two-minute walk from where Michael Brown was killed on Aug. 9, demonstrators by an encampment set up in the parking lot behind Red's BBQ were generally encouraged by news that the feds were getting involved.
"I feel very comfortable that they're actually taking action," Travis Sowell, a 19-year-old from St. Louis, said in an interview with The Huffington Post. Sowell, who is affiliated with the youth activist group Lost Voices, said he was "very optimistic" that the situation would improve in Ferguson and in the greater St. Louis area.
"I think thats important. You need a federal outside investigation to come in," said Chuck Modiano, a 44-year-old from D.C. who said he was tear gassed on his first trip to Ferguson and only returned recently. "You can't expect Ferguson [police] to investigate itself, that's the problem. It's definitely a victory and a step forward."
But Modiano said he believes the problem of police treatment of young black men extends far beyond Ferguson, and even far beyond the St. Louis region.
"The problem is far more severe than Ferguson. There are Fergusons throughout the entire country," Modiano said. It's good that they're investigating Ferguson, but there's an investigation that's needed nationwide."
A 35-year-old from Oklahoma who gave his name as "Rapper Precyse" said it was "great news to find out that there is some accountability." He said he purchased a one-way ticket to Ferguson, arriving on Aug. 31, because he felt he needed to be a part of what was happening in the St. Louis suburb of 21,000.
"It sounds like there is some intervention going on that is going to hold the Ferguson police accountable for their actions and their protocol. This was an execution. There was a modern-day lynching that happened right here," he said, pointing to the location where Brown was killed. "Who taught Officer Darren Wilson, and what kind of fear was placed in him to make him do that?"
Danielle Large, a 24-year-old from nearby Overland, wiped away tears as she talked about Brown's death.
"I think the investigation is necessary. I think things like this needs to be investigated more," she said. "This was wrong. We are all human, we all bleed the same color."
This story has been updated to include the most recent comments from Holder. It has also been updated with the most recent number of agreements the Justice Department is enforcing with police departments.
Ryan J. Reilly reported from Washington and Mariah Stewart reported from Ferguson, Missouri.
Before You Go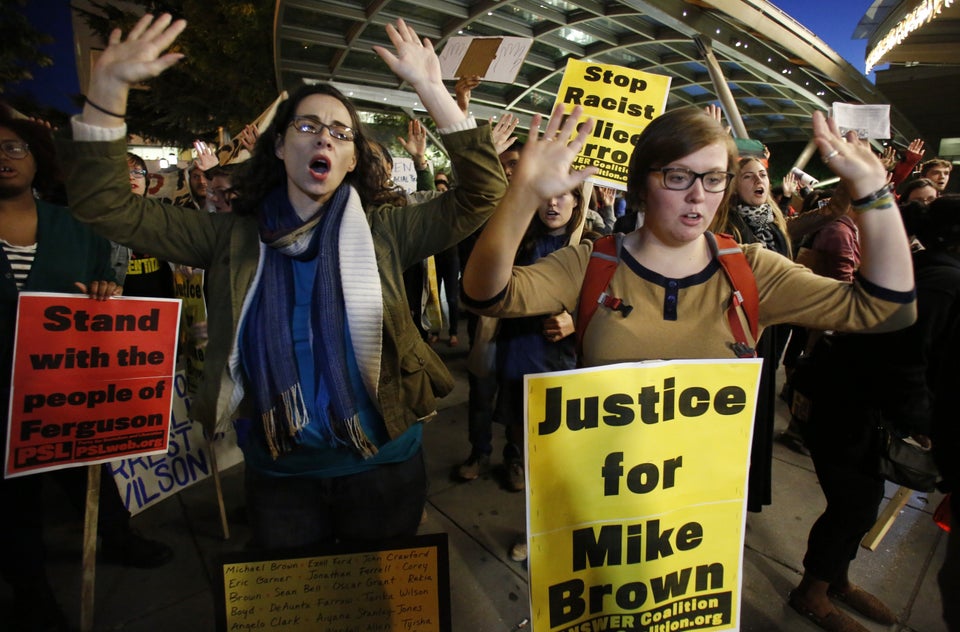 Ferguson