The video of the crying child surfaced as part of a lawsuit the American Civil Liberties Union and the Children's Law Center filed in August on behalf of two children. The suit alleges that the Kenton County Sheriff's Office violated the constitutional rights of the children who were handcuffed, as well as their rights under the Americans with Disabilities Act.
In a statement of interest on Friday, Justice Department lawyers said the court needs to decide whether "handcuffing two elementary school children with disabilities, behind their backs and around their biceps, for failure to follow instructions" was "objectively reasonable."
While the statement does not take a position on the merits of the particular case, it notes that the "significant size discrepancy" between the officer, "a fully grown man," and a "52-pound third-grade boy" and "56-pound fourth-grade girl" weighed against an "objective reasonableness" finding.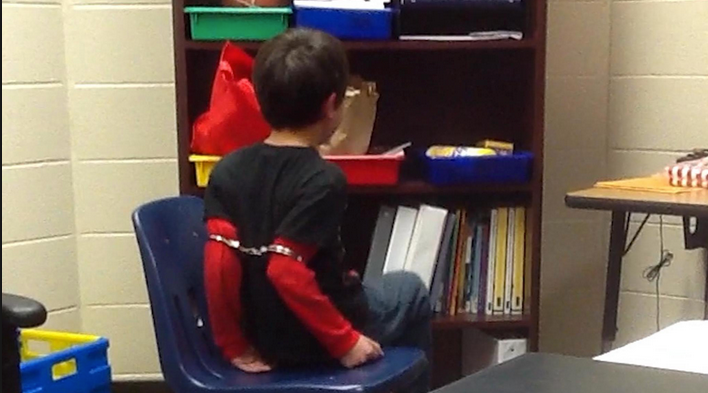 The Justice Department also urged the court to consider whether the officer's decision to handcuff little kids was "punitive, rather than necessary to ensure safety." It pointed out that the officer had told the child "to behave the way you're supposed to or you suffer the consequences," a statement that indicated the handcuffing was punitive.
The department also said that an "improperly implemented [school resource officer] program can unnecessarily exacerbate the school-to-prison pipeline and cause significant harm to students."
School resource officers, DOJ lawyers wrote, "must respect the constitutional and statutory rights of the citizens they serve. This is particularly critical in the school context, where the impact of a police interaction on a child can last a lifetime."
DOJ encouraged the court to "consider whether an objectively reasonable SRO would have handcuffed elementary school students in school under the circumstances presented here, after the children exhibited misbehavior arising out of their disabilities. Further, the Court must apply the ADA and evaluate whether Defendant Sumner should have reasonably modified his policing procedure instead of handcuffing the children, and whether the Sheriff's Office's handcuffing policies and methods of administration discriminate against children with disabilities."
Calling all HuffPost superfans!
Sign up for membership to become a founding member and help shape HuffPost's next chapter