 Attorney General Eric Holder informed the governors of Washington and Colorado about the decision on Thursday, while Deputy Attorney General James Cole issued a memo to U.S. attorneys throughout the country that outlined the types of cases that federal prosecutors should focus their resources on.
The guidelines make it less likely that DOJ will prosecute marijuana operations that comply with state laws, though they leave federal prosecutors with a significant amount of leeway to decide when a case is worthy of federal attention.
Ezekiel Edwards, director of the ACLU's Criminal Law Reform Project, called the guidance "one more concrete step towards more sensible drug policy in this country."
"We support the attorney general's decision not to interfere with individuals and entities that are complying with state marijuana laws, thereby respecting states' voter-approved and common-sense approaches to regulating marijuana," Edwards said. "As the DOJ guidance makes clear, if states and local governments that have enacted laws legalizing marijuana create strong and effective regulatory systems, the federal government will defer to them to enforce those systems."
Sen. Patrick Leahy (D-Vt.), who asked Attorney General Eric Holder to testify before the Senate Judiciary Committee about its approach to legalization in Washington and Colorado, said the guidance was overdue.
"I welcome the fact that the Justice Department has now provided this direction as we near the Judiciary Committee's hearing on the variation between state and federal marijuana laws. Our oversight on this issue was intended to provide movement on this policy question. All the more in a time when federal resources are especially scarce, the Justice Department should focus on countering and prosecuting violent crime, while respecting the will of the states whose people have voted to legalize small amounts of marijuana for personal and medical use," Leahy stated.
Dan Riffle, director of federal policies for the Marijuana Policy Project, called it a "major and historic step toward ending marijuana prohibition."
"The Department of Justice's decision to allow implementation of the laws in Colorado and Washington is a clear signal that states are free to determine their own policies with respect to marijuana," Riffle said.
Aaron Smith, the executive director of the National Cannabis Industry Association, said the group was encouraged by the guidelines.
"At the heart of the guidance is a willingness to respect the voters who have decided a regulated marijuana market is preferable to a criminal market in their states. Cannabis-related businesses in these states are creating thousands of jobs and generating tens of millions of dollars in tax revenue. These are clear public benefits," Smith said.
Ethan Nadelmann, executive director of the Drug Policy Alliance, said the announcement "demonstrates the sort of political vision and foresight from the White House we've been seeking for a long time."
"I must admit, I was expecting a yellow light from the White House. But this light looks a lot more green-ish than I had hoped. The White House is basically saying to Washington and Colorado, 'Proceed with caution,'" Nadelmann said.
Tom Angell of Marijuana Majority cautioned that it "remains to be seen how individual U.S. attorneys will interpret the new guidance and whether they will continue their efforts to close down marijuana businesses that are operating in accordance with state law."
"It's significant that U.S. attorneys will no longer be able to use the size or profitability of a legal marijuana business to determine whether or not it should be a target for prosecution, but the guidelines seem to leave some leeway for the feds to continue making it hard for state-legal marijuana providers to do business," Angell told The Huffington Post.
U.S. Attorney for the Western District of Washington Jenny Durkan said in a statement that the DOJ guidance was "premised on the expectation that the state will implement strong and effective regulatory and enforcement systems."
"This also is what Washington voters were promised, and we expect no less today. I look forward to meeting with state leaders to hear how the promises of enhanced public safety will be met," Durkan said.
U.S. Attorney John Walsh of Colorado said his office was going to focus on "cases involving marijuana trafficking directly or indirectly to children and young people; trafficking that involves violence or other federal criminal activity; trafficking conducted or financed by street gangs and drug cartels; cultivation of marijuana on Colorado's extensive state and federal public lands; and trafficking across state and international lines."
"In addition, because the Department of Justice's guidance emphasizes the central importance of strong and effective state marijuana regulatory systems, the U.S. Attorney's Office will continue to focus on whether Colorado's system, when it is implemented, has the resources and tools necessary to protect those key federal public safety interests," Walsh said.
Before You Go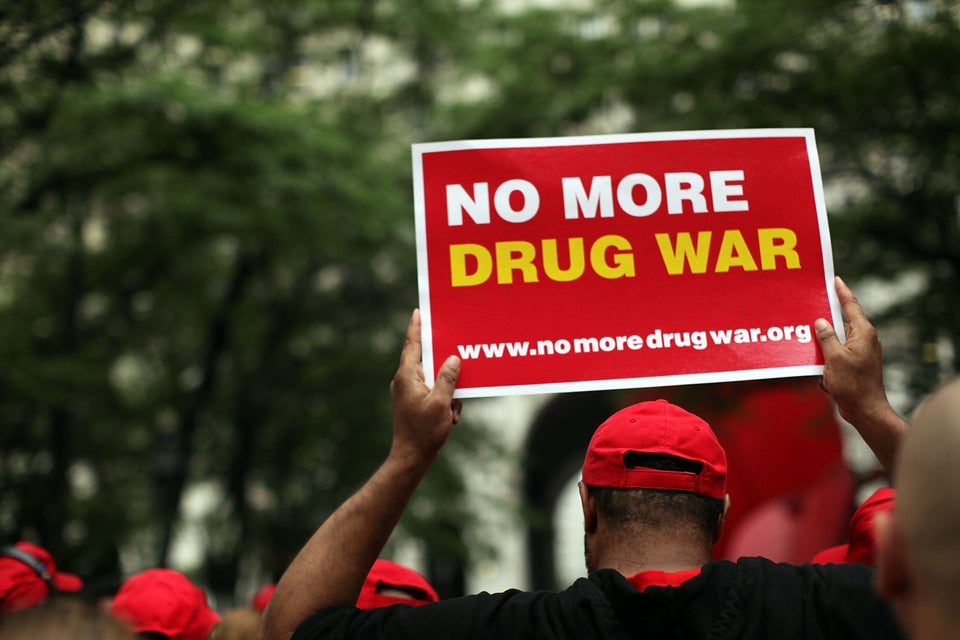 27 Reasons Why The U.S. Shouldn't Lead The War On Drugs
Popular in the Community