WASHINGTON -- Carmen Pittman had no intention of becoming an activist, but her bank, the Department of Justice and Occupy Atlanta turned her into one. Shortly before her grandmother died in 2011, the family realized that JPMorgan Chase was preparing to foreclose. HuffPost interviewed her late that year for a story on Occupy Atlanta and found a bewildered and desperate 21-year-old, talking about her childhood home in the past tense.
"My every Christmas, my every Thanksgiving, my every birthday, my every dinner was in this house," Pittman said then of a home that had been in her family since 1953. "This was the base home. We could not stay away from this home. This home is my every memory."
A year later, she won the house back from Chase. During the course of her fight, she was arrested for sitting on the floor of a local Chase branch and refusing to leave until the bank turned over the deed.
On Tuesday, she was camped out in front of the Department of Justice in Washington, having been fully transformed into an activist by her experience, asking why more Pittmans have been arrested related to the foreclosure fraud crisis than top Wall Street executives. She was answered with a stun gun.
The video above shows three large men surrounding Pittman as she tries to cover her face. Abruptly, an officer tasers her, and she crumples to the ground before being hauled off and arrested.
As HuffPost reported, the protesters on Monday blocked traffic in front of the Robert F. Kennedy Building beginning at 2 p.m. Five hours later, Constitution Avenue remained shut from 9th Street to 10th Street. Many of the protesters who were not arrested pitched tents outside the building, setting up Tuesday morning's showdown.
Tim Franzen, an organizer with Occupy Atlanta who was featured in the HuffPost series "Occupy Y'all Street," was also arrested Tuesday and can be seen in the video. He helped bring together the effort that had saved Pittman's home.
Those arrested Monday were charged with "incommoding," or obstructing, traffic, according to Ann C. Wilcox, a lawyer representing the protesters.
The demonstration was organized, in part, by Occupy Our Homes, a grassroots group that grew out of Occupy Wall Street to support homeowners facing foreclosure. Other grassroots groups, including coalitions from as far away as Washington state, California and Florida, also joined the protest.
Shab Bashiri, an organizer for Occupy Our Homes Atlanta who was part of the DOJ protests and witnessed the tasering, told HuffPost that police officers had warned the activists Monday night that they had to clear out by 7 a.m. An hour before the deadline, she said, Department of Homeland Security agents showed up in force. "They had enough cars to line the entire street in front of DOJ," she said. "They came with caution tape and cordoned off ... the entrance."
While other activists cleared out, nine people -- including Pittman and Franzen -- decided to remain at the DOJ entrance. They had linked arms as the police moved in. Bashiri said she was surprised that the police made "very little effort" to remove the activists before they began tasering Pittman. "Carmen was very visibly in pain," Bashiri said. "She was crying."
"Carmen fought for a very long time for her family's house and had seen firsthand the effects of the crimes the banks committed," Bashiri said. "Her grandmother had an extremely predatory loan that was impossible for her to pay off ... It's a very personal situation for Carmen. Carmen spent a year fighting for her home."
No Justice Department officials came outside to acknowledge the protesters on Monday or Tuesday. A request for comment was not returned.
"We want our attorney general, Eric Holder, to bring some accountability from the banks and put them in jail," said Vivian Richardson, 62, of San Francisco, whose home was foreclosed in 2010. Richardson fought to win back her house with the help of the Alliance of Californians for Community Empowerment and other community-based organizations.
Nearly one-third of all borrowers who faced foreclosure proceedings brought by the biggest U.S. mortgage companies came to the brink of losing their homes due to potential bank errors or now-banned practices, according to a study from bank regulators published in April. Many homeowners who successfully fought banks have received compensation checks far below the value of the homes they lost.
Eric Krasner's home in Frederick, Md., was foreclosed in 2010 after he had filed for bankruptcy. Krasner, 52, who is now living in Atlanta but was protesting in Washington, battled banks for years before winning compensation. He said his fight revealed disorganization in the distribution by federal regulators of a $9.2 billion settlement with mortgage companies over improper foreclosures.
"When they said, 'Oh, we're going to do this settlement, but it's taking so long we're not even going to look at your files,' I started calling my elected officials looking for answers," Krasner said. "How are they going to determine how much to pay us ... if they're not going to even look at our [files]?"
Krasner said he figured he was owed $62,000 from the settlement, but when his check came, he received only $2,000. Many in his situation received as little as $300 in compensation. "Until Eric Holder does his job and puts bankers in jail, this is going to continue," Krasner said.
"Banks were bailed out when they needed help ... and they're not giving back like they were supposed to," said Richardson, echoing the same anger toward big banks that received billions in 2008 and 2009 to help keep them afloat after the economy soured.
The Democratically controlled Senate recently took a swipe at the "too big to fail, too big to jail" assumption. In March, it voted 99-0 in favor of a nonbinding budget amendment, introduced by Sens. David Vitter (R-La.) and Sherrod Brown (D-Ohio), to eliminate subsidies or funding advantages for Wall Street banks with more than $500 billion in assets. The nonbinding amendment was attached to the Senate budget, which was never taken up by the Republican-controlled House. (Instead, the House passed a budget introduced by Rep. Paul Ryan (R-Wis.).)
In early March, Holder told the Senate Judiciary Committee that some banks are in fact too big to prosecute because doing so "will have a negative impact on the national economy, perhaps even the world economy." Last week, the attorney general tried to roll back his earlier statement, telling the House Judiciary Committee that there is "no institution ... who cannot be investigated and prosecuted by the United States Department of Justice."
Before You Go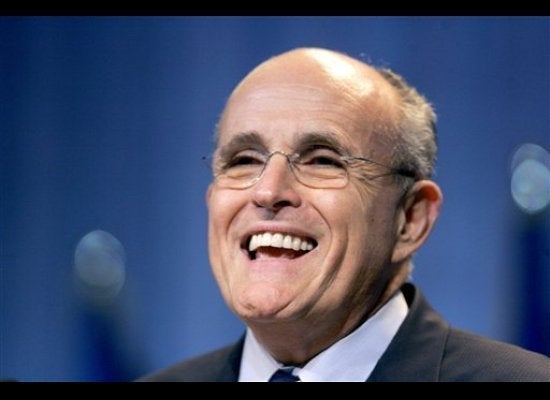 Out-Of-Touch Politicians
Popular in the Community