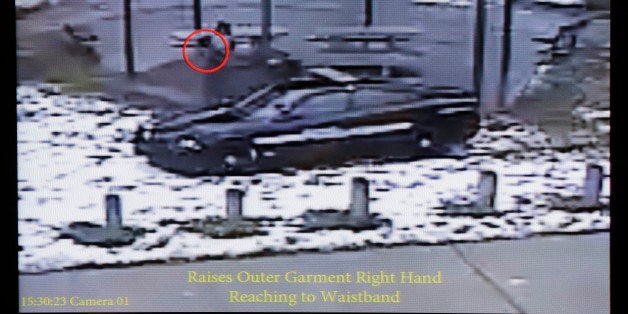 The Department of Justice was investigating the Cleveland Police Department while simultaneously funding it. What's wrong with this picture?

On May 26, Cleveland, Ohio entered into a consent decree with the U.S. Department of Justice (DOJ) agreeing to extensive police reforms. Under the settlement, the police department must refrain from certain abusive practices; train officers on constitutional limitations and implicit bias; track racial inequities in use of force incidents, stops, searches, and arrests; and be accountable to a civilian inspector general and review board.

The settlement comes after an Ohio state judge acquitted an officer of manslaughter in the killing of Timothy Russell and Malissa Williams, and before prosecutors decide whether to charge police officers for the killings of Tamir Rice and Tanisha Anderson. All of these victims were African American and unarmed.

The consent decree reflects a growing national consciousness on police abuses, many of the policy recommendations from President Obama's Task Force on 21st Century Policing, and the dire need for accountability, equal justice, and basic respect for human rights. It emerges from a now-familiar set of circumstances, in which a police officer kills an unarmed African American, community protests highlight historic tensions, and DOJ investigates and discovers the need for fundamental change in how a local police department interacts with the community it should be serving.
But there is a better way. In many circumstances, DOJ doesn't have to take police departments to court or threaten to do so in order to implement needed reforms. DOJ can require reforms in the hundreds of police departments that receive federal funds by enforcing Title VI of the Civil Rights Act of 1964. Title VI prohibits recipients of federal funds, including police departments, from discriminating based on race, color, or national origin.

Despite some important steps, DOJ has not done enough to ensure that departments uphold civil rights. For example, at the same time that DOJ was investigating the Cleveland Police Department for a pattern or practice of civil rights violations, it was actually subsidizing the department's practices. From 2009 to 2014, DOJ provided Cleveland with $20,783,025 as part of Community Oriented Policing Services (COPS), a program that created a stream of federal grants to state and local governments.

In 2013 and 2014, DOJ granted the Cleveland Police Department over $3 million, even as it was discovering "structural and systemic deficiencies and practices--including insufficient accountability, inadequate training, ineffective policies, and inadequate engagement with the community." That investigation found Cleveland police unnecessarily and excessively used potentially deadly force, including shootings and pistol-whippings, and used Tasers, chemical spray, and beatings as a form of retaliatory violence. Police also used excessive force against people who were mentally ill, and "carelessly fire[d] their weapons, placing themselves, subjects, and bystanders at unwarranted risk of serious injury or death."

Cleveland is not isolated. Many police departments were receiving COPS funds as they were being investigated by DOJ or entering into settlements in order to comply with constitutional and civil rights law. A few examples include DOJ providing $2.7 million to the New Orleans Police Department in 2011, when DOJ released its damning civil rights investigation of the Department, and $1.25 million in 2012, when the parties reached a settlement. DOJ also paid $2.5 million to the Seattle Police Department throughout 2013 and 2014 as an independent monitor oversaw the implementation of the Department's settlement. And it granted $4.7 million to the Puerto Rico Police Department in 2010 as DOJ simultaneously investigated that Department in what would lead to a settlement in 2013. Again and again, inadequate enforcement of Title VI has subsidized police departments with a pattern and practice of civil rights violations.

DOJ can solve this problem. It can require that police departments show specific, demonstrable evidence of proactive efforts to address and overcome racially biased policing when those departments apply for federal funds, undergo evaluations, submit reports, and are audited for compliance with federal civil rights law. Better still, it can reward and incentivize the departments that combine public safety and civil rights protections most effectively.

The specific, demonstrable evidence that police departments must show can include many of the policy changes that Cleveland agreed to in its consent decree, as well as the President's task force recommendations. These changes include training in civil rights and de-escalation, stronger scrutiny of racial inequities and excessive force, and greater community accountability and oversight. Through Title VI, DOJ can encourage these reforms so that cities similar to Cleveland, or on the verge of becoming so, change their tune and proactively move toward equal justice and safety for all communities.

Newly confirmed Attorney General Loretta Lynch and the Principal Deputy Assistant Attorney General of DOJ's Civil Rights Division, Vanita Gupta, were not in power when these civil rights abuses occurred with DOJ subsidies. But they now have a historic opportunity to implement necessary reforms and can do so before the next crisis in policing occurs.
Alan Jenkins is the executive director and cofounder of The Opportunity Agenda. He previously served as assistant to the solicitor general at the US Department of Justice and associate counsel at the NAACP Legal Defense and Educational Fund, Inc., where he argued civil rights cases at the Supreme Court.
Additional reporting by Diego Iniguez-Lopez, the Robert L. Carter Fellow at The Opportunity Agenda. Diego conducts legal and policy research on the issues of fair housing, due process and human rights standards in immigration policies, and compliance with federal civil rights law.
Calling all HuffPost superfans!
Sign up for membership to become a founding member and help shape HuffPost's next chapter